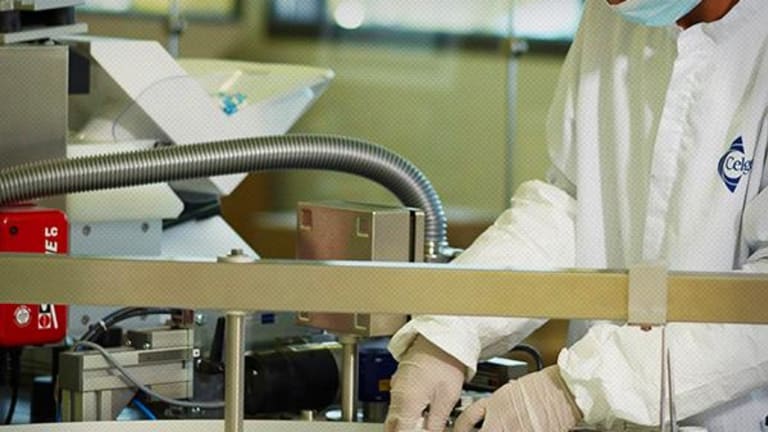 Celgene, Agios Update Blood Cancer Drug Study Results in ASCO '17 Abstract
The new enasidenib data -- improved tumor response rate but shorter duration -- were made public on Wednesday night in a research abstract.
Celgene (CELG) - Get Celgene Corporation Report and Agios Pharmaceuticals (AGIO) - Get Agios Pharmaceuticals, Inc. Report dropped updated clinical trial results for their targeted blood cancer drug enasidenib into a research abstract for the American Society of Clinical Oncology (ASCO) annual meeting.
The abstract with the new enasidenib data -- improved tumor response rate but shorter duration -- was made public on Wednesday night, along with all other regular abstracts submitted for the ASCO meeting taking place next month.
Celgene and Agios submitted an application to the FDA seeking approval of enasidenib (also known as AG-221) for the treatment of patients with relapsed or refractory acute myeloid leukemia (AML) caused by a mutated protein known as IDH2. The FDA is expected to conclude the review and announce an approval decision by Aug. 30.
It might seem backwards, but the companies filed enasidenib with the FDA before disclosing publicly all the clinical data submitted to regulators. The last time Celgene and Agios presented data from the enasidenib clinical trial was December 2015.
The new trial results disclosed for the first time Wednesday night:
Among 176 patients with relapsed/refractory AML, enasidenib demonstrated an overall response rate of 40%, including a complete remission rate of 19%. The median duration of response was 5.8 months.
When this trial was last presented in December 2015, there were 159 patients treated. The overall response rate to enasidenib was 37%, including a complete remission rate of 18%. The median duration of response was 6.9 months.
New question: Is the shorter duration of response shown today with enasidenib a potential cause for concern with FDA?
The full text of the new enasidenib ASCO research abstract is below. Additional data from the enasidenib will be presented at the ASCO annual meeting.
Abstract #7004
Enasidenib in mutant-IDH2 relapsed or refractory acute myeloid leukemia (R/R AML): Results of a phase I dose-escalation and expansion study.
Background: Recurrent mutations in isocitrate dehydrogenase 2 (mIDH2) occur in 8-15% of AML pts. mIDH2 proteins synthesize an oncometabolite, 2-hydroxyglutarate (2HG), causing DNA and histone hypermethylation and blocked myeloid differentiation. Enasidenib (AG-221) is an oral, selective, small-molecule inhibitor of mIDH2 protein. Methods: This phase 1/2 study assessed the maximum tolerated dose (MTD), pharmacokinetic and pharmacodynamic profiles, safety, and clinical activity of enasidenib in pts with mIDH2 myeloid malignancies. Safety for all pts and efficacy outcomes for R/R AML pts from the phase 1 dose-escalation and expansion phases are reported. Results: In all, 239 pts received enasidenib. In the dose-escalation (n=113), the MTD was not reached at doses up to 650 mg daily. Median 2HG reductions from baseline were 92%, 90%, and 93% for pts receiving <100 mg, 100 mg, and >100 mg daily, respectively. Enasidenib 100 mg QD was chosen for the expansion phase (n=126) based on PK/PD profiles and demonstrated efficacy. Median number of enasidenib cycles was 5 (range 1-25). Grade 3-4 drug-related investigator reported AEs included indirect hyperbilirubinemia (12%) and IDH-inhibitor-associated differentiation syndrome (ie, retinoic acid syndrome; 7%). For R/R AML pts, overall response rate (ORR) was 40.3%, including 34 (19.3%) complete remissions (CR; Table). Response was associated with cellular differentiation, typically with no evidence of aplasia. Median overall survival (OS) for R/R AML pts was 9.3 months (mos). For pts who attained CR, OS was 19.7 mos. Pts who had received ≥2 prior AML regimens (n=94; 53%) had median OS of 8.0 mos. Conclusions: Enasidenib was well tolerated, induced CRs, and was associated with OS of >9 mos in pts who had failed prior AML therapies. Differentiation of myeloblasts, not cytotoxicity, appears to drive the clinical efficacy of enasidenib.
The following data table was also included in the abstract:
Enasidenib was discovered and developed by Agios, which later licensed the drug to Celgene.
The pill is designed to block a mutated, metabolic enzyme known as IDH2. Normally, cells use IDH2 to help break down nutrients and generate energy. When mutated, IDH2 alters the genetic programming of cells, preventing them from maturing and causing them to grow uncontrollably.
Patients with AML have bone marrow crowded with undifferentiated, rapidly dividing blast cells. Enasidenib blocks the mutated IDH2 enzyme and allows the leukemic cells in the bone marrow to mature into normal blood cells.
More of TheStreet's top stories:
Here's How Home Depot Is Trying to Destroy Dying Sears
Adam Feuerstein writes regularly for TheStreet. In keeping with company editorial policy, he doesn't own or short individual stocks, although he owns stock in TheStreet. He also doesn't invest in hedge funds or other private investment partnerships. Feuerstein appreciates your feedback; click here to send him an email.