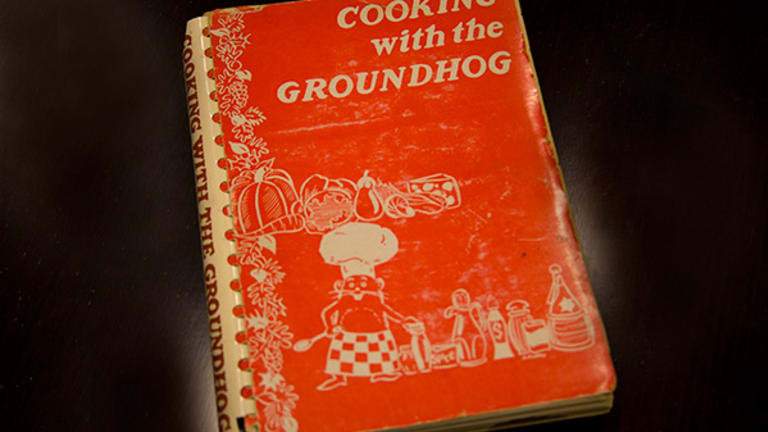 Celebrate Groundhog Day by Cooking Punxsutawney Phil -- Here's How You Do It
'Cooking with the Groundhog' tells how to stew Punxsutawney Phil -- or, at least, one of his relatives -- and is a charming window into 1950s American cuisine.
My mother was an excellent cook with a strong self-improvement streak. She kept several shelves of cookbooks in the kitchen and referred to them frequently, from The Fannie Farmer Cookbook for pancakes and waffles to The Williamsburg Cookbook for rum cream pie. By far the oddest of the 60 or so cookbooks she owned were Cooking with the Groundhog and its successor Gourmets and Groundhogs. They were a little touch of home for my mother, who had grown up in DuBois, Pa., 20 miles northeast of Punxsutawney, home of the weather-forecasting groundhog. A couple of times every summer, she would pull out Gourmets and Groundhogs and employ its recipe for melting blueberry cake, a creation I always found delicious and which I think involved whipped egg whites and a standard cake batter.
A few years ago, after a trip to Bonnie Slotnick Cookbooks in New York, a store that specializes in out-of-print and antiquarian cookbooks, I became curious about Cooking with the Groundhog, whose status I had elevated from an odd bit of local color to a piece of Americana that offered a snapshot of how people ate in the 1950s. (The book was published in 1958.) The next time I went home to Baltimore, I pulled the red paperback off the shelf. The first recipe I encountered was "How to Cook a Groundhog." Neither my mother nor I had known that they used to make a stew out of Punxsutawney Phil after he'd done his meteorological duty. The dish sounded tasty and reminded me a little of boeuf bourguignon.
Cooking with the Groundhog was a compilation of recipes published to raise money for the Adrian Hospital in Punxsutawney. According to Martha Ann Armstrong, the president of the Punxsutawney Historical Society, the book's co-editor Elaine Kahn Light was the driving force behind it and a tireless promoter of Groundhog Day. As a young reporter for the Associated Press in Pittsburgh in 1950, she was sent to Punxsutawney to cover the event. While she was there, the president of the Groundhog Club introduced her to fellow member Sam Light. She and Light married, and she moved to Punxsutawney.
The Adrian Hospital, the cookbook's beneficiary, took its name from the tiny town of Adrian, where it was founded in 1889 to care for local coal miners. It was moved to nearby Punxsutawney in 1899; by the 1950s, Armstrong said, it needed to add a maternity ward because of the baby boom. The town built a new hospital in 1975. The old facility served as an apartment building and then a retirement community. It's now vacant. The town's population, 9,500 when the book was published, has fallen to 5,900.
Elaine Light wrote a short introduction to the book in which she compared the taste of groundhog to that of rabbit. "Prepared with wine and herbs," she wrote, "it becomes a dish for an epicure. It can be fried, roasted, boiled, baked, stewed or simmered in spicy spaghetti sauce." Groundhog is only one of the area's delicacies, Light adds. Local cooks use fresh eggs, milk and butter; wild strawberries grow nearby in the spring and wild mushrooms appear in the fall. Hunters can shoot "quail, grouse, pheasant, woodcock, rabbit, and squirrel." Some of the recipes in the book make use of that natural abundance, such as a simple but appealing one for corn soup, and there's an entire chapter on how to prepare game and wild birds.
Like the rest of the U.S., Punxsutawney saw considerable immigration from Europe in the late 19th and early 20th centuries, which changed the way Americans ate. One woman contributed a recipe for Hasenfeffer with spaetzle -- rabbit stew with potato dumplings -- that her mother brought from Bavaria. The rabbit is brined for three or four days, then sautéed and simmered in the brining juices and served with the dumplings. For a suitably Teutonic side dish, you could add the German cabbage salad on page 89 of Cooking with the Groundhog.
Cooking with the Groundhog
is an example of the local cookbooks that were common for much of the 20th century. It nods to that tradition by including a recipe for "Mrs. A.E. Norton's Soft Gingerbread," which was included in the cookbook published by the Ladies' Aid Society of the Punxsutawney Baptist Church in 1904 and reprinted three times thereafter. Fans of Laura Ingalls Wilder's
can compare the two versions.
The book also features numerous recipes that reflect the rise of frozen and prepared foods in the U.S. Sam Light, Elaine's husband, contributed a recipe for New Orleans gumbo that includes frozen okra. A recipe for vichyssoise notes that the cold potato soup is "not difficult to make from scratch, but quicker results are obtained from cans." Bill Pratt, a New York journalist for Gourmet magazine and the Saturday Evening Post who wrote the doggerel that appears in Cooking with the Groundhog, offered up another icon of mid-century American cuisine: the cheese ball, a recipe close to the southern classic pimento cheese.
The last page of recipes in the book encapsulates the tension between prepared foods and down-home cooking that runs through Cooking with the Groundhog. A graduation day punch combines canned pineapple juice, frozen lemon and orange juice, ginger ale and soda water. Far more adventurous are Elizabeth Lincoln's elderberry wine and Barbara Winslow's dandelion blossom wine, both of which require home fermentation and now sound exotic and alluring.
Like my mother, though far more obsessively, Elaine Kahn Light collected cookbooks, starting with Betty Crocker's Picture Cook Book in the 1950s. After moving back to Pittsburgh in the late 1980s, she became a freelance food writer for the Pittsburgh Press and Post-Gazette and in 2008 donated her collection of cookbooks to the Indiana University of Pennsylvania's Academy of Culinary Arts in Punxsutawney.
Disclosure: TheStreet's editorial policy prohibits staff editors and reporters from holding positions in any individual stocks.