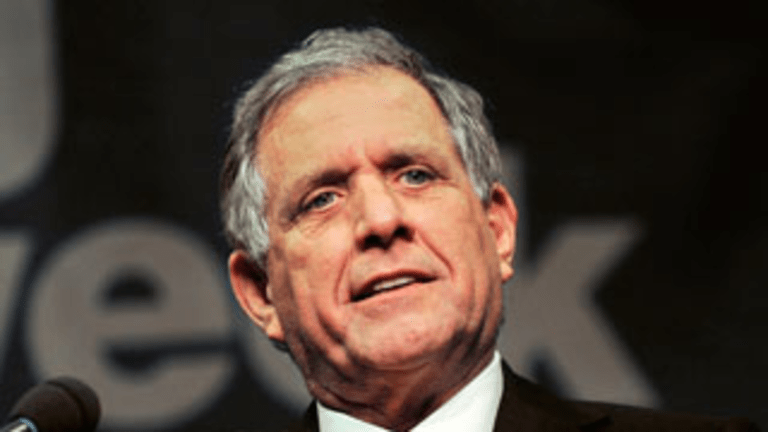 CBS Making It Look Easy, Despite Advertisers' Shift to Internet
While CBS is known for having the oldest audience among broadcasters, those faithful but older viewers have given the network value while ratings decline.
LOS ANGELES (TheStreet) -- CBS (CBS) - Get CBS Corporation Class B Report may have an audience that includes a few more gray-hairs than its rivals, but as viewership declines across broadcast television, that faithful crowd of devotees is ensuring that the network remains one of the best-performing stocks in media.
CBS shares have gained 11% in 2015, a stunning performance considering that 21st Century Fox (FOXA) - Get Fox Corporation Class A Report has lost 12% this year largely due to advertising shortfalls at its Fox broadcast network, FX and National Geographic. With only a few weeks left in the 2014-15 season, CBS is poised to claim its spot as the most-viewed broadcast network for the seventh consecutive year, with an average of 11.3 million viewers, according to Nielsen data.
As ad revenue has slowed due to younger viewers turning to video streaming services like Netflix (NFLX) - Get Netflix, Inc. Report, CBS's chief rivals -- Comcast-owned (CMCSA) - Get Comcast Corporation Class A Report NBC, Walt Disney's  (DIS) - Get Walt Disney Company Report ABC, and, of course, Fox -- have also had to juggle high turnover among prime-time shows. By contrast, CBS, which will report earnings Thursday, has been a model of stability, says Brad Adgate, the director of research at Horizon Media.
"It just comes down to content," said Adgate. CBS boasts the top comedy, The Big Bang Theory, and other entrenched programs like crime series NCIS, which can be easily sold off to foreign broadcasters. "They just have built-in comedies and dramas that have been around for a number of years. That's something they always talk about at their upfront presentations, is the stability of their programming."
Meanwhile, Fox continues to struggle. Advertising revenue at Fox's broadcast network group fell 7% during the quarter that ended March 31, with rating woes at FX and National Geographic contributing to the problems.
CBS will make its "upfront" pitch on May 13 in an effort to convince advertisers to buy blocks of ad time months in advance. And this year may be especially tense for networks as ad buyers are reportedly primed to ask for no increases in rates or even price rollbacks due to dwindling ratings.
The network sold $7.2 billion in ad time last year, a decline from $7.5 billion in 2013. Its entertainment revenue, which includes its film studio but not cable networks, totaled $8.3 billion, behind only NBC, which sold $8.5 billion. NBC, which does not report total ad revenue, saw its numbers boosted by the Winter Olympic Games last year, which generated $846 million in broadcast revenue.
ABC generated $6.2 billion in revenue for Disney last year, while fourth-place Fox brought in $5.3 billion in revenue -- both increases of $300 million over 2013.
CBS's audience is the oldest among the four top broadcasters, with a median age of nearly 59, according to MoffettNathanson. That can influence ratings, as older viewers who have yet to ditch terrestrial television or embrace digital video recorders are also more likely to be counted by Nielsen, Adgate said.
Although CBS's median viewer lies outside the 18-49 demographic advertisers covet most, it's so far second among those younger viewers, following NBC with a 2.3 rating versus the peacock network's 2.5. Advertisers buy off of demo ratings rather than total audience, and CBS's strong showing among younger audiences is believed to be a result of its lead in total viewership.
A search for stronger numbers among younger viewers has also prompted CEO Leslie Moonves to add even more NFL football games to the network's schedule. CBS paid $275 million for a slate of eight Thursday night games, and sold 30 seconds of ad time at a reported $500,000.
The move paid off, helping CBS beat fourth-quarter estimates and boost ad revenue 4.1% to $2.1 billion.
CBS is also out in front of other broadcasters going after younger, cord-cutting viewers with its $5.99-per-month CBS All Access online streaming video package, which offers live and on-demand broadcasts of CBS programs.
The service has more than 100,000 subscribers, according to an estimate by IHS senior analyst Erik Brannon. Online video also affords networks deeper and often more-nuanced data about viewers than traditional Nielsen ratings.
"It bodes well for companies like CBS, which can leverage advertising in a fashion that allows them to be truly accountable to the advertiser," Brannon said.
But online advertising is so far an uncertain game compared to traditional TV ad buys. No company like Nielsen has been able to standardize a system by which networks can measure themselves, Brannon said.
"That's a challenge that all Internet SVODs [subscription video on demand] advertisers face," Brannon added. "There will be some self-reporting [from networks], but their apples won't necessarily equal Nielsen's apples."
This article is commentary by an independent contributor. At the time of publication, the author held no positions in the stocks mentioned.