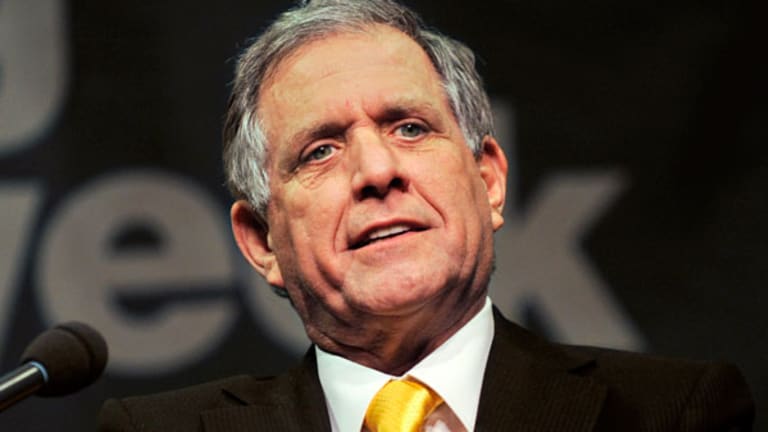 CBS Gets What Moonves Always Wanted: No Merger With Viacom
Updated. The CBS CEO was never eager to merge with Viacom, and on Monday his lobbying appeared to pan out as Shari Redstone withdrew her proposal.
This story was updated at 11:53 a.m. on Dec. 12.
CBS (CBS) - Get Report will remain as CBS, and CEO Leslie Moonves is probably the happiest man in the media business.
After weeks of speculation about controlling shareholder Shari Redstone's proposition that the company merge with Viacom (VIAB) - Get Report , the daughter of chairman emeritus Sumner Redstone, 93 and in ailing health, formally withdrew her proposal Monday.
"We can confirm that Viacom has received the letter sent today by National Amusements, and the company will provide further updates accordingly," the cable network owner said Monday.
The unexpected news sent shares of both companies falling. Viacom stock was off 7.5% to $35.74 on Monday morning, while CBS shares slipped 2.1% to $61.23.
In a statement, the Redstones' National Amusements, the theater chain that owns nearly 80% of the controlling stock in both CBS and Viacom, said that "after careful assessment and meetings with the leadership of both companies, we have concluded that this is not the right time to merge the companies."
The decision, the Redstones said in the emailed statement, was twofold. CBS "continues to perform exceptionally well under Les Moonves," and as for Viacom, "we have been very impressed with the forward-looking thinking and strategic plan being pursued under Bob Bakish's leadership."
Bakish, who headed Viacom's international group for 10 years, was made CEO on Monday, just hours after National Amusements withdrew the merger proposal. Viacom's board had given Bakish the title of acting CEO in late-October.
But regardless of why the Redstones withdrew its CBS-Viacom proposal, there is little doubt that the merger talks had cast a shadow over both companies. Moonves had been repeatedly peppered with questions about Viacom at media conferences, while Bakish was burdened with the perception that he was potentially just a place-setter for CBS's CEO to run a combined company.
"I'm assuming Leslie said, 'I need to have some clarity,' and Shari said, 'Fine,'" said Mario Gabelli, chairman of GAMCO Investors, a Rye, N.Y. company that manages $40 billion in total assets including a 10% stake in Viacom's controlling shares and more than 3.8 million shares in CBS. "Or maybe she said, 'Let's let Bakish run it for six more months, and then maybe change the terms of a deal.' The bottom line here is that Viacom is a loaded laggard, and Shari has the cards on both of the deals."
Moonves had said for months that CBS as constituted didn't need to make a large acquisition and that Viacom wasn't an especially good fit. As two content companies aimed at two very different audiences (CBS skewing older, Viacom much younger), it's unlikely anyone on Wall Street would have pushed for their merger were they both not controlled by the Redstones.
But as Viacom's cable TV business has struggled in recent years and its Paramount Pictures unit has lost millions in a string of busts and near-busts, a recombination with CBS seemed a natural step. In a Sept. 29 letter to the boards of CBS and Viacom, National Amusements asked that the two companies consider "a potential combination of the companies."
Since then, special committees of both companies had met to discuss a possible merger that would put the companies back together. In 2005, Sumner Redstone elected to carve out CBS from Viacom, arguing that a spinoff of the broadcast network would unlock a higher valuation for MTV, Nickelodeon and its other cable TV channels.
Of course, just the opposite has occurred. CBS has proved that a broadcast network with wide mass appeal and a robust package of live sports has far more value in today's fragmented media landscape than youth-focused cable TV networks that face a multitude of competitors from Vice and Refinery29 to Alphabet's (GOOGL) - Get Report YouTube, Netflix (NFLX) - Get Report and Facebook (FB) - Get Report .
Alphabet and Facebook are holdings in Jim Cramer'sAction Alerts PLUS Charitable Trust Portfolio. Want to be alerted before Cramer buys or sells GOOGL or FB? Learn more now.
In recent weeks, much attention was placed on Moonves' comments about merger talks with Viacom, ranging from his steadfast view that CBS didn't need any new assets to succeed to more diffidently exclaiming that a merger could work if it was structured to help rather than burden CBS's shareholders.
"If it looks right, and is structured properly, it could be an attractive opportunity,'' Moonves said last month.
Yet from CBS's point of view, a merger with Viacom always seemed contrived.
CBS has succeeded in part because it has stayed slim, focused on quality rather than quantity. The company's stock has surged more than 30% over the past 12 months. CBS gets most of its revenue from pay-TV operators that know that not carrying the network would prompt the unending ire of their subscribers, and owners of CBS TV affiliates, who need the content to remain in business.
Over the past two years, CBS also has shown it can innovate, launching standalone streaming services for its most prized content.
Both CBS All Access, which acts as something of an online library for the networks' content going back decades, and Showtime Now, for its premium TV network, have amassed more than 1 million subscribers for their platforms, which don't require a pay-TV contract.
Promoted in October to acting Viacom CEO and president, Bakish has moved quickly to address ongoing programming and operations weaknesses at MTV and Paramount. Just last week, he replaced the executive in charge of managing U.S. distribution for Viacom's pay-TV networks, which include MTV, BET, Comedy Central and Nickelodeon, as well as hired a new chief operating officer at Paramount, bringing in Andrew Gumpert from Sony (SNE) - Get Report Pictures Entertainment.
Over the past month, Bakish has also prompted changes at MTV. Michael Klein left his position as head of original programming after just six months on the job while Sean Atkins was removed as MTV president, replaced by VH1 and Logo head Chris McCarthy.
Bakish's elevation from head of Viacom's international operation followed the Redstones' decision to remove both former CEO Philippe Dauman and former operations chief Tom Dooley, who had run the company for 10 years. Under Dauman, who waged a bitter losing legal battle with the Redstones, and Dooley, Viacom's revenue fell for four straight years.
Viacom's international businesses, which Bakish led, has been one of the company's few growth engines.
Ultimately, though, speculation about a CBS-Viacom deal was all for naught. And Moonves is probably thrilled.
CBS hasn't issued a statement regarding the National Amusements decision to withdraw the merger proposal.