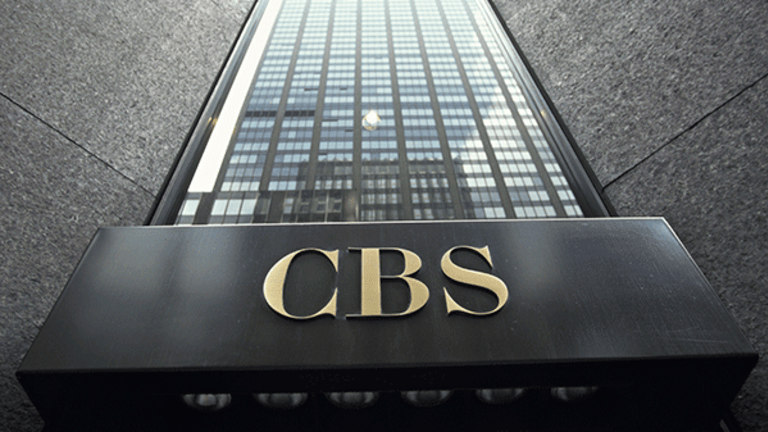 CBS All Access Streaming Service on Fire Ahead of Earnings Report
The broadcast channel owner can point to price target raises and buy ratings ahead of the release of its 2016 fourth-quarter earnings.
CBS (CBS) - Get Report CEO Leslie Mooves has teased the growth of the company's over-the-top streaming video on demand services ahead of the release of 2016 earnings Wednesday.
The Internet-only subscriber base for the company's Showtime premium TV network has reached 1.5 million since launching in July 2015, Moonves said last week at the UCLA Anderson Pulse Entertainment, Sports & Technology Conference, according to Variety. Meanwhile CBS All Access is nearing the same figure since launching in October 2014, he said. 
In July, both services had about 1 million subscribers, Moonves announced during CBS's second-quarter earnings call. By 2020, CBS wants both standalone streaming services to have 4 million subscribers each. "It's not going to be a huge business, but it's going to be for millennials, the cord-cutters, the cord-nevers," Moonves told Bloomberg TV in December.
The growth augurs well for CBS's long-term prospects. When it reports after the closing bell, CBS is expected to reveal fourth-quarter earnings of $1.10 per share on revenue of $3.96 billion, according to analysts surveyed by FactSet. In the fourth quarter of 2015,
CBS posted 56 cents in earnings per share
on $3.91 billion in revenue in the fourth quarter, Securities and Exchange Commission filings show.
Analysts recently have found various reasons for positive sentiment on CBS, including the $5.99-per-month All Access streaming service, which has live station feeds, full seasons of shows like NCIS and The Big Bang Theory and upcoming original shows such as The Good Fight and an updated Star Trek.
The two exclusive CBS shows are "critical to differentiating" All Access because it "highlights the retained differentiation" of exclusive shows versus full seasons of prime-time series like NCIS, Wunderlich Securities wrote in a note to investors on Tuesday. 
The company's extension into digital provides protection against the ongoing cord-cutting trend, RBC Capital Markets wrote in a note last week. "CBS has the least cord risk among the large-cap media group given that it's included in almost every skinny bundle," the firm wrote. "CBS consistently has the best prime-time content, which allows the company to monetize its programming via retransmission consent and reverse compensation, linear and digital syndication, and advertising."
CBS will add CBS Sports Network and Pop, which it owns with Lions Gate (LGF.A) to All Acces, Wunderlich noted. It also has the option to add CW and Smithsonian at a later date. Showtime will be available as an add-on. 
Instinet raised its price target on the stock to $70 from $66 and maintained its buy rating on Monday. Wunderlich raised its price target to $75 from $72 and maintained its buy rating as well on Tuesday.
CBS also has been busy of late both buying and selling assets -- and even not buying.
Last week, CBS took a 50% ownership stake in Kapital Entertainment, which The Wall Street Journal called "a prolific supplier of content," as another way to extend into programming. Kapital shows include CBS comedy Life in Pieces and Netflix (NFLX) - Get Report series Santa Clarita Diet. Under the deal, Kapital will continue to operate as an independent company that produces shows for a variety of networks, while CBS will provide co-financing for future projects and acts as a worldwide distributor. 
Earlier this month CBS
between
Entercom
(ETM) - Get Report
and CBS' radio division, giving the combined company a 244-station footprint that will allow it to broadcast in 23 of the top 25 U.S. markets. The transaction will be tax free for CBS and its shareholders and will result in CBS shareholders owning 72% and Entercom shareholders owning the rest. The combined company's pro forma revenue on a trailing-12-month basis was about $1.7 billion, meaning the combined company would be the second-largest radio station owner in the U.S.
Pivotal Research Group in a Tuesday note viewed the deal favorably versus the IPO of CBS Radio that might have happened otherwise. 
CBS also made headlines in mid-December when a proposed merger with Viacom (VIAB) - Get Reportwas called off by Shari Redstone, vice chairman of the board for both companies. CBS should be fine without Viacom, as it has been making moves into digital distribution, while Viacom has been sluggish on that front, eMarketer senior analyst Paul Verna told CNBC at the time.