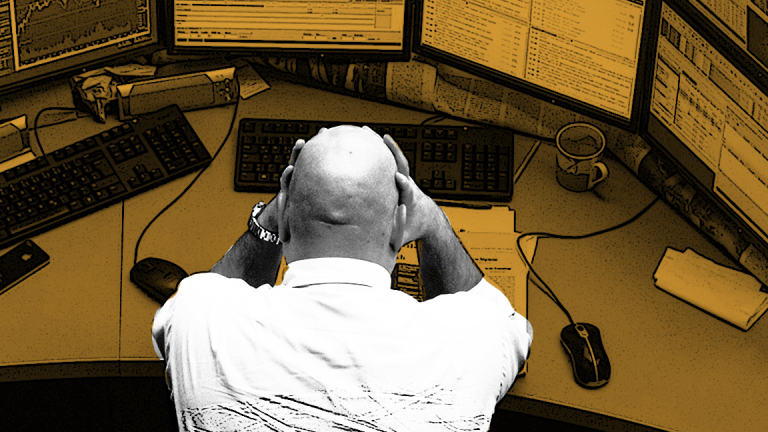 CBOE Stock Is a Buy Despite Worries Over Volatility Products
Worries over volatility-related products has hammered CBOE shares. However, Jim Cramer says investors can now buy the stock.
Shares of CBOE Global Markets Inc.  (CBOE) - Get Cboe Global Markets Inc Report are up about 42% over the past 12 months. However, the stock is down almost 20% this month thanks to concerns over volatility-related products.
"I think you should buy the CBOE stock," TheStreet's Jim Cramer said on CNBC's "Mad Dash" segment Tuesday. 
The CBOE "has been impeccable in its honesty at all times," he said, explaining that the company did nothing wrong when it came to these volatility products. The company itself did not attempt to manipulate the volatility index  I:VIX , but some individuals may have.
"Of course [the CBOE] issued a denial, because they didn't do anything [wrong]," Cramer reasoned.
"This is about the regulators" and why they approved some of the leveraged and inverse-volatility ETNs that blew up last week, Cramer said.
The dramatic spike in volatility has caused a lot of headaches around Wall Street. Throughout 2017, the trade involved shorting volatility and buying equities. This trade was a cash cow, as volatility prices continued to crumble and equities kept grinding higher.
But when equities slipped in February, the coiled spring in volatility exploded. This sent volatility prices rocketing higher. Those who were short leveraged-long volatility products felt a lethal short-squeeze, forcing them to sell stocks in order to meet margin calls. Those who were long short-volatility ETFs and ETNs felt the heart-sinking pain of seeing their investment disintegrate to peanuts in a matter of days.
This all comes down to margin requirements and regulatory oversight. It's not about the CBOE, argued Cramer, who also manages the Action Alerts PLUS charitable trust portfolio.
One issue for the CBOE, though? While the company had record trading volumes last week, the concern is over the future. Some of the largest traders in VIX futures were the volatility funds that blew up last week. Without them, volume (and thus profits) may dry up a bit.
That risk seems priced into the stock already, said Cramer, pointing out that shares have fallen from almost $140 to about $110 in a matter of days. At one point, shares were below $100 last week.
Cramer said that he just wants to see protection for retail investors. However, "I would buy the CBOE stock," he reasoned, "they are not at fault." They are good people running a good company, Cramer concluded.
CBOE stock is trading at $110.83 in midday trading, up 0.14%. 
At the time of publication, Cramer's Action Alerts PLUS had no position in any security mentioned.