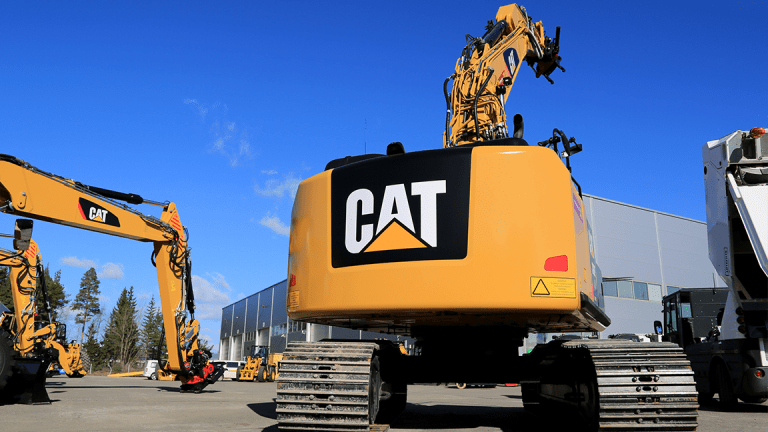 Caterpillar Dip on UBS Downgrade Is a Buying Opportunity
Caterpillar is poised to trade higher following weakness caused by a double downgrade by UBS from buy to sell.
Caterpillar Inc.  (CAT) - Get Caterpillar Inc. Report began Tuesday trading lower following a double-downgrade of the stock by UBS who lowered its rating from buy to sell. Daily and weekly charts suggest that weakness caused by this downgrade provides a buying opportunity. The daily chart shows that Caterpillar has been on the rise since a "key reversal" day occurred on Dec. 26. In addition, Caterpillar has had a positive weekly chart since last week's close.
Caterpillar began a bull market run of 207% from its January 2016 low of $56.46 to its all-time intraday high of $173.24 set during the week of Jan. 19, 2018. Since then, it's been a rocky road for the stock. From this high to its Oct. 29 low of $112.06 the stock had a bear market decline of 35%. The Swiss bank UBS missed most of the stock's upside as their buy rating occurred back on Sept. 18, 2017 with the stock around $125. UBS made a few upgrades since then in the form of raised price targets, the last of which came in June 2018 with a price target of $185. Their rating downgrade made pre-market Tuesday came after the stock closed Feb. 25 at $141.41 and opened Feb. 26 at $136.53.
The stock has been in recovery mode as the UBS call was made. The stock closed Tuesday at $137.98, up 8.6% so far in 2019 and in bull market territory, 23.1% above its Oct. 29 low of $112.06. The stock is in correction territory 14.6% below its 52-week high of $161.60 set on May 21.
In my opinion, the stock was in its 2018 slump primarily due to the global considerations of a trade war, tariffs and weaker worldwide economic growth and unfavorable currency conversions. If the U.S. and China come to trade agreements and Congress passes infrastructure spending legislation, Caterpillar is positioned to benefit. The stock is reasonably priced with a P/E ratio of 12.38 and dividend yield of 2.48%, according to Macrotrends.
The Daily Chart for Caterpillar
Courtesy of MetaStock Xenith
The dailychart for Caterpillar shows that the stock formed a "death cross" on July 17, 2018 when the 50-day simple moving average fell below the 200-day simple moving average, indicating that lower prices would follow. Investors following this signal sold strength to the 200-day SMA at $149.29 between Sept. 19 and Oct. 9 when this moving average failed to hold at $149.85. The stock closed 2018 at $127.07, which was the input to my proprietary analytics. My annual value level lags at $114.11 with my semiannual pivot at $125.40 and my quarterly risky level at $167.75. The close of $133.16 on Jan. 31 resulted in a monthly value level at $119.47. Note that my weekly pivot at $142.56 tested on Monday before the UBS downgrade. Note that CAT missed earnings estimates on Jan. 28 and weakness that followed provided a buying opportunity at my semiannual value level at $125.40.
The Weekly Chart for Caterpillar
Courtesy of MetaStock Xenith
The weekly chart for Caterpillar is positive, with the stock above its five-week modified moving average of $134.25. The stock is well above its 200-week simple moving average or "reversion to the mean" at $106.77, last tested during the week of Nov. 11, 2016 when the average was $86.07. The 12x3x3 weekly slow stochastic reading is projected to rise to 70.00 this week up from 63.89 on Feb. 22.
Trading Strategy: Holding the 200-day simple moving average at $137.66 targets my weekly pivot at $142.56, which negates the UBS downgrade. Add to positions on weakness to my semiannual value level at $125.40. Reduce holdings on strength to my quarterly risky level at $167.75.
Disclosure: The author has no positions in any stocks mentioned and no plans to initiate any positions within the next 72 hours.