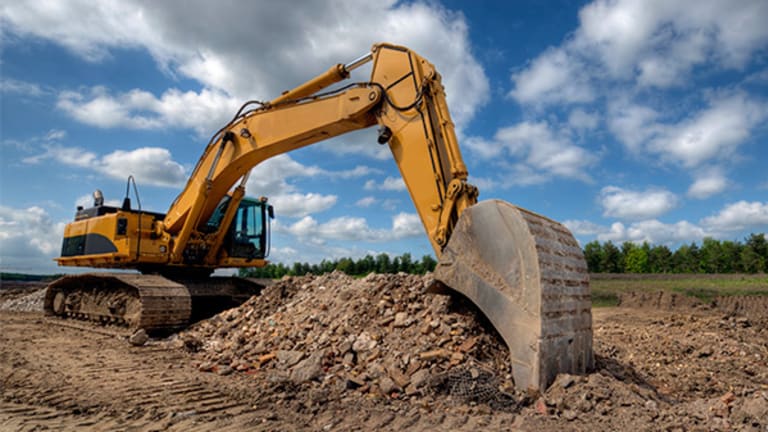 Caterpillar digs out from under poor retail sales numbers
The company has been a top performer since the election and the up trend continued Tuesday even after Caterpillar reported its 48th consecutive month of year-over-year retail sales declines
Caterpillar (CAT) - Get Report has been a hot stock post-election, with shares up more than 10% since President-elect Donald Trump's victory. On Tuesday the company continued that winning streak, even as it announced November sales numbers that were nothing to shout about.
Cat has had a rough year, stung by the strong dollar and its substantial exposure to the struggling mining industry. Company CEO Doug Oberhelman in October announced plans to step down, a consequence of his ill-timed decision to buy mining equipment-maker Bucyrus for $8.6 billion in 2010, a deal that marked the top of the commodity cycle.
But investors in the last month have placed bets that the company could be a big winner from the election, assuming Trump follows through on his plans for infrastructure improvements and a jobs-based stimulus package that presumably would increase demand for construction equipment.
The near-term outlook is decided less optimistic. Caterpillar said Tuesday that November retail sales were down 17% compared to a year prior, marking the 48th consecutive month of year-over-year declines. Retail sales are reported on the basis of a three-month rolling average by geographic region, and imply that whatever improvement might be on the horizon is still a ways off.
Global mining sales fell 24% in November, while construction equipment sales were off 15%.
There were some positives in the report. The Asia region is showing sustained signs of a recovery, jumping 11% year-over-year in November and continuing a streak of improvements that goes back to August. Those gains were not enough to offset weakness elsewhere, with sales in Europe and Latin America particularly frigid.
Shares of the company traded up 1.8% on Tuesday afternoon following the results, perhaps a sign that investors have heeded Cat's warning that they should not expect a quick turnaround. Oberhelman in October said "we continue to face a number of challenges" going into 2017 but hope to see signs of a recovery before the end of next year.
Specifically, the company said it sees potential for upside going into 2017 from construction activity in China and other developing markets, and from increased sales to mining firms should sentiment in that sector slowly start to improve as expected. But Caterpillar warned that weakness in North American construction sales, lethargic economic growth in Europe and continued issues in the oil sector could be drags.
November sales seemingly confirmed that forecast. For investors, it seems, the idea that things aren't growing steadily worse is reason enough to celebrate.