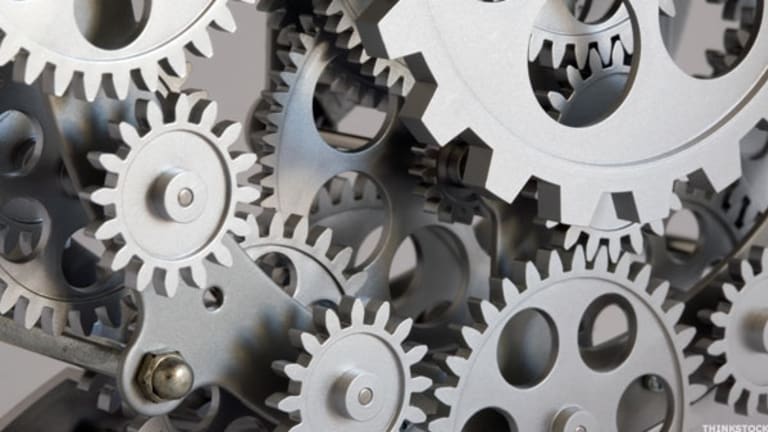 Caterpillar Caught in Happy Paradox
With Caterpillar set to report first-quarter results, investors will once again be paying close attention to how well the company is responding to a recovery in demand for its big yellow gear.
Editor's note: As part of our partnership with PBS's Nightly Business Report, TheStreet's Scott Eden joined NBR Tuesday (watch video and read transcript here) to preview Caterpillar's first-quarter earnings and discuss whether the heavy-equipment stocks show early signs of a recovery in the construction industry.
NEW YORK (TheStreet) -- Caterpillar (CAT) - Get Caterpillar Inc. Report and other makers of big construction equipment are caught in a happy paradox.
As the Peoria, Ill., manufacturing bellwether gets set to report first-quarter results on Friday, demand for its bulldozers and earthmovers has strengthened, price hikes are sticking, and the time between orders and deliveries is getting longer, industry observers say. According a recent research note describing channel checks made by Wells Fargo analysts, some Caterpillar dealers say that the company is "selling anything it can manufacture."
And yet actual construction activity in North America remains tepid, and may in the short term even get worse. In February, non-residential construction spending declined even from 2010's depressed levels, according to the latest data compiled by the U.S. Census Bureau. Private commercial construction, meanwhile, continued to plunge by a wider margin, declining nearly 11% from February 2010.
So what gives?
It's true that the mining-equipment business is booming, which has lifted Caterpillar's prospects, along with the likes of mining specialists like
Joy Global
(JOYG)
(as well as CAT's soon-to-be acquired
Bucyrus
(BUCY)
).
But North American construction equipment, which now makes up about a third of Caterpillar's total sales, according to R. W. Baird analyst Robert McCarthy, appears to be going swimmingly as well. That's because the nation's heavy-equipment rental outlets had reduced their fleets during the downturn to such a degree that they're now ordering enough new machines to keep factories humming.
"What Caterpillar is going through, like everyone else, is a wholesale redistribution of inventory to dealers," says Charles Yengst, a forecasting consultant for the heavy-equipment industry who seeks a ground-level view of the business by talking with dealers and end users.
To be sure, manufacturers still haven't boosted their factories' operating capacities to full throttle. But there's enough pent-up demand from rental fleets and dealerships, who are seeking to replace aging stock, that profits for the big boys especially (read: Caterpillar and
Deere
(DE) - Get Deere & Company Report
) will show strong year-over-year comparisons in the first and second quarters, analysts say.
Still, those comparisons will come off an extremely low base, industry observers point out. "A lot of these construction markets fell upward of 80% from peak to trough," says Stephen Volkmann, of Jeffries & Co. "People are still having a hard time getting their brains around that." He expects Caterpillar's top line for North America to expand by 35% in the first quarter from a year ago.
Furthermore, the demand created by inventory and rental-fleet replenishment will be a short-term phenomenon. "That can go along for six to nine months, but it will start to fizzle if we don't see real demand from customers who build stuff," says Yengst.
The current consensus among Wall Street analysts is calling for Caterpillar to report earnings of $1.31 a share in the first quarter, up from 36 cents a year ago. Revenue is expected to come in at $11.5 billion, growth of 40% from the same quarter of 2010.
All eyes will once again be trained on Caterpillar's incremental margins, a metric that measures the profit a company is able to squeeze from each additional dollar of revenue it turns. In essence, the figure is a measure of how well a company is executing as it increases manufacturing capacity to meet rising demand.
During the last upcycle, the company struggled to keep up with the demand curve, leaving cash on the table. For example, Caterpillar didn't staff up enough and had to dole out lots of overtime. For another example, it found itself having to overnight engines from one factory to another, or pay up for parts from suppliers that it absolutely needed in order to meet demand.
This time, though, Caterpillar has tried to get ready for the recovery. Over the last year, it has opened perhaps ten new plants around the world. Analysts are expecting the company to record incremental margins of somewhere in the mid 20s for the first quarter. Anything below 20% and investors will begin to have déjà vu and worry that Caterpillar may not hit its growth goals for 2012, analyst say. Anything above 30% and Wall Street will be ecstatic.
As for guidance, Jeffries' Volkmann says that Caterpillar will likely hike its guidance for 2011, if modestly. The company's earlier forecast for full-year EPS was something "near" $6. Volkmann said he wouldn't be surprised if CAT adjusted that target to somewhere between $6.25 and $6.50. With Caterpillar shares bouncing around 52-week highs, Volkmann says, "I think they need to beat a little and raise a little to keep people interested at these levels."
If there are any worries among investors and analysts, they're rising raw materials costs and the impact of the Japanese earthquake and tsunami on the global supply chain.
Japan's industrial damage will cause only a short-term disruption, some analysts say. Others are more concerned. Wells Fargo's Andrew Case said in a research note that the disasters could have a "relatively big impact" on production for Caterpillar and other equipment manufacturers. He expects to hear "more defined commentary" from those companies with plants in Japan (CAT and Deere among them) during their first-quarter conference calls.
As for raw materials inflation, Volkmann says he's not worried about it, at least when it comes to Caterpillar. "These guys have phenomenal pricing power," he says.
-- Written by Scott Eden in New York
Readers Also Like:
>>10 Bad Investment Ideas You Need to Rethink
Disclosure: TheStreet's editorial policy prohibits staff editors and reporters from holding positions in any individual stocks.