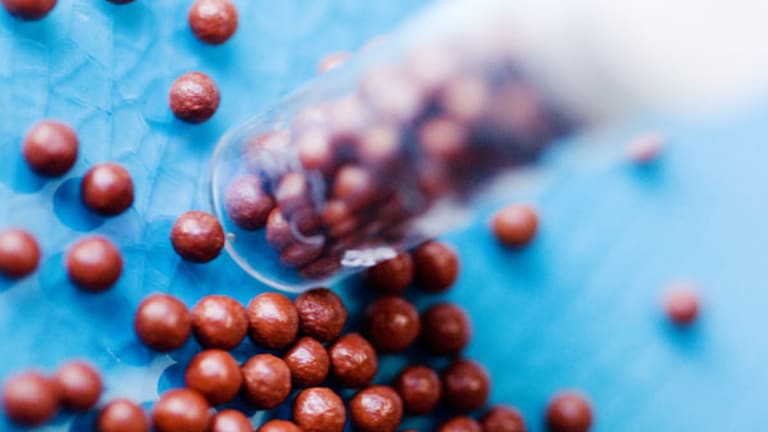 Catalyst Pharma Competitor Surprises With Positive Orphan Disease Drug Study Results
Catalyst and Jacobus Pharma are racing to secure FDA approval for a drug to treat a rare muscle-wasting disease.
Catalyst and Jacobus Pharma are racing to secure FDA approval for a drug to treat a rare muscle-wasting disease.
CORAL GABLES, Fla. (TheStreet) -- Catalyst Pharmaceutical Partners' (CPRX) - Get Report plan to seek approval and market a drug for a rare muscle-wasting disease is in jeopardy following the surprise disclosure Thursday of positive clinical trial results from a similar, competitive drug.
Privately held Jacobus Pharmaceuticals presented a poster Thursday at the American Academy of Neurology annual meeting showing "unequivocal evidence" that 3,4 Dap, the company's experimental drug, is an effective treatment for patients with Lambert-Eaton Myasthenic Syndrome (LEMS).
With positive results from the 3,4 Dap study, Jacobus Pharma will be able to submit the drug to the U.S. Food and Drug Administration for approval, says Dr. Donald Sanders of Duke University, the study's lead investigator.
It's a potential problem for Catalyst because 3,4 Dap is the same active ingredient contained in its experimental LEMS drug Firdapse. Catalyst expects to file Firdapse with the FDA in the third quarter based on positive results from its own phase III study in LEMS patients.
Normally, the company securing FDA approval first for a rare disease gets seven years of marketing exclusivity. A competitor with a similar drug would be frozen out. Until Thursday, many investors and analysts assumed that Catalyst didn't have any competition that would get in the way of Firdapse's approval. That view changes now that Jacobus Pharma showed up at the neurology meeting with strong 3,4 Dap study results.
Jacobus Pharma is an intensely private company and executives there couldn't be reached to comment on the timing of 3,4-Dap's FDA approval filing.
Lambert-Eaton Myasthenic Syndrome (LEMS) is a rare, neuromuscular disease which causes progressive muscle weakness. Untreated, LEMS patients -- usually in their 40s or 50s -- lose mobility and suffer other complications which can lead to shortened life expectancy. About half of LEMS diagnoses are associated with small cell lung cancer, the rest with autoimmune disease.
3,4 Dap is not FDA approved but it's been widely recognized as an effective treatment for LEMS for more than 20 years. Doctors treating the small numbers of LEMS patients in the U.S. can obtain inexpensive 3,4 Dap from compounding pharmacies. Jacobus Pharma gives away 3,4 Dap for free to patients through an ongoing compassionate-use program.
Firdapse is not a new treatment for LEMS because the active ingredient is 3,4 Dap. Catalyst bought the U.S. rights to Firdapse from BioMarin Pharmaceuticals (BMRN) - Get Report, which tries to sell the drug in Europe but not very successfully because doctors there refused to prescribe an overpriced copy of an older, cheaper and reliable drug. Biomarin jettisoned U.S. rights to Firdapse because its reputation took a beating in Europe.
Catalyst hasn't disclosed pricing plans for Firdapse if approved in the U.S., but it's expected the drug will cost more than $60,000 to $80,000 per year. That's significantly higher than the current cost of the equivalent 3,4 Dap available to LEMS patients in the U.S. today.
Jacobus Pharma decided to conduct a clinical trial of 3,4 Dap in LEMS and seek FDA approval as a way to stop Catalyst from profiting off LEMS patients with Firdapse, Laura Jacobus said in a 2013 interview. Laura runs the eponymously named drug company with her father David.
"Firdapse is not a new compound. It's the same drug we make. What Catalyst is doing is not the same as a company profiting from a new invention. What Catalyst is doing is making money off LEMS patients. They don't want to help LEMS patients, they just want to make money. If I worked for Catalyst, I wouldn't be able to sleep at night," said Laura Jacobus.
Catalyst has responded to the allegations of profiteering by arguing that securing Firdapse's FDA approval will improve the manufacturing quality of the drug and expand access to more LEMS patients. The company has also said it will provide financial assistance to LEMS patients who cannot afford Firdapse.
In the Jacobus study presented Thursday, 32 LEMS patients currently stabilized on 3,4 Dap were randomized to continue treatment with the drug or switch to a blinded placebo. After five days, 72% of the placebo patients lost the ability to execute a mobility test involving standing up from a seated position, walking 10 feet, turning around, returning to the chair and sitting down. By comparison, all of the LEMS patients who remained on 3,4 Dap were able to perform the mobility test. The difference was statistically significant.
When the placebo patients were re-treated with 3,4 Dap on the six day of the study, they regained the ability to execute the mobility test.
Catalyst is presenting results from its phase III study of Firdapse in 38 LEMS patients at the neurology meeting today. The company previously announced results from the study demonstrating Firdapse improved muscle strength compared with a placebo.
Adam Feuerstein writes regularly for TheStreet. In keeping with company editorial policy, he doesn't own or short individual stocks, although he owns stock in TheStreet. He also doesn't invest in hedge funds or other private investment partnerships. Feuerstein appreciates your feedback; click here to send him an email.