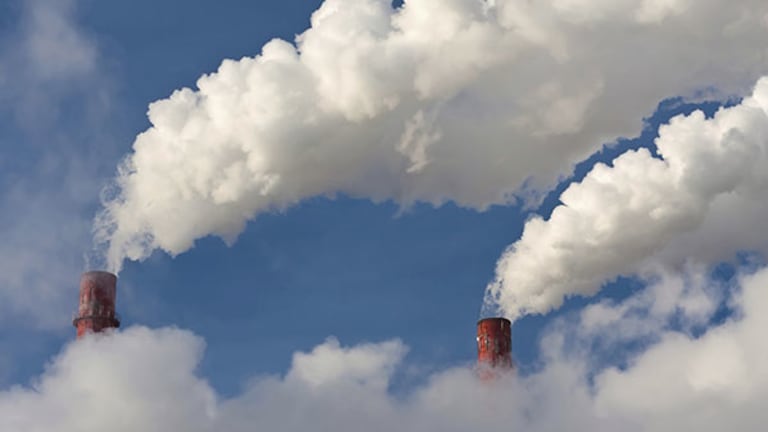 Cash In on the Life-or-Death Quest for Breathable Air
ABB provides the power transmission technology that will help China make its shift to clean energy.
Air pollution is a worsening global problem. Below, we pinpoint an industrial stalwart that should reap huge gains from its pollution-fighting technology.
First, some context. In early December 1952 London experienced a cloaking of dense smog so thick it made walking a challenge and driving impossible. The smog held a toxic mix of particulates and pollutants that caused an estimated 4,000 deaths and sickened more than 100,000 people in just five days. The causes for the intense smog were an increase in coal-fired heating and weather conditions that concentrated the pollution and trapped it over London for a few deadly days.
Visitors to China have had experiences with similarly toxic particulate pollution.
In the early 1990s, this author traveled to Wuhan in central China. As the plane made its descent, one could see just a few lights here and there -- in a city of millions. On the ground even the city center seemed pitch black. This author started to roll down the car window only to have the driver say, "No, no, no!" Although the city had far fewer bright lights compared with North American cities of the time, much of the darkness was a result of the thick pollution.
China no longer is ignoring its air quality in its unrelenting quest for economic development. But while many initiatives have been successful, much of the nation experiences smog so intense that it causes illness and forces the closure of main airports and other transportation centers.
This month, Beijing announced that it was canceling more than 100 additional planned coal-fired power plants and is ramping up cleaner power in direct response to the need of its citizens to breathe. Therein lies a huge investment opportunity.
In addition, China continues to expand its wind and solar operations. But this is where there's also a rub. Many of the ideal sites for solar and wind power are far from the primary industrial and commercial cities, making transmission a challenge. Think of the Gobi Desert as the ideal area for solar arrays by the thousands. Or the Xinjiang plains as the primary site for one of the largest wind farm operations. 
Even worse, much of the clean power production capacity has had to be idled recently, as there is an overabundance of electricity that can't go anywhere, even as it's needed to power the cities of the eastern seaboard.
China may overcome these problems, however. First it has a massive advantage because its national grid is a monopoly. It's also expanding its use of the most advanced kind of direct current, or DC, which could help it solve its transmission issues. Although alternating current, or AC, is used all over the world, it has a downside: power loss when electricity is transmitted over long distances.
The next step in DC is ultra high voltage direct current (UHVDC), and China is swiftly emerging as the leader in UHVDC transmission lines with the nation projected to complete nearly 20 large-scale lines. This could help it shut down more of the dirty coal-fired plants.
There are three primary leaders in providing the equipment and construction of UHVDC systems: Siemens AG (SIEGY) , General Electric (GE) - Get General Electric Company Report and ABB (ABB) - Get ABB Ltd. Report . But the primary winner of more of the contracts in China is ABB. This industrial powerhouse is poised to be a growth stock winner in 2017.
General Electric is a holding in Jim Cramer's Action Alerts PLUS Charitable Trust Portfolio. See how Cramer rates the stock here. Want to be alerted before Cramer buys or sells GE? Learn more now.
ABB is a massive Swiss-Swedish industrial engineering company with primary divisions in power and industrial automation.
ABB has been gaining ground in both divisions as industry continues to employ automation and robotics and as nations and utilities push for more efficient electric power production and transmission.
With China's push in wind and solar power, and now with the expansion of its UHVDC transmission lines, it's becoming a significant contributor to ABB's already significant global revenue. Shares in ABB gained 44% in the last year. Look for the stock to continue to outperform while also paying an attractive dividend (which is now 3.2%).
---
As I've just explained, ABB is a bargain investment bet now. But, if you're looking for other growth opportunities, we've found a genius trader who turned $50,000 into $5 million by using his proprietary trading method. He's guaranteeing you $67,548 per year in profitable trades if you follow his simple step-by-step process. Click here now for details.
This article is commentary by an independent contributor. At the time of publication, the author held no positions in the stocks mentioned.