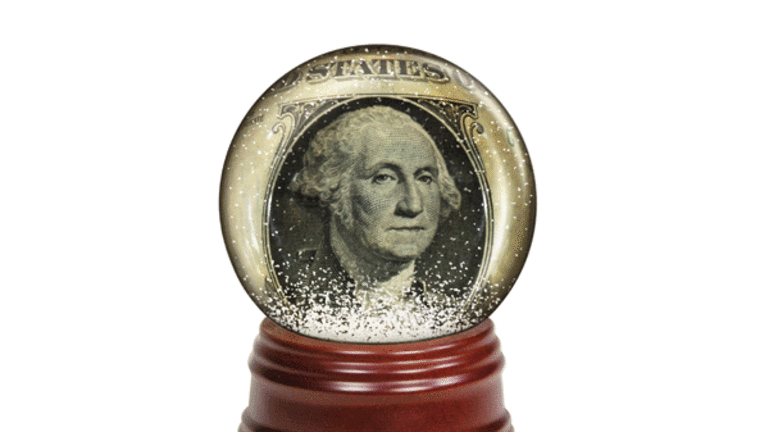 'Cash Cow' Investing: Finding Yield in 2012
What do McDonald's, Intel, Enbridge Energy and municipal bonds all have in common? These fund managers count on them for yield.
Editor's note: As part of our partnership with Nightly Business Report, TheStreet's Gregg Greenberg joined NBR Monday (watch video here) to reveal where fund managers are looking for yield in 2012.
NEW YORK (
) -- Just because the economy is growing does not mean investors should abandon high-paying dividend stocks in favor of growth names, says Oliver Pursche, co-portfolio manager of
GMG Defensive Beta Fund
(MPDAX)
.
"No one is saying you shouldn't own growth stocks. The point is that dividends are a key component of total return, so investing in high-quality, high dividend paying stocks that also have growth characteristics should do very well in 2012, just like it did in 2011," says Pursche.
The $20 million fund, which launched in August 2009, has dropped 3.4% over the past 12 months, ranking it in the 66th percentile of
Morningstar's
(MORN) - Get Morningstar, Inc. Report
multi-alternative investment category.
Pursche specifically points to
McDonald's
(MCD) - Get McDonald's Corporation (MCD) Report
as a company that fits his growth plus dividend criteria, as the fast-food purveyor continues to expand internationally without skimping on its dividend, now yielding 2.8%. The company's stock is up more than 35% in the past year, compared with domestically oriented
Wendy's
(WEN) - Get Wendy's Company Report
, for example, which is up only 2% and yields 1.5%. And Pursche sees more room for Mickey D's to grow in 2012 even with a slowing Europe.
"They are ramping up revenues, store sales and everything else a growth business needs to accelerate. So it's a great example of a company that's exhibiting all of the qualities of a great growth stocks but has high yields and a strong balance sheet to support it," says Pursche.
Another
Dow
stock that is one of Pursche's prime picks is chipmaker
Intel
(INTC) - Get Intel Corporation (INTC) Report
, which soared 24% over the past year and is now yielding 3.3%. Not bad compared to competitors
AMD
(AMD) - Get Advanced Micro Devices, Inc. Report
and
Texas Instruments
(TXN) - Get Texas Instruments Incorporated Report
, which have fallen 38% and 8% over the same period.
"Intel is best of breed. It has a very strong balance sheet, high credit quality, good growth prospects and an attractive yield over 3% so it's giving investors the best of both worlds," says Pursche.
In the energy sector, Pursche likes
Royal Dutch Shell
(RDS-A)
, which yields 4.6%, as an alternative to American-based oil majors
Exxon Mobil
(XOM) - Get Exxon Mobil Corporation Report
or
Chevron
(CVX) - Get Chevron Corporation Report
, which yield 2.2% and 3% respectively.
"When you look at Royal Dutch's balance sheet and its business model, it's not much different than Exxon Mobil, however, since it's based in Europe, it's gotten beaten up a little more, so you are getting a lot more yield and you should take advantage of that as an investor," says Pursche.
James Wong, portfolio manager for the
Payden Value Leaders Fund
(PYVLX) - Get Payden Equity Income Report
, agrees that it is possible to find stocks with both high yields and strong growth prospects.
For example, in the energy space, Wong says natural gas and oil pipeline player
Enbridge Energy
(EEP)
fits the bill quite nicely.
"It has a yield of about 7% and it has consistently increased its dividend over the past 20 years. The company is a nice cash cow and that's hard to beat in this environment," says Wong.
The $77.5 million fund, which garners 3 stars from Morningstar, is up more than 16% over the past 12 months, putting it in the top 1% of Morningstar's large value category. Over the past 3 years, the fund has returned an average of 21% annually, outpacing 87% of its Morningstar rivals.
In the utility space, last year's big winner in the market, Wong is a fan of the
Southern Company
(SO) - Get Southern Company Report
, which has about 4.5 million customers in the Southeast and pays a dividend of approximately 4.5%.
"You have a growth rate of about 4% which is quite good. And since it is a regulated utility their revenues and their profits are pretty stable and they can pass along price increases to their end users," says Wong.
And while more and more people in the United States are cutting back on smoking, due to higher prices, taxes and health concerns, Wong does not see
Philip Morris
(PM) - Get Philip Morris International Inc. Report
and
Altria
(MO) - Get Altria Group Inc Report
significantly slashing their dividends, 4.7% and 5.7% respectively, any time soon.
"There are fewer smokers in the U.S., that's true. But if you go abroad, especially in the emerging markets, there are plenty of people smoking. Philip Morris and Altria have the biggest brands out there. The international and domestic plays are both attractive," says Wong.
And though the Iraq War is over and some investors are concerned about the impact of budget cuts on defense stocks, Wong still has faith in
Lockheed Martin
(LMT) - Get Lockheed Martin Corporation (LMT) Report
. He says other countries are still buying weapons even if the Pentagon is not. Furthermore, he believes the company has servicing agreements that will provide steady income.
"They just upped their dividend last quarter. And if you are looking at the political situation, if Mitt Romney wins, they are probably going to increase defense spending again. And if Obama wins, he doesn't want to be seen as a weak president going into this election, so we probably won't see that many cuts going forward," says Wong.
Another way investors can tap into yield is through fixed-income ETFs. "The fixed-income ETF market has grown tremendously -- there's more than $180 billion in the market now," says Matt Tucker, head of iShares Fixed Income Strategy. "So investors have the option now to choose from a number of fixed-income sectors to really dial in the amount of yield and risk they want to take in the market."
Municipal bonds have long been a favorite among yield-seeking investors. But with cities across the country and states like California struggling to balance their budgets again, have munis lost their appeal?
Not necessarily, says Tucker.
"The reality is that states and other municipalities do have a lot of tools at their disposal for cutting back spending, for raising taxes, for making sure they can pay their debts," Tucker says.
While the
iShares S&P National AMT-Free Municipal Bond Fund
(MUB) - Get iShares National Muni Bond ETF Report
was beaten down during 2010, Tucker says it had a strong resurgence in 2011. "You're still seeing muni spreads trading at wide levels, or higher yields than Treasurys. So for a lot of investors who are taxable, it still can be a good place to put your money."
Another popular source of yield are Treasury Inflation-Protected Securities, or TIPS. These Treasury-issued notes rise in value along with inflation, as measured by the Consumer Price Index (CPI).
"It's one of the only investments that actually pays you for inflation. So if there's inflation in the market...you actually get paid in the form of a distribution of income," says Tucker.
While the rate of inflation has slowed in recent months, even falling to negative 0.2% in December, "TIPS are still a very popular asset class," Tucker says. The
Federal Reserve
last month announced it will hold interest rates at or near zero until late 2014, which could prove inflationary.
The $22 billion
iShares Barclays TIPS Bond Fund
(TIP) - Get iShares TIPS Bond ETF Report
, considered the "grandaddy" of TIPS funds, delivered investors a total return of more than 15% over the past 12 months, and has averaged an annual return of 10% over the past three years.
Readers Also Like:
>>
10 Dividend Stocks Most Likely to Outperform
>>
3 Tech Turnaround Stocks for 2012
Disclosure: TheStreet's editorial policy prohibits staff editors and reporters from holding positions in any individual stocks.