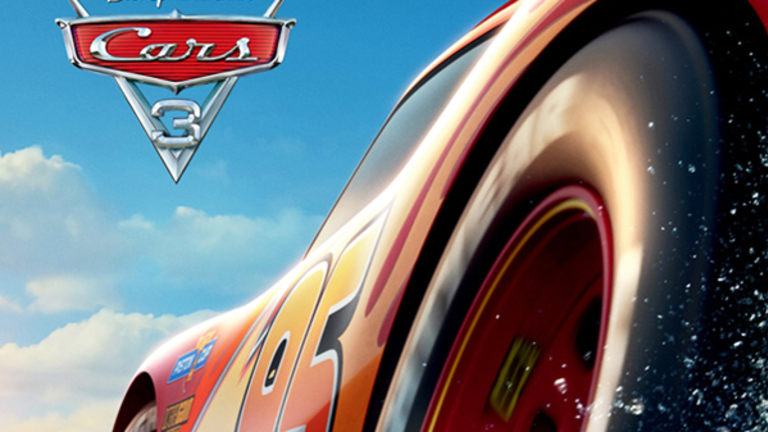 'Cars 3' Yields to Franchise Fatigue, Still No. 1 at Weekend Box Office
Elsewhere, 2Pac biopic "All Eyez on Me" had a breakout debut, and "Rough Night" had a rough weekend.
"Cars 3" may have sped to No. 1 this weekend, but the threequel showed that the franchise doesn't have much left in the tank at the domestic box office.
The film from Disney  (DIS) - Get Walt Disney Company Report  and Pixar opened to $53.5 million, a middle-of-the-road opening that was right in line with TheStreet's prediction. That ranks behind the debuts of the first two "Cars" films (which opened to $60.1 million and $66.1 million), as well as in the lower tier of Pixar openings. With an "A" CinemaScore, the threequel may experience strong holds going forward, as animated films often do. However, competition in the form of "Despicable Me 3" arrives on June 30, and that film could potentially drive "Cars 3" out of theaters before it hits $200 million domestic.
If "Cars 3" fell short of that mark, it would be one of only five Pixar films to miss that threshold--and one of only two if adjusting for inflation, along with "The Good Dinosaur" ($125.2 million). However, Disney executives are not likely to lose too much sleep over that fact. The breadwinner for the "Cars" franchise--and the presumable reason why there have been three films, despite tepid audience responses--is merchandising. The first film alone generated $10 billion in related merchandise, and Disney's $1.1 billion "Cars Land," an area of Disneyland that opened in 2012, has generated strong business for the company as well. When a franchise is a huge revenue generator, it matters a whole lot less that the films are trending downward at the box office.
One franchise that is not trending downward is the Warner Bros.' (TWX)  DC Universe, as "Wonder Woman" once again experienced a tremendous hold this weekend. The superhero film was down only 32% for a $40.8 million weekend and a mighty $274.6 million so far domestically. Not only is that weekend result nearly twice as much as the third-weekend gross for "Suicide Squad" ($20.9 million), but "Wonder Woman" has also overtaken that film in gross-to-date. That's incredible, considering that "Wonder Woman" opened $30 million below "Suicide Squad" and is a testament to the spectacular holding power of the film so far. At this point, expect the latest DC installment to finish with a domestic total approaching, if not slightly exceeding, $400 million. The worldwide total already stands at a heroic $571.8 million.
Blowing past the expectations of most analysts this weekend was Lionsgate's (LGF)  Tupac Shakur biopic "All Eyez on Me," which opened at $27 million. Among films about '90s hip-hop icons, that ranks below 2015's "Straight Outta Compton" ($60.2 million) but above 2009's "Notorious" ($20.5 million). In a summer when studios are increasingly blaming poor reviews for box office misfires, the strong start for the 2Pac drama demonstrated that a film can break out past expectations even without critics' support ("All Eyez on Me" stands at 24% on Rotten Tomatoes). However, the film did show early signs of front-loading, dropping a huge 40% from Friday to Saturday. Although some of that decline is attributable to the fact that Friday would have been Shakur's 46th birthday, the holding power of films that lose nearly half of their opening day audiences is historically very weak. "All Eyez on Me" is probably headed for a domestic total around $55 million, still an excellent result.
Fourth place was haunted by Universal's (CMCSA) - Get Comcast Corporation Class A Report  "The Mummy," which pulled in $13.9 million in its second weekend. That was down 56% from last weekend's lackluster debut, as the poorly-reviewed Tom Cruise film is already fading quickly from theaters. Internationally, however, the horror-action hybrid continues to rake in big bucks, with $53 million this weekend and an offshore total of $239.1 million. Globally, the film is approaching $300 million, and will likely top out around $400 million.
Making a surprise appearance in the Top 5 was "47 Meters Down," from new distributor Entertainment Studios. The Mandy Moore shark thriller opened to $11.5 million, well ahead of tracking and again showing the strength of the shark genre in the summer. With the upcoming calendar devoid of thrillers for the next month, "47 Meters Down" could hang around in theaters. Expect the film to close with a domestic total around $40 million.
Opening outside of the top 5 was Sony's (SNE) - Get SONY GROUP CORPORATION SPONSORED ADR Report  R-rated comedy "Rough Night," which could only party its way to an $8 million debut. That's the weakest opening for a female-led raunchy comedy in recent memory, as the genre has historically been strong with hits such as "Bridesmaids," "The Heat" and "Bad Moms." The film cost $55 million in production and advertising, making it a noteworthy but not disastrous miss for Sony. The dark premise of the film (bachelorettes kill a stripper) may have hurt it, and the middling reviews were certainly no help. With "Ghost in the Shell" and now "Rough Night," Scarlett Johansson has now had back-to-back flops in 2017, though next year's "Avengers" film will surely get the star's box office record back on track.
Next weekend sees the wide release of only one film, "Transformers: The Last Knight" from Paramount. As Viacom's (VIAB) - Get Viacom Inc. Class B Report studio has been struggling as of late, the latest installment in the Michael Bay-directed franchise will have quite a bit riding on it. Check back on Thursday for weekend predictions.