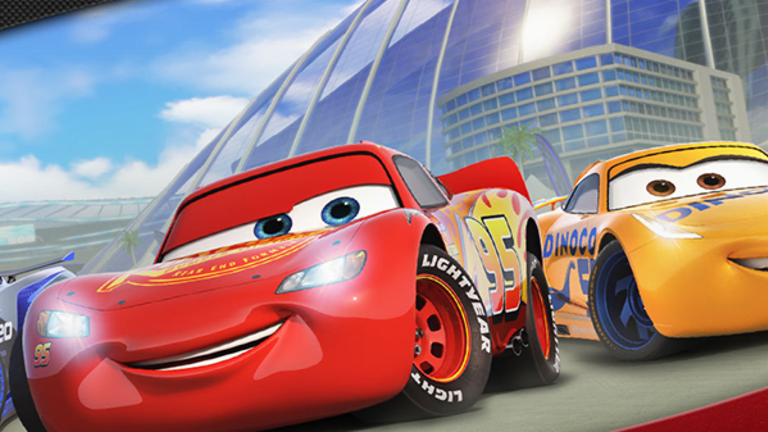 'Cars 3' Looks to Cruise to the No. 1 Spot at the Box Office
The Disney/Pixar films should open behind its predecessors at the box office, but it will beat out the competition nonetheless.
"Cars 3" arrives in theaters this weekend, and Disney (DIS) - Get Walt Disney Company Report  and Pixar are surely hoping that the 12-year-old franchise still has some gas left in the tank. Given the wide-open family market, the threequel should score the No. 1 spot at the box office. Elsewhere, three other new releases will look to make a dent in the box office. Lionsgate's (LGF)  2Pac biopic "All Eyez on Me" has a chance to break out, and Sony's (SNE) - Get SONY GROUP CORPORATION SPONSORED ADR Report  raunchy female comedy "Rough Night" will struggle to do so without positive reviews. Mandy Moore's shark thriller "47 Meters Down" looks like it will struggle for air with the glut of new releases. All together, the industry is probably looking at a $165 million weekend, up about 19% from last weekend and down 27% from the same frame last year, when "Finding Dory" swam into theaters with a big $135 million debut.
"Cars" is nowhere near as popular as the "Finding Nemo" franchise, and the latest installment will struggle to make even half as much as "Dory" did on opening weekend. The talking car franchise shouldn't take it too hard, though; the financial appeal of the "Cars" films has always been the huge merchandise sales, not the box office. The first "Cars" made $10 billion in merchandising for Disney and Pixar, which led to a poorly-received sequel in 2011. "Cars 3," at least, sports a "Fresh" rating on Rotten Tomatoes -- the film was cruising with 67% at the time of publication. While that rating certainly won't deter parents from taking their kids, it won't drive a whole lot of interest among adults beyond that. Pixar movies have a high critical bar, many coming in above 90% on Rotten Tomatoes.
The "Cars" films were always made with kids in mind, though, and the latest installment will probably do just fine for itself without adults fueling the box office. The last two "Cars" films opened in the $60 to $65 million range, and if "Cars 3" could pick up that kind of opening weekend mileage, it would be an impressive feat. However, franchise fatigue could take its toll, as could an odd marketing campaign which had people speculating about the death of the franchise's hero Lightning McQueen. Expect "Cars 3" to pick up $52 to $55 million in its debut, a solid if unspectacular start for the Pixar film.
Second place should belong to "Wonder Woman," which has shown super-strength holding power at the box office so far. Even though this weekend is far more crowded than last, the DC film should continue to draw large audiences into theaters in its third week of play. Expect "Wonder Woman" to capture a $35 to $36 million weekend, which would represent a light 38% drop and a running domestic cume around $265 million.
The drama about iconic rapper Tupac Shakur, "All Eyez on Me," should land in third this weekend. Biopics about rappers tend to perform well at the box office, as 2009's "Notorious" and 2015's "Straight Outta Compton" have shown. The former film opened with $20.5 million, while the latter film opened with $60.2 million. "All Eyez on Me" will probably open in line with the Notorious B.I.G. biopic, which may make both Biggie and 2Pac roll over in their graves. The film is being released on what would have been Shakur's birthday and will feature much of the rapper's catalog on its soundtrack, both boons for the film. However, the lack of early reviews is troubling, as studios usually only maintain an embargo late into the week if they are sitting on a bad product. "All Eyez on Me" will probably open big on Friday and fall off over the course of the weekend. Expect a debut around $18 to $20 million.
Speaking of bad products, "The Mummy" will take fourth this weekend. The poorly received film struggled in its domestic opening last weekend, making $31.7 million against a $125 million budget. Luckily for Universal and Comcast (CMCSA) - Get Comcast Corporation Class A Report , the first film in the planned "Dark Universe" unearthed much better results internationally, achieving Tom Cruise's largest global opening. That won't save "The Mummy" from toxic word of mouth stateside, though. Look for "The Mummy" to fall over 55% this weekend for a $12-$13 million weekend and a lousy domestic cume around $55 million.
Sony's R-rated laffer "Rough Night" should round out the Top 5. The women-take-Vegas concept feels like a fresh answer to "The Hangover" films, and the film's loaded cast includes Scarlett Johansson and Kate McKinnon. R-rated comedies often need a positive critical response to convince audiences to check out the film, and as of publication time, "Rough Night" sat at a 55% "Rotten" rating on Rotten Tomatoes. The film's marketing may also end up hurting it, specifically the fact that it's being advertised as a film from the writers of "Broad City." That show has a devout but still-niche following, and as it centers around the lives of two Millennials in New York City, much of its humor (as well as its fan base) is region-specific. "Rough Night" will probably not benefit from the tie-in and may lose too much of its female audience to "Wonder Woman." The ensemble comedy will likely open around $12 million, which would still be a decent result considering its $20 million budget.
Opening outside the Top 5 will be "47 Meters Down," which will mark the first theatrical release for new distributor Entertainment Studios. Unfortunately, it looks to be an inauspicious start for the television production company's first foray into film. "47 Meters Down" looks a little too similar to last year's shark thriller "The Shallows" to break out in a meaningful way, and Mandy Moore is not a big enough star to sell the film on her name alone. Look for "47 Meters Down" to get gobbled up by the competition with a $5 million opening.