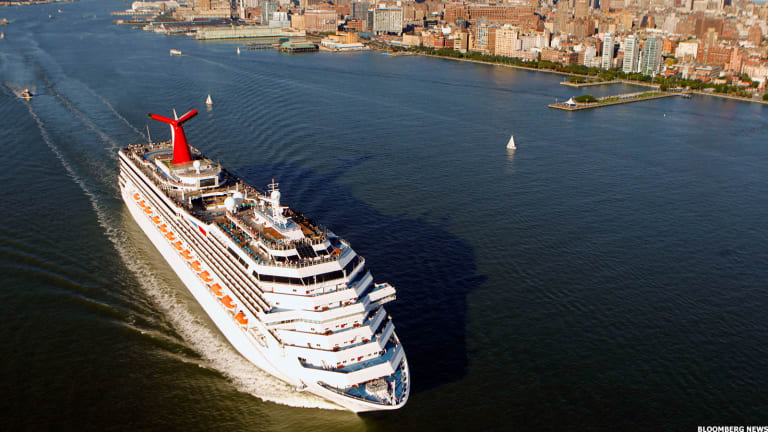 Carnival Crushes 2016, Expects a Better 2017 on China, Caribbean Growth
After posting 2016 full-year and fourth-quarter results that slammed expectations, Carnival predicted further profit gains in 2017.
Carnival (CCL) - Get Report , the cruise line operator that reported 2016 full-year and fourth-quarter results that crushed Wall Street expectations Tuesday morning, will likely exceed those profits in 2017 even amid rising oil prices and a higher U.S. dollar, CEO Arnold Donald said on an earnings call.
"First of all, it is a headwind to have currency and fuel both rule against you at the same time which has never happened before," Donald said. Typically, when oil prices climb, the U.S. dollar weakens against the euro, creating a "natural" hedge for companies with heightened exposure - which did not happen.
The price of West Texas Intermediate crude is up to $52.65 a barrel while the price of Brent crude climbed to $55.84 a barrel on Tuesday afternoon. Carnival uses zero cost collars, only effective if the price of oil reaches $75 a barrel, rather than a formal hedging program.
Advanced booking volume and prices for 2017 are "well ahead" of the previous year, as Carnival anticipates its China, Caribbean and North American cruise lines to drive growth, Donald said. Carnival expects net revenue yields to be up by 1.5% to 2.5% for the first quarter of the new year.
Carnival projected 2017 adjusted earnings to be in the range of $3.30 to $3.60 a share, which would be higher except for the fuel and the currency issues. The company expects fuel costs to trim about 27 cents a share from 2017 earnings and the exchange rate issues to cut earnings by an additional 16 cents.
"We are committed and we will deliver," Donald said.
Before today's opening bell, Carnival reported 2016 full-year adjusted earnings of $3.45 a share on $16.4 billion in revenue, well above analysts' expectations of earnings of $2.67 a share on $12.9 billion in revenue.
The company posted fourth-quarter earnings of 83 cents per diluted share on $3.9 billion in revenue, compared to Wall Street's predictions of earnings of 59 cents a share on $3.9 billion in revenue. The results came after Carnival's Princess Cruise Lines was hit with a record $40 million in fines on Dec. 1 by the Department of Justice for intentionally dumping oil-contaminated waste into the ocean.
Shares of Carnival spiked $1.19, or 2.32%, to $52.51 on Tuesday afternoon.
Meanwhile, Carnival is planning for further expansion in China in the next few years. In September, the company announced it will build two Carnival Vista ships - the company's largest cruise line -- in China, the first of which will launch in 2022.