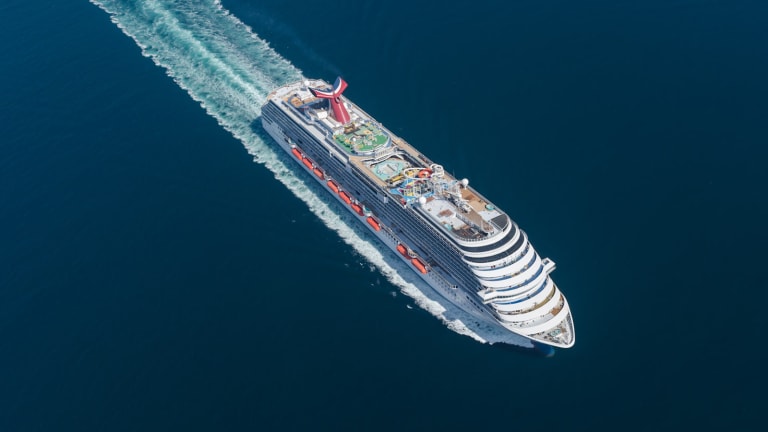 Carnival Cruise Line's Big Splash: Creating the Ultimate Smart Ship
The cruise line operator will debut new one-of-a-kind technology at the Consumer Electronics Show.
The cruise line operator will debut new one-of-a-kind technology at the Consumer Electronics Show.
It's not exactly commonplace to see executives from a cruise line hanging out on the floor of one the biggest annual tech gatherings around. But Carnival Cruise Line (CCL) - Get Report CEO Arnold Donald certainly has a good reason for setting sail to the Consumer Electronics Show this year to give a keynote address: his company is about to upend how people experience a cruise vacation.
Carnival, the world's largest cruise line, will take the wraps off its new medallion technology at CES. The quarter-sized disk made of burnished aluminum essentially turns the hulking vessel into a smart ship. The medallion will be provided to passengers before they get on the ship and it will serve multiple purposes.
The most obvious is the ability to lock and unlock a stateroom as a passenger nears it. Passengers will be able to pay for merchandise and excursions. They can get information on how to navigate the ship's many amenities by interacting with digital displays on the walls.
The fascinating aspect here is that unlike other smart bands such as Disney's (DIS) - Get Report MagicBand or Royal Caribbean's (RCL) - Get Report Wow Bands, Carnival's medallion doesn't have to touch another device to work. It could be worn as a necklace or simply left in the pocket and the near-field communication and Bluetooth technology embedded inside communicate with sensors and readers positioned around the ship.
Unlike Royal Caribbean's Wow Bands that launched in 2014, which are optional purchases and haven't completely done away with annoying door keys and paperwork, Carnival's medallions will be given to everyone on board and totally remove layers of friction.   
Leave the plastic in the wallet while shopping -- the medallion has your back.
"We think this is a breakthrough," Donald told TheStreet in an interview. "We are a hospitality business, but while technology is fascinating it needs to be invisible," he added. The medallions will debut on Carnival's Regal Princess ship in November 2017, followed by the Royal Princess in January 2018 and Caribbean Princess in March 2018.
Examples of the technology being useful are plentiful. Imagine a waiter already knowing what bottle of wine you like based on past choices as soon as you are sitting down to dine. Or ordering a drink on a smartphone and having it waiting at the table when you sit down to watch a show.
And of course it will alleviate the confusing and often stressful check-in process for a cruise. The medallion contains a person's sailing information, so passengers will not need to switch back and forth between printed bar codes and key cards to check in, embark, disembark or buy something on-board.
"Where technology like this is wonderful is when you are hanging out at the pool or on the beach and getting to your card is difficult, but you can now go around the ship or out onto a private island and just charge away," explains John Mast, VP of marketing at Expedia CruiseShipCenters. "For the classic cruise experience, it can make your life better," adds Mast. 
The technology -- which took about two years to develop -- is the brainchild of John Padgett, who joined Carnival in 2014 as its first-ever chief customer experience officer. Padgett was the driving force behind Disney's widely acclaimed MagicBand, an all-in-one wrist device that serves as a room key, charge card and fast pass check-in device. 
Easily order a drink by the hot tub
"We have some of the best entertainment and restaurants, and visit all of these places, but for some taking a cruise could be intimidating because there is instruction overload," Padgett concedes, adding, "Taking out the friction and hassle is particularly interesting to us."
Concludes Donald, "It's the golden age of cruising." Hard to argue with that notion when a cruise line CEO is offering up a keynote at a tech confab.