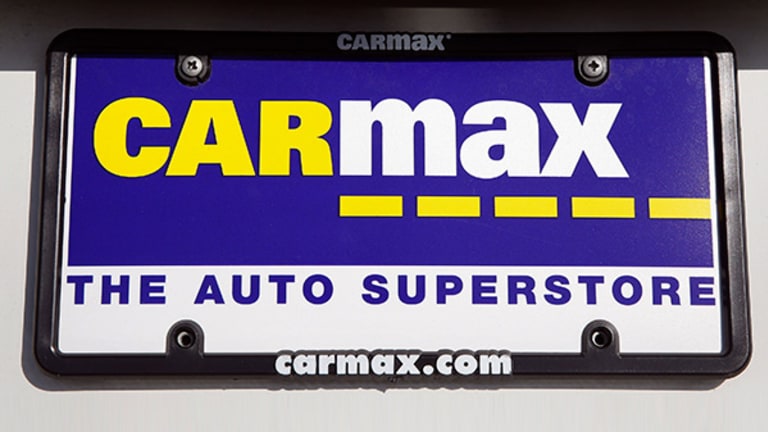 CarMax Rides Good Reputation, Brand Loyalty to an Increasing Share Price
America's top car retailer suffered after the Great Recession, but revenues have risen over the past three years.
One bright spot amidst a disappointing, second-quarter government report on gross domestic product last week was consumer spending, which continued to rise.
That was good news for CarMax (KMX) , which is the largest used car retailer in the United States. Used car dealers have sometimes been the subject of jokes, but CarMax has brought a greater degree of integrity and dependability to the business.
By creating a nationwide chain with standard deals and procedures, CarMax has generated considerable brand loyalty. And unlike some other retail sectors that have largely gone online, consumers still want to test drive a vehicle before buying it. In addition, people buy used cars in good times and bad to save money on the largest purchase they usually make aside from a home. 
Identifying a company that provides a service where demand is nearly constant is a good way to guarantee returns. Shares of the company rose slightly in Friday trading.
To be sure, CarMax suffered in the aftermath of the 2008 Great Recession. But its revenues have risen smartly over the last three years, as American motorists have become less cautious. 
In the most recent quarter, the company's net sales increased 2.8% to $4.13 billion, total unit sales to consumers rose 4%, and net earnings per share rose 4.7% to 90 cents. Management is predicting a healthy earnings per share growth of about 12% over the next five years.
While same-store sales have been strong, CarMax has increased its market share in recent years by aggressively moving into new markets. So far this year, it has opened new outlets in San Francisco, in Springfield, Ill. and in El Paso, Tex. Its strong cash flow has allowed it to keep its lots well-stocked with cars from Ford, Honda and other high-demand vehicles.
During the first quarter, the company repurchased 2.6 million shares of common stock for $132 million as part of an extensive share repurchase program. The price-earnings ratio is quite reasonable at 19.
The company has been listed as one of Fortune magazine's "100 Best Companies to Work For" for 12 straight years. One sign of its financial health is that it is recruiting for more than 1,000 positions in locations across the country.
---
As an investor, you have to expect the unexpected. Fed Chair Janet Yellen just said that despite the softer GDP numbers, the case for raising interest rates has "strengthened." What will that do to the stock market? You need a system that can find those key companies in every industry that have proven their ability to thrive in any economic climate. To get our special report that explains this proven system, which will allow you to win on NEARLY NINE OUT OF TEN TRADES, just click here!
This article is commentary by an independent contributor. At the time of publication, the author held no positions in the stocks mentioned.