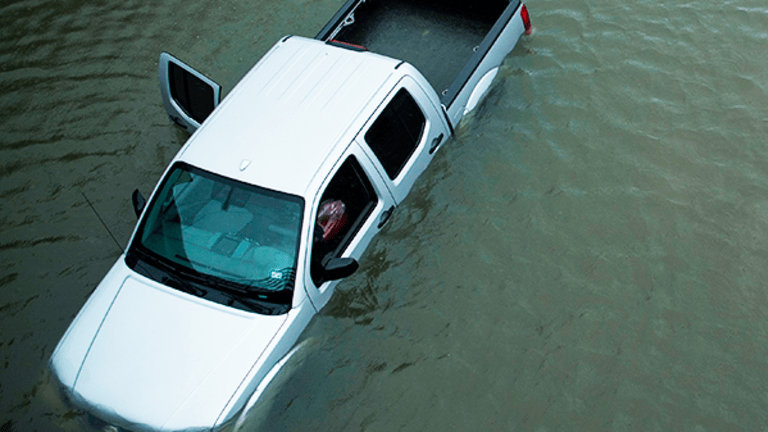 CarMax, Avis Still Assessing Hurricane Harvey's Catastrophe
Car companies discuss how they're dealing with the effects of tropical storm Harvey.
Car companies discuss how they're dealing with the effects of tropical storm Harvey.
Hundreds of photographs from areas in coastal Texas and Louisiana hit by tropical storm Harvey show a slew of stranded cars, engulfed in flood water.
Likely, parking lots in the area operated by car companies, such as CarMax Inc. (KMX) - Get Report , Hertz Global Holdings Inc. (HTZ) - Get Report , Avis Budget Group Inc. (CAR) - Get Report and AutoNation Inc. (AN) - Get Report , look the same.
CarMax, the Richmond, Va.-based used-vehicle retailer, told TheStreet in a Wednesday, Aug. 30, email that Harvey has caused it to close six of its Houston locations but that "it's too early to tell the potential impact and when the stores will reopen."
The retailer said its other more than 175 stores in the U.S. "will support the future inventory needs of our Houston stores."
In addition to the six stores, CarMax said the storm has affected 1,000 employees living in the Houston area, who will receive emergency supplies and up to $1,500 each from the company's Associate Disaster Relief Fund. Plus, like many corporations and celebrities including actress Sandra Bullock, CarMax will donate $100,000 to the American Red Cross to aid relief efforts, on top of the annual $250,000 it already pays as a Red Cross Disaster Responder Partner.
Car rental and sharing service Avis, headquartered in Parisippany, N.J., said it is "working around the clock to assess areas impacted" and is collaborating with its nonprofit and corporate partners to provide vehicles to customers who lost their cars in the storm.
"We are moving vehicles into the affected areas, but as this situation is still unfolding, we do not yet know how many of our vehicles will ultimately be involved," Avis told TheStreet in an email late Wednesday afternoon. "It's too early to say what impact we may sustain to our vehicles and facilities in the affected areas due to flooding."
Still, Avis self insures for up to $2.5 million in damages for a natural disaster like Harvey. The company said all its employees "have been accounted for and we continue to manage their personal needs to ensure their safety as a priority."
Cox Automotive estimated on Wednesday that the Texas auto market will lose between 20,000 and 40,000 new vehicle sales in August due to Harvey. The Houston area has a vehicle ownership rate of 94.4%, higher than the average U.S. rate of 91%.
On Tuesday, weather forecast provider AccuWeather predicted that damages from Harvey could near $160 billion, making it the costliest natural disaster in U.S. history. Flood waters began to rise in Houston on Tuesday and many areas in the Texas city are still under water. On Wednesday morning, the storm touched down on the coast of Louisiana.
AccuWeather warned that the U.S. has not seen the worst of the flooding yet "as rivers and bayous continue to rise in Texas with additional levees at risk for breaches and failures."
Harvey first made landfall on Friday, Aug. 25, near Corpus, Christi, Texas, as a category 4 hurricane.
Hertz and AutoNation were not immediately available for comment. TheStreet will update this story as it gathers more information.
Read More of What's Trending on TheStreet: