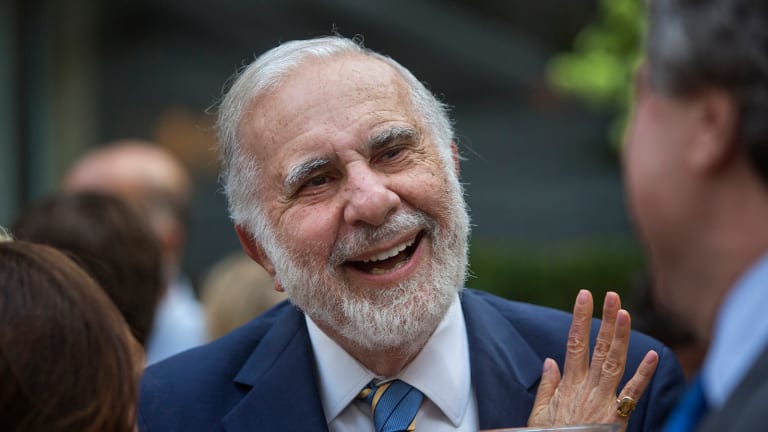 Publish date:
Carl Icahn's Presence Looms Over Hertz (HTZ) C-Suite Changes
The billionaire investor controls three seats on what is now a seven-person board of directors for the car rental company.
The billionaire investor controls three seats on what is now a seven-person board of directors for the car rental company.
Embattled car rental company Hertz Global Holdings (HTZ) - Get Report shook things up at the top on Tuesday when it announced that Kathryn Marinello would take over as CEO from the embattled John Tague on Jan. 3. Three members of the company's board of directors are also on the way out.
The personnel shifts are almost certainly good news for billionaire investor Carl Icahn, Hertz's largest shareholder. He has about a 35% stake in the company and more than doubled his investment on Nov. 9 when the company's stock plunged as much as 50% during trading after an awful third quarter earnings report.
"The board is now left with seven members. The bottom line is that three of those members are his guys," Millman Research Associates founder Michael Millman said in a phone interview. Icahn nominated three members to the board in 2014. "I think he really has an interest in who's running [Hertz] and how it's doing."
Marinello - who most recently was a senior advisor of alternative asset management firm Ares Management (ARES) - Get Report - has Icahn's seal of approval.
"I am excited about Hertz and its prospects with Kathy at the helm," Icahn said in a statement. "Kathy has a history as a proven CEO and I believe she is the right person to lead Hertz as we move forward."
Before coming to Ares, she spent five years as the CEO of business services firm Ceridian, as well as a decade in various roles at General Electric (GE) - Get Report . She sits on the board of directors at General Motors (GM) - Get Report and Volvo.
While at GE, Marinello spent five years (2002-2006) as CEO of the conglomerate's fleet services business, which lent out cars and trucks to corporations. The vehicle leasing experience stands in contrast to Tague, who built his career in the airline industry and spent seven years at United Airlines (UAL) - Get Report .
"When you're a CEO at GE, it tells you something," Millman said.
Marinello inherits a company trying to put out multiple fires at once. Hertz cut its full-year earnings forecast to a range between 51 cents and 88 cents per share from $2.75 to $3.50 when it reported its third quarter earnings, blaming an adjustment in the depreciation rate of its vehicle fleet.
The company also lost a great deal of goodwill with investors in 2014 and 2015 when an accounting scandal forced it to wipe about $153 million of profit dating back to 2011 off the books. The scandal first emerged before Tague replaced Mark Frissora, who Hertz said resigned for personal reasons. Frissora is now CEO of Caesars Entertainment.
The 2013 decision to move from Park Ridge, N.J. to Estero, Fla. hasn't helped matters, either. MKM Partners analyst Christopher Agnew called the move an "unmitigated disaster" in a research note circulated to investors Wednesday morning and blamed it for a significant outflow of employees from the company.
"From my perspective, Hertz has a lot of great employees. It's a company that has gone through a lot," Northcoast Research analyst John Healy said in a phone interview. "It has a lot of well-known and established brands in the rental car business [Dollar and Thrifty, in addition to the eponymous brand]. I think it's about stabilizing the company."
To that end, Hertz spun off its equipment rental company, Herc Holdings, in June.
Hertz was getting slammed down 7% to $23.37 in Wednesday afternoon trading, erasing a Tuesday surge that was sparked by speculation on Twitter of a potential Icahn takeover.
Whether Icahn will ever take the company private remains just that - speculation - but the presence he has in the company cannot be denied.
"To say that he couldn't acquire the business I think would be kind of naive," Healy said. "I think at this point, he has a lot to say."