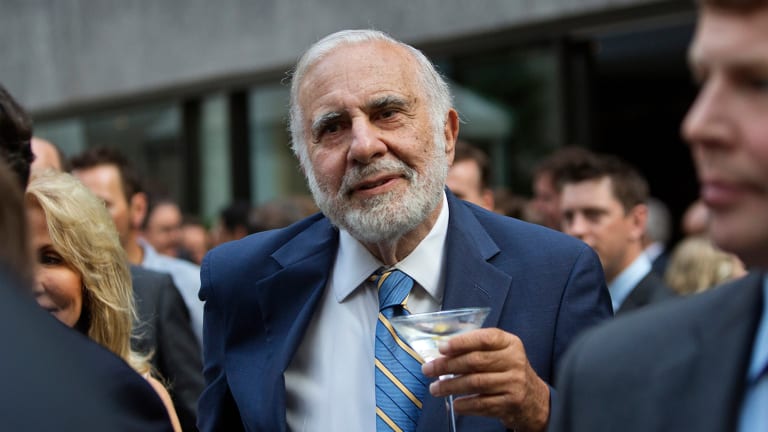 Carl Icahn and These 9 Celebrities Love Donald Trump for President
There's a long list of notables who've given the real estate tycoon's presidential bid a thumbs up -- though not all of them have Icahn's deep pockets.
NEW YORK (TheStreet) -- Billionaire Carl Icahn appeared on CNBC Wednesday to elaborate on his endorsement of presidential candidate Donald Trump, lending the hotly-debated and frequently-maligned campaign some of Wall Street's legitimacy. Icahn called it a "no-brainer" to elect Trump and said that "he's sending a message to the middle class."
But Icahn isn't the only celebrity to blow Trump's trumpet. There's a long list of notables who've given the real estate tycoon's presidential bid a thumbs up so far, though not all of them have Icahn's standing on Wall Street and deep pockets.

1. Willy Robertson
The "Duck Dynasty" star initially backed Louisiana governor Bobby Jindal, but also made an appearance at a Trump rally at the Oklahoma State Fair (maybe he confused the Donald's toupee for a duck blind?). Robertson told the crowd: "We're both successful businessmen, we both have pretty big shows on television, and we both have wives that are 1,000 times better looking than us. So I like Trump."

2. Charlie Sheen
A "shame pile of idiocy," a "silly homunculus" and a "sack of cat farts" was how Sheen described Trump in a tweet in July. By August, however, he wasoffering to be Trump's vice president. Sheen said he was won over by Trump's "honesty" and his proclivity for "not following the script."
3. Charles Kushner
Trump attended an August fundraising event in his honor at the home of fellow real estate baron Charles Kushner, proving the old adage that birds of a feather develop property together. Kushner, whose wife reportedly gave $100,000 to a super PAC supporting Trump, is also the father of Trump's son-in-law, Jared Kushner.


4. Mike Ditka
Former Chicago Bears coach Mike Ditka told the Chicago Sun-Timesthat Trump "has the fire in his belly to make America great again and probably do it the right way."


5. Hulk Hogan
Hulk Hogan didn't just endorse Trump to reporters in August: The ex-wrestler offered to be his running mate, obviously finding more in common with the candidate than just unruly blond hair. Jesse Ventura, another ex-professional wrestler and the former governor of Minnesota, made the same appeal to Trump early in September. 


6. Terrell Owens
Former Philadelphia Eagles wide receiver Terrell Owens made an appeal to join Trump's campaign back in June, even making an appearance on "TMZ Hollywood Sports" to ask for a spot in Trump's administration if he gets elected.


7. Dennis Rodman
Kim Jong-un's good buddy Dennis Rodman tweeted in favor of Trump in July, saying that Trump "has been a great friend for many years" and that "we need a businessman like Mr. Trump!" In response, the Donald tweeted a thank you at Rodman and said, "I hope you are doing well!"



8. Chuck Yeager
Record-setting test pilot Chuck Yeager, who is celebrated in the Oscar-winning movie "The Right Stuff," drew attention to the fact in an August Facebook post that "the criticisms of Trump" are "lacking in negative stories from those who work for him or have had business dealings with him." Yeager took a particular liking to Trump's foreign policy. "Trump," he wrote, "believes that America should not intervene militarily in other country's problems without being compensated for doing so. If America is going to risk the lives of our soldiers and incur the expense of going to war, then the nations we help must be willing to pay for our help."


9. Tom Brady
Super Bowl-winning quarterback and patron saint of Boston Tom Brady reportedly kept one of Trump's "Make America Great" hats in his locker and recently called the prospect of a Trump presidency "great," though he later qualified the comment and said it was overhyped. Stepping back from his non-endorsement, Brady told reporters Tuesday, "I haven't paid attention to politics in a long time. It's actually not something that I really even enjoy. It's way off my radar."