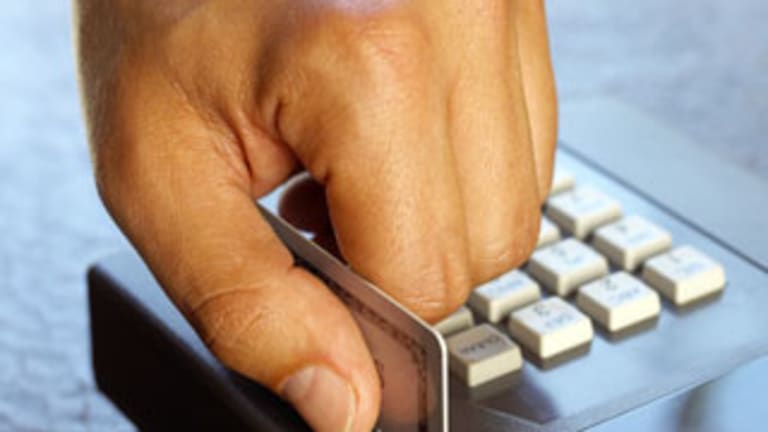 Card Fees: Fed Sent Back to Drawing Board (Update 2)
A judge's rejection of the Fed's implementation of the Durbin Rule could help Mastercard, while hurting the big banks.
Updated from 2:37 p.m. ET with market close information and comment from Pepper Hamilton LLP partner Frank Mayer.
NEW YORK (
) -- More than two years have passed since the Federal Reserve issued final rules to implement the Durbin Amendment, but the battle isn't over.
On Wednesday, U.S. district court judge Richard J. Leon in Washington ruled that the
Federal Reserve
had "clearly disregarded Congress's statutory intent by inappropriately inflating all debit card transaction fees by billions of dollars and failing to provide merchants with multiple unaffiliated networks for each debit transaction."
The Durbin Amendment -- named after Senator Richard Durbin (D., Ill.) -- is part of the Dodd-Frank Wall Street Reform and Consumer Protection Act, which President Obama signed into law in July 2010. The Durbin Amendment placed limits on the interchange fees paid by merchants to banks to process debit card purchase transactions. The amendment also gave retailers more freedom to choose which network to use to route debit card payments. Durbin covered banks with total assets exceeding $10 billion.
The idea of Durbin was that by limiting the interchange fees and allowing merchants choice over which network would be used to process the transactions, the savings to merchants could be passed to consumers through lower prices.
The Federal Reserve in December 2010 estimated that the average debit card interchange fee paid during 2009 was 44 cents, and initially proposed a cap on interchange fees at 12 cents. After the usual comment period, the Fed in June 2011 issued its final ruling, for an interchange fee cap of 21 cents, plus an additional "5 basis points multiplied by the value of the transaction."
That last bit removed the possibility of a very expensive transaction having the same interchange fee as the purchase of a pack of gum.
While many investors and bankers breathed a sigh of relief that the Federal Reserve raised the interchange fee cap considerably from its initial proposal, large banks took it on the chin when the rules were implemented during the fourth quarter of 2011.
Bank of America
(BAC) - Get Report
said in January 2012 that "the implementation of new interchange fee rules in the fourth quarter of 2011 as a result of the Durbin Amendment... reduced revenue by $430 million."
JPMorgan Chase
(JPM) - Get Report
saw its fourth-quarter 2011 noninterest revenue in its consumer and business banking segment decline by 7%, "driven by lower debit card revenue reflecting the impact of the Durbin Amendment, partially offset by increased deposit-related fees." In January 2011, JPMorgan CEO James Dimon took Congress to task over the Durbin Amendment, pointing out that before the new rules, the debit card interchange fees were a relatively low-cost way for merchants to process transactions.
Dimon said "Part of what happened in Durbin was this notion that retailers pay zero for cash and zero for checks and they were paying 70 to 80 basis points per debit card," according to a
Thomson Reuters
transcript of JPMorgan's fourth-quarter 2011 earnings conference call. Dimon went on to say, "the fact is cash costs retailers and there are a lot of studies done on this, 30 to 70 basis points. They have got to process it, handle it, move it, insure it, bank it. They need registers and there is a lot of defalcation."
Dimon added that "checks cost also 70 basis points for all the same basic reasons. So debit was just, as a matter of fact, a guaranteed check, which is the equivalent to a debit, like get your money right away and it is guaranteed, you are not taking the fraud or credit risk."
Wells Fargo
(WFC) - Get Report
said in January 2012 that its fourth-quarter 2011 "Card fees declined $333 million from third quarter due to a $365 million decline in debit interchange fees partially offset by improved credit card fee revenue."
A group of retailers sued the Federal Reserve Board of Governors, seeking a judgment that the Fed's final rules to implement Durbin were "arbitrary, capricious, an abuse of discretion, and otherwise not in accordance with the law." The retailers said the Fed's interchange fee cap was too high, and that the non-exclusivity rules for payment networks should apply to all debit card purchases, and not just to the ones requiring the customer to input a PIN code.
In his ruling on Wednesday, Judge Leon agreed that according to Dodd-Frank, the interchange fee caps should be based on costs "associated with authorization, clearing, and settlement ('ACS') of an electronic debit transaction," but not include "other costs" that the Fed included in its final ruling for a 21-cent transaction cap, plus the 5% of the transaction cost.
The judge also ruled in favor of the plantiffs' argument that the Durbin Amendment requires merchants to have multiple choices between unaffiliated payment networks for each debit card transaction, and not only for each card.
"The Court concludes that the proper remedy here is to remand to the Board with instructions to vacate the Board's interchange transaction fee," and network non-exclusivity rules, Judge Leon wrote.
"First, the interchange transaction fee and network non-exclusivity regulations are fundamentally deficient. It appears that the Board completely misunderstood the Durbin Amendment's statutory directive and interpreted the law in ways that were clearly foreclosed by Congress," according to Leon.
So what does this mean for the banks and credit card processors?
"The opinion sets in motion the possibility that 1) interchange fee caps could be reduced again (income earned by banks -- top 3 issuers are BAC, WFC, JPM; recall Visa and MasterCard do not earn interchange fees) and 2) signature debit cards would also require two unaffiliated signature networks, similar to what was enforced on PIN debit transactions, forcing variable competition between
Visa
(V) - Get Report
and
Mastercard
(MA) - Get Report
," according to JPMorgan analyst Tien-tsin Huang.
When considering the effect of "forcing two unaffiliated networks for signature debit transactions," Huang in a note to clients on Thursday wrote "Visa has more to lose than gain since it has 71% share in signature debit versus MasterCard at 29% in the U.S. Assuming competition results in shift to 50/50 share and pricing stays rational, we conservatively see $540M of revenue that could shift from Visa (6% revenue hit or ~$0.51 in EPS) to MasterCard (9% revenue benefit or ~$2.74 in EPS)."
KBW analyst Brian Gardner in a note on Friday was quoted as saying there "clearly will be an appeals process," which could take six months to a year.
Trading action reflected Huang's view on the possible advantage to Mastercard, as its shares rose 6% on Thursday to close at $646.38. Visa's shares were up 1% to close at $179.17.
Investors were also pleased with Mastercard's second-quarter results. The company on Wednesday reported second-quarter earnings of $848 million, or $6.96 a share, increasing from $700 million, or $5.56 a share, in the second quarter of 2012. Net revenue was up 15% year-over-year, to $2.096 billion.
Oppenheimer analyst Glenn Greene in a note to clients Wednesday wrote that the strong results were "driven by solid revenue/volume growth, lower incentives, and 400bps of margin expansion."
But Judge Leon's ruling against the Fed on the interchange fee rules created "a new regulatory overhang for Visa and MasterCard."
"While not clear, we suspect the Fed will appeal the ruling, and begin another lengthy legal battle," he wrote. "
The Likely Appeal by the Federal Reserve
"The Federal Reserve should certainly consider action to stay the district court decision challenging the rule," says Frank Mayer, a partner in the Financial Services Practice Group of Pepper Hamilton LLP in Philadelphia. "One issue is whether the district court has properly deferred to the congressionally deemed expert federal agency rule maker. This is known as Chevron deference." according to Mayer.
"Generally a court must defer to the expert federal agency in their rule-making, absent a finding that the statute was unambiguous and the rule is inconsistent with congressional intent and the agency failed to abide by the administrative procedures act," Mayer says.
The Fed in an appeal is likely to challenge Judge Leon's view that the Durbin Amendment's language on costs that may be included in the maximum allowed interchange fee is ambiguous. "Congress has not in recent years asked a federal agency to establish prices for goods and services," Mayer says. "In asking the FRB to establish interchange fees that are 'reasonable and proportionate,' Congress moved away from that trend and many federal agencies lost experience establishing fair pricing and competition."
When considering the possibility of a lengthy appeals process, Mayer says "Time exigencies are critical as continuing uncertainty hurts commerce for everyone."
-- Written by Philip van Doorn in Jupiter, Fla.
>Contact by
.
Philip W. van Doorn is a member of TheStreet's banking and finance team, commenting on industry and regulatory trends. He previously served as the senior analyst for TheStreet.com Ratings, responsible for assigning financial strength ratings to banks and savings and loan institutions. Mr. van Doorn previously served as a loan operations officer at Riverside National Bank in Fort Pierce, Fla., and as a credit analyst at the Federal Home Loan Bank of New York, where he monitored banks in New York, New Jersey and Puerto Rico. Mr. van Doorn has additional experience in the mutual fund and computer software industries. He holds a bachelor of science in business administration from Long Island University.