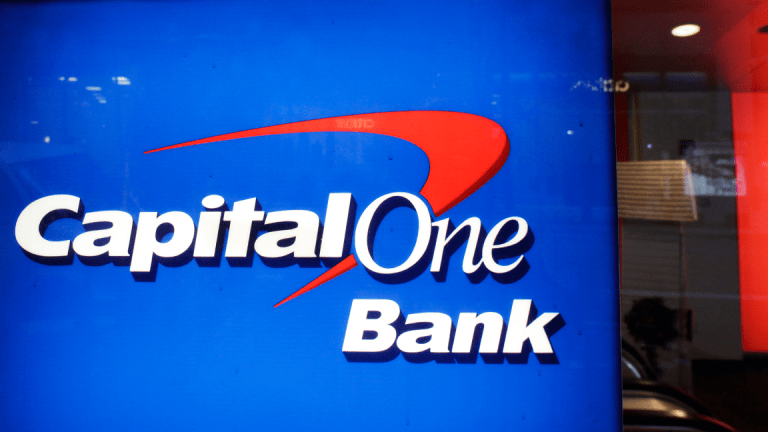 Capital One Reports Data Breach Hitting 100 Million Customers
The alleged hacker, reportedly a former employee of Amazon Web Services, was arrested by federal agents in Seattle.
Capital One Financial Corp. (COF) said late Monday that a hacker got access to the personal information of more than 100 million of its credit card customers and applicants.
Also on Monday, the alleged hacker, identified as Paige A. Thompson, was arrested by federal agents in Seattle, according to a published report.
The breach would be considered among the largest involving a big bank. In a press release, Capital One said the hack affected approximately 100 million individuals in the U.S. and approximately 6 million in Canada.
No credit card account numbers or log-in credentials were compromised and more than 99% of Social Security numbers were not compromised, the company said. The largest category of information accessed was information on consumers and small businesses as of the time they applied for a credit card products from 2005 through early 2019. That information would have included names, addresses, zip codes, phone numbers, email addresses, dates of birth, and self-reported income and some credit card customer and transaction data.
The company said it would notify affected customers and provide free credit monitoring and identity protection available to those affected.
A story in the online edition of The Wall Street Journal, citing people familiar with the matter, reported Thompson is a former employee of Amazon Web Services Inc., the cloud-computing division of Amazon (AMZN) . The Journal also reported that a lawyer for Thompson, who was arrested Monday and appeared in Seattle federal court for an initial hearing, didn't immediately respond to a request for comment.
The incident is expected to cost the bank approximately $100 million to $150 million, the company said.
Shares of Capital One were down 3.92, or 4%, to $93. in after-hours trade. The stock closed Monday down 1.18% at $96.92.