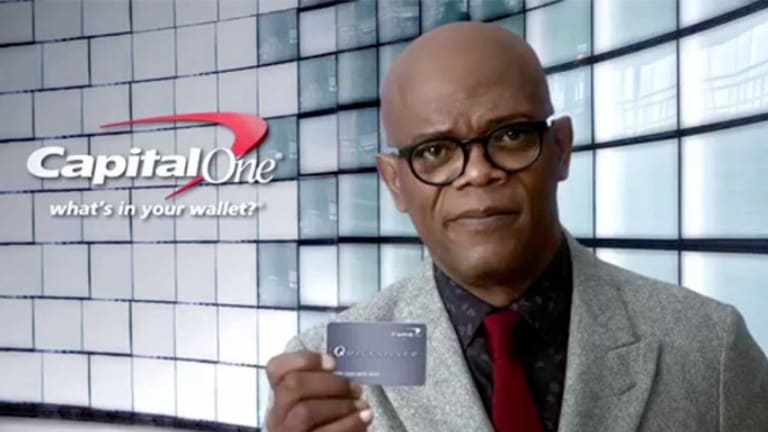 Publish date:
Capital One Misses Estimates After Boosting Loss Reserves 63%
The Virginia bank reported earnings of $1.84 a share on revenues on $6.2 billion for 1Q16.
The Virginia bank reported earnings of $1.84 a share on revenues on $6.2 billion for 1Q16.
Capital One (COF) - Get Report, the bank that specializes in credit cards for risky borrowers, posted lower quarterly profit than analysts estimated after increasing reserves against possible defaults by more than 60%.
The McLean, Va.-based bank's earnings of $1.84 a share compared with the $1.92 average of projections in a Bloomberg survey, and net income dropped 16% to $1 billion.
The lender increased reserves against potential defaults by borrowers by 63% from a year earlier, to $1.53 billion. That included a $73 million increase related to oil and gas loans, which have become riskier as the price of crude plummeted from a 2014 peak above $100 a barrel to less than $50.
The question now is whether the bank has taken a large enough provision and built enough reserves going forward, Keefe, Bruyette & Woods analyst Sanjay Sakhrani said in an interview. The rate of nonperforming loans, those that are 30 days or more past due, climbed to 19% from just 8.2% in the three months through December. Sakhrani maintains an "outperform" rating on the stock and a price target of $84.
Oil and gas loans will continue to pressure earnings for the remainder of the year as the bank builds reserves further, CEO Richard Fairbank said on an earnings call. Already, the firm has boosted oil and gas reserves from $91 million a year ago to $359 million at the end of the first quarter. Its total oil and gas portfolio is $5.9 billion, about $2.7 billion of which borrowers haven't yet drawn.
Prolonged low interest rates are another challenge: Short-term rates in the U.S. were kept at nearly zero for seven years following the financial crisis. The Federal Reserve raised them for the first time in December, by 25 basis points, but has since lowered the number of likely increases this year to two from four.
Still, the three months through March marked "another quarter of strong growth in our domestic card business, both in loan balances and purchase volumes, which drove strong growth in revenue," Fairbank said in a statement. "We continue to be in a strong position to deliver attractive shareholder returns, driven by growth and sustainable returns at the higher end of banks."
Capital One acquired General Electric's GE Healthcare Financial Services unit for $9 billion last year, and picked up $8.5 billion of health-care loans to blend with its own health-care lending unit.
The company's efficiency ratio, a gauge of operating expenses, improved from 56.2% at the end of last year to 51.8% in the first quarter. "Our efficiency guidance is not changing," Fairbank said, and the bank "still expects some improvement for 2016."
Ranking as the eighth-largest commercial bank, Capital One has expanded from a company mostly known for its credit cards to a diversified business that includes energy investment banking and health care.
Capital One rose 1.2% to $75.94 after the earnings were released. The stock previously climbed 5.2% this year, for a market valuation of $39 billion.