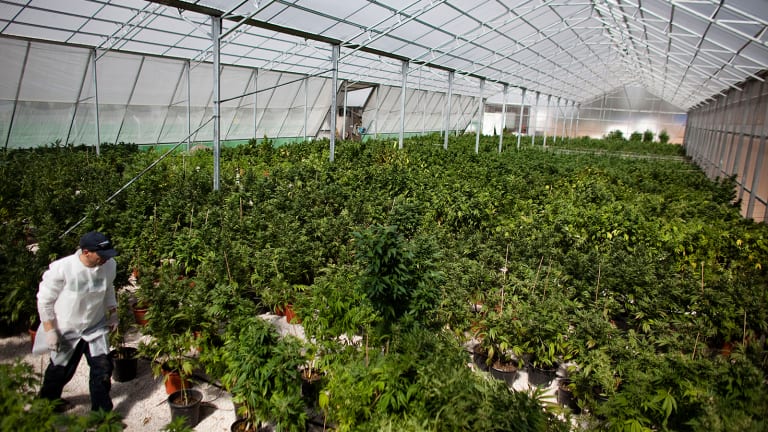 Canopy Growth Likely Merger Partner For Alcaliber
Canopy Growth, maybe the biggest name in the Canadian cannabis sector, may have the inside track to scoop up Alcaliber SA, a Spanish company which produces more Morphine than anyone in the world.
Canopy Growth Corp. has been getting a lot of attention lately between Constellation Brands buying a 10% stake and the news that the company is likely to gain a listing on Nasdaq in the second quarter.
As a cannabis-based company, attracting a company like Constellation is no small thing, and Nasdaq has been slowing listing cannabis companies, so that is a serious accomplishment as well.
But one of the headlines chasing the company around is harder to understand. Bloomberg reported earlier this week that Canopy was one of a trio of companies pursuing Alcaliber SA, a Spanish company that produces raw narcotic materials used to produce Morphine and Thebaine.
Thebaine is related to morphine but produces stimulant rather than sedative effects.
As a matter of fact, privately held Alcaliber produces more Morphine than any company in the world.
Bloomberg first reported that Alcaliber was on the block and that Canopy was just one of the suitors, along with U.K. private equity investor GHO Capital and Spanish investors Alantra Partners SA. Alcaliber is 40% owned by Sanofi, and it is unclear at this point whether a sale of Alcaliber would be for just the controlling shares or for the whole company.
GHO and Alantra did not respond to a request for comment.
Jordan Sinclair, a Canopy spokesman said, "We have an excellent working relationship with Alcaliber to pursue cannabis cultivation in Spain. That relationship can and will continue to thrive under any ownership structure."
It is thought that Canopy may have the inside track to an acquisition, which could be announced in April. Canopy's existing relationship with Alcaliber, a supply purchase agreement for certain strains of cannabis from Canopy subsidiary Spectrum Cannabis GmbH -- is essentially a license for Alcaliber to grow cannabis in its international locations.
The company already has a license from Spain to cultivate and produce cannabis for medical and scientific purposes as well as the ability to import and export the drug. While Canopy is well established in Canada, if it acquired Alcaliber it would also acquire the companies ability to distribute its product on an international basis, 93% of Alcaliber's morphine business is in export.
Moreover, with the morphine platform in place Canopy could piggyback on it for sale of medical cannabis which would aid Canopy in becoming an international player.
The acquisition of Alcaliber would almost certainly accelerate Canopy's move onto a senior exchange. While the company trades in Canada under the ticker LEAF, and it is listed on OTC Markets under TMWJF, trading on Nasdaq or the NYSE would give the company exposure to more investors.
Senior exchanges in the U.S. have dragged their feet for the same reasons that institutional investors have maintained a healthy distance from cannabis companies. The overhang of federal drug laws which not only makes cultivation, possession, use and sale of pot crimes, but also puts marijuana on an equal level with heroin, cocaine and LSD, keeps Wall Street money away.
But the exchanges are beginning to read the tea leaves. Pew Research showed in January that 61% of the country favored making cannabis use legal. The Alternative Harvest ETF trades on the New York Stock Exchange, and the fund invests in marijuana companies.
And though U.S. Attorney General Jeff Sessions is known for his anti-marijuana rhetoric, in a little more than a year the Trump administration has seemed more interested in Twitter wars than the war on drugs.
Nasdaq has nine cannabis companies trading, almost all of them in some sort of ag or medical/biotech context. They include Cara Therpeutics CARA, GW Pharmaceutical Plc GWPH, Insys Therapeutics Inc, INYS, Intec Pharma Ltd., NTEC, Marrone Bio Innovations MBll, Therapix Bioscience Ltd. TRPX, Zybera Pharmaceutical Inc., ZYNE and Atlantic Alliance Partnership Corp.
AAPC. Atlantic is actually a special purpose acquisition corp. that is in merger talks with Kalyx Development, a real estate company that leases property to cannabis companies.
The most recent cannabis company to list on Nasdaq is another reason why the Canopy-Alcaliber deal is attractive. Nasdaq just took on the Cronos Group (CRON), a Canadian-based medical cannabis company involved in cultivation and sale of pot through a trio of licensed companies. Cronos is the first Canadian cannabis company on Nasdaq, but both Canopy and Aurora Cannabis Inc. (which trades in Canada as ACB) are said to be ready to list in the U.S.
The Canadian companies don't give the nation's exchanges the same pause that United States based companies do because Canada has validated the medical pot industry and will be doing the same for recreational marijuana use once that opens up in late summer.
Paul Singer, Nelson Peltz and a remarkable lineup of leading CEOs and activists have been confirmed as keynotes for The Deal's annual Corporate Governance conference taking place in New York on June 7, 2018. Conference host Jim Cramer will lead a series of discussions of the best strategies to master critical challenges in managing companies to maximize shareholder value. Register now and SAVE $300.Deal clients have special pricing; for more details contact your account manager.