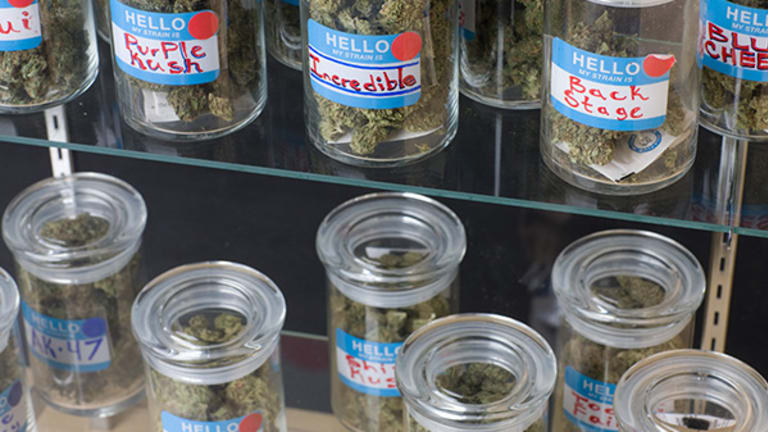 Cannabis Stocks Do Not Trade on Earnings, Instead on Pipeline of Drugs
Cannabis stocks are not affected by the volatility in prices during earnings season and instead trade on positive data such as potential FDA approval on their pipeline of drugs.
Cannabis and biotech stocks are not affected by the volatility in prices during earnings season and instead trade on positive data such as potential FDA approval on their pipeline of drugs.
Investors typically face a greater risk trading during earnings season, since the price of stocks, futures and options can be more volatile. While novice investors find it more exhilarating to trade stocks around earnings, the timing of their trades can be tricky.
Cannabis companies who are in the biotech sector such as GW Pharmaceuticals (GWPH) - Get Free Report and Zynerba Pharmaceuticals (ZYNE) - Get Free Report find their stocks often respond better in response to positive drug data, cultural and political paradigm shifts such as the passage of recreational and medicinal use on the state level than their quarterly earnings, said Jason Spatafora, co-founder of Marijuanastocks.com and a Miami-based trader and investor known as @WolfofWeedST on Twitter.
The earnings of GW Pharmaceuticals, a U.K.-based biotech company with a cannabis-based epilepsy drug, have not been too impressive of late, he said. When their drug Epidiolex received positive trial results last March, the stock "literally opened 100% higher the next day," Spatafora said.
"The reason investors love marijuana stocks as much as they do is due to the fact that earnings often mean little in an industry still emerging," he said.
An early stage biotech company who can demonstrate proof of concept usually resonates well with investors.
"Biotech has never needed earnings to give investors a great return on their investment, but it seems that with the pot stock and biotech mix, investors have the perfect storm," Spatafora said. "Those who skeptical need to only look at a chart of GW Pharmaceuticals and Zynerba Pharmaceuticals since July to see these are event driven equities."
Cannabis stocks remain largely undervalued as investors are skittish and the use of drugs produced by these biopharmaceutical companies have not been widely adopted. The current options for mainstream investors in this budding sector are limited to a handful of companies listed on the Nasdaq, including GW Pharmaceuticals, Insys Therapeutics (INSY) , a Phoenix company known for its cancer pain management drug but is developing a cannabis-based drug for the treatment of epilepsy; Cara Therapeutics (CARA) - Get Free Report , a Shelton, Conn.-based clinical state biopharmaceutical company that develops and commercializes pain relief drugs and Zynerba Pharmaceuticals, a Devon, Pa.-based company focused on developing and commercializing synthetic cannabinoid therapeutics.
While Cara, Zynerba and GW Pharmaceuticals are undervalued, many of them would emerge as attractive acquisition targets, said Spatafora. All three companies are appealing candidates because of their intellectual property and their pipeline of current and upcoming drugs.
The Zynerba Pharmaceuticals stock has experienced volatility and recently declined by 3.1%, but the company is demonstrating "significant upside to its current levels because its current valuation, trading at 30% discount to the average Wall Street price target and delivered positive results in December on its drug to treat epilepsy and osteoarthritis," said Michael Berger, founder of Technical420, a Miami-based company that conducts research on cannabis stocks.
"The average Wall Street price target on Zynerba is north of $30 and we view the company as an acquisition candidate for any biotech company interested in the cannabis industry," he said.
Insys Therapeutics has rallied off its lows and the company is "attractively valued compared to its peers," Berger said. "While shares of Insys are still down by over 60% compared to last year's high, the legal headwinds are already priced into the company's stock," he said. With six drugs in their pipeline which are either in phase two or three, there is an upside to their current levels.
"We view Insys as an acquisition candidate and as a long-term investment opportunity," Berger said.
Canadian cannabis companies report stronger earnings compared to their U.S. counterparts as the number of registered patients continues to grow at rapid pace and as licensed producers continue to find innovative ways to create value for its shareholders.
Some of the heavyweights of the Canadian marijuana industry include Canopy Growth (TSX: CGC) (OTC: TWMJF), Aurora Cannabis (CSE: ACB) (OTC: ACBFF) and Organigram Holdings (TSX: OGI) (OTC: OGRMF), said Spatafora, who is bullish on the overall Canadian marijuana market.
"Canada legalized medical marijuana on the federal level and this has allowed licensed producers of cannabis to take their companies public in a meaningful way compared to the U.S. companies that still won't touch the plant directly," he said.
The potential for better returns is in Canada's nascent cannabis industry as their medical market is well-regulated and institutional buying has sparked a rally in the overall sector.
"The U.S OTC market is still a retail investor based market with very little institutional support at all," said Spatafora. "This is why the U.S. market is a trader's market while the Canadian market is an investor's market."
While the number of registered patients continues to grow rapidly, many producers lack enough inventory to capitalize on this demand, said Berger. This has created an opportunity for companies like Emblem Corp. (TSX: EMC) (OTC: EMMBF), a licensed medical cannabis producer.
Revenue growth is higher from cannabis oil when compared to the flower, he said.
"The price is higher and the profit margins are better, so we are bullish on companies like Emblem, Aphria (CSE: APH) (OTC: APHQF) and Organigram Holdings (TSX: OGI) (OTC: OGRMF), as they have invested into the technology to produce pharmaceutical grade cannabis oil," Spatafora said.