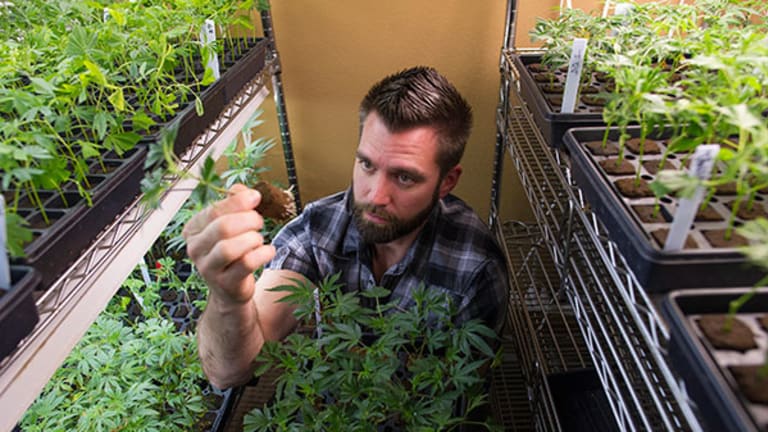 Marijuana Brands Push Past Bans to Go National
It may be illegal to traffic drugs between states, but that isn't stopping these cannabis companies from building a national brand.
It may be illegal to traffic drugs between states, but that isn't stopping these cannabis companies from building a national brand.
NEW YORK (TheStreet) -- Marijuana may still be an illegal drug at the Federal level, but that isn't stopping some companies from building a national presence. "I think people are already positioning themselves for a national cannabis industry," said David Bienenstock, a marijuana consultant. "The people who make a smart move now will be rewarded later."
The opportunity for investors seems obvious. First, there is an established customer base. Granted, most of these consumers have been buying their product in the black market, but many probably prefer to do a legitimate transaction, assuming the price is right. Next, there are no entrenched players. The field is wide open to the budding entrepreneurs to be the first to market.
However, it isn't that simple. The industry is subject to many regulations and restrictions. For instance, the product can't be transported across state lines. This has caused many of these companies with national aspirations to become creative with their corporate structures. Also, the promotional efforts are challenging. It's difficult to build a national brand when your advertising is limited.
Dixie Elixirs is a maker of edibles and beverages using cannabis products. Joe Hodas, chief marketing officer at Dixie said the company can't just follow a mass media platform. "We have restrictions like making sure that 70% of the audience is over 21 and from the state," said Hodas. Instead Dixie prefers to sponsor events like the 420 celebration in Denver. "We knew people from out of town would be there," said Hodas.
The hope is that these marijuana tourists will remember the product and then when their home state is legal, they will be more likely to purchase a familiar product. "Public relations is our best channel from a national perspective," Hodas said.
Another challenge Dixie faces in its national brand quest is that it must make its product in each state where it is sold. In order to accomplish this, Dixie teams up with in state partners. "It's not too dissimilar to a licensing model," said Hodas. This creates a strong local presence and loyalty. Plus, it helps the company maintain standards. Dixie has relationships with many local growers from whom it gets raw materials and because of local ties, the company has been accepted by the marijuana community.
That hasn't been the case for Diego Pellicer. This Washington-based company said from the get go that it wanted to be a national brand. But its brash Wall Street approach didn't sit well with the established marijuana industry. "People didn't like their values," said Bienenstock, "Profit at any cost." Bienenstock said the community has no problem with a big cannabis business. He said many people took huge risks for years and should be rewarded for their hard work. They were just insulted that people assumed they had no idea how to run a big business.
>>Read More: Marijuana Poster Child Diego Pellicer Chills Out

WATCH:
Federal Government Needs More Marijuana for Research Studies
More videos from Debra Borchardt
Diego Pellicer has plans for high-end stores with luxury packaging -- no tie-dye in these stores. They see themselves as the "Starbucks (SBUX) - Get Report of pot." They also want to promote the brand with T-shirts and retail products -- noting that some of the biggest national brands like Harley Davidson (HOG) - Get Report make millions selling clothing.
Pellicer has addressed its corporate structure challenge by naming separate CEOs to each state. Peter Norris is CEO for Diego Pellicer Washington, while Ron Throgmartin is CEO for Diego Pellicer Worldwide. Pellicer won one of the 21 lottery spots in Seattle to sell recreational marijuana, squeaking in at number 21. The company also hopes to go public during 2014 in order to raise its profile.
Another way companies are going national is by building chains of dispensaries. The Farmacy is a well-known store from Los Angeles that just opened two branch locations in Colorado. However, locals are worried that deep pocketed companies out of California could push out the smaller, less well-financed locals. The Farmacy enjoys the backing of Harborside Management Associates, a for-profit offshoot of the Harborside Health Center in Oakland and one of California's largest dispensaries with about $20 million in annual sales. An offshoot of The Farmacy has also joined a group in Maine.
The Weisser family has taken their Colorado success to other states. Michael Weisser operates eight dispensaries in the state called Rocky Mountain High. His son David lives in New Jersey and runs the Garden State Dispensary. They have applied for a dispensary in Massachusetts called the Massachusetts Compassionate Care Corp. The Weissers keep a low profile and have begun quietly building a national chain.
>>Read More: Garden State Goes Green With Medicinal Marijuana
Even though Florida has not even legalized medicinal marijuana, there are already entrepreneurs that are planning on opening state wide chains with multiple locations, such as Medical Marijuana Tampa. Of course, there are indoor gardening companies that sell equipment nationwide, but they don't usually touch the end product. There are also companies that have legitimate businesses now, that plan to convert to cannabis once it's legal like Terra Tech TRTC. There are pharmaceutical companies that are developing products that could be sold nationally, but they aren't branding themselves as national marijuana companies.
>>Read More: Edible Gardens Brand of Locally Grown Produce Expands to 75 New Retail Stores
"I think the real opportunity with the marijuana industry is that with the lack of players, we can make an industry that works for consumers, that works for workers," said Bienenstock. "I think its blank slate and we can create a more impressive business environment." Bienenstock also believes that corporate America can learn more from the cannabis industry than vice versa.
Only time will tell who will become the next Apple, Coke or McDonalds of the cannabis world.
-- Written by Debra Borchardt in New York.
Follow @WallandBroad
Disclosure: TheStreet's editorial policy prohibits staff editors, reporters and analysts from holding positions in any individual stocks.