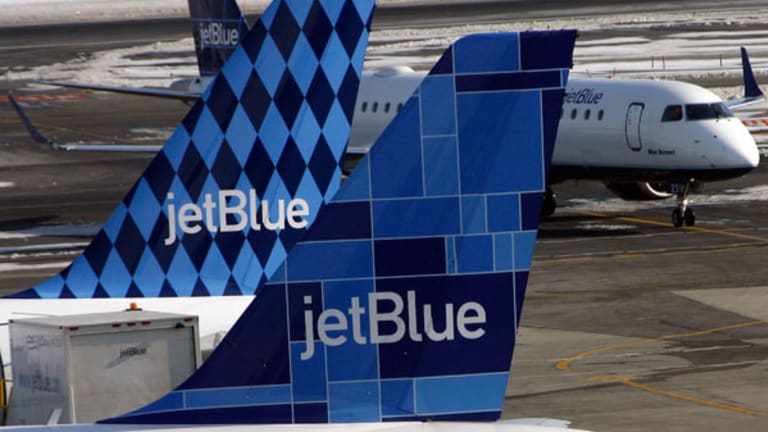 Candid JetBlue Learned From Its 2007 Mistakes
JetBlue, always an outlier in the airline industry, publicly discusses its weather-related operational decisions.
NEW YORK (TheStreet) -- In the six days from Thursday through Tuesday, U.S. airlines cancelled about 20,000 domestic flights, including about 1,800 flights on JetBlue (JBLU) - Get JetBlue Airways Corporation Report. Yet only JetBlue held a press conference to explain itself.
In fact, the harsh winter weather turned into an opportunity for JetBlue. It once again displayed why it is different than any other airline, just as it has been since it began flying in 2000, offering luxury service and low fares at an airport, JFK, which the rest of the airline industry then viewed as obsolete.
This week, as usual, JetBlue's effort to compensate passengers eclipsed what other airlines do: It offered a choice of refunds or rebookings, plus $50 credits or 5,000 frequent-flier points, plus extra credit for multiple cancellations.
Also, JetBlue took an unusual step when it shut down all Northeast operations for 17 hours from Monday afternoon into Tuesday morning. Lots of airlines shut down various operations -- some, in fact, acted more quickly at their hubs than JetBlue did, and suffered fewer problems -- but it was JetBlue that very publicly shut down nearly everything.
Read: Sprint Introduces New, Cheaper 'Framily' Plan
JetBlue's actions clearly showed the impact of the carrier's February 2007 operational meltdown at JFK, when the carrier seemed a bit too eager to operate in bad weather. Afterward, founder and then CEO David Neeleman apologized, very profusely and very repeatedly. The mistakes weren't repeated, but JetBlue's willingness to explain itself remains.
In recent years, the airline industry has moved to a policy of massive pre-cancellations in advance of weather problems on the theory that the worst consequences of a weather event would be to have passengers arrive at the airport only to find their flight cancelled, and to have airplanes and crews in the wrong places once operations resume.
JetBlue's shutdown was an effort to avoid those problems. Obviously, part of its rationale was that 80% of its operations involve two Northeast airports, JFK and Boston Logan. The four largest carriers are far more widely diversified in their geography, so a regional weather event will have less impact.
"If anything, JetBlue comes across as a little more honest than the other guys," said aviation consultant Robert Mann. "They were the only ones who were transparent about it. The other guys just hoped it would go away."
Also, Mann said, "What the other guys do is to cancel all their regional operations. Then they look great and their regionals tank." But JetBlue doesn't operate a regional carrier.
On the carrier's media conference call on Tuesday, Rob Maruster, chief operating officer, reminded listeners that JFK was shut down for four hours on Friday due to high winds and poor visibility, and for two hours on Sunday due to ice. He spoke of "a huge storm, followed by an ice storm, complicated by infrastructure challenges in the New York airports.


"We are not set up to handle five or six hours of delay at our airline," Maruster said.
Another complication was the challenge of implementing new federal standards regarding pilot rest time. Those standards enhance safety, but also diminish pilot scheduling flexibility, which is especially important in times of flight delays and cancellations.
Maruster said JetBlue told the DOT in September that Jan. 4 would be a bad time to implement, given the risk of weather problems and the heavy passenger loads due to holiday travel. Although it was prepared to operate under the new conditions, JetBlue sought a waiver from "the biggest work rule change our industry has seen in our lifetimes (in order) to get beyond the holiday peak," he said. The request was denied.
Following JetBlue's press conference, the Air Line Pilots Association reiterated its support for the new standards in a prepared statement. "Record bad weather and poor planning to comply with new regulations by a few individual airlines should not distract from the tremendous advancement in safety." ALPA said.  "Airline companies have had two years' advance notice."
Read: Expectations Are Still High for Alcoa
Looking at history, contrition is built into JetBlue's genes. After the February 2007 meltdown due to icy weather at JFK and bad decision-making, Neeleman emerged as Mr. Contrition on an extended run.
He asked forgiveness on the "Today" show, the "Late Show", the front page of The New York Times, ABC, CBS, CNBC, CNN and Fox, in various newspaper interviews and on a teleconference with more than 100 reporters.
Time after time, he recounted how the airline's planes got trapped in an ice storm at JFK; how its systems broke down, delaying its recovery for six days; and how it took steps to fix its problems and instituted a passenger bill of rights.
The initial problem was that JetBlue sent planes from the gate to the runway in bad weather at Kennedy on Feb. 14, hoping snow would turn to rain. Other airlines were generally more cautious. But for JetBlue, the impact of the bad day cascaded. The carrier couldn't get enough employees to the airport, couldn't get enough reservations agents to work overtime, and most importantly, couldn't identify flight crew members whose allowable flight time had not been used up during the delay.
Eight days later, on the conference call with analysts, Neeleman declared, "Those six days will burn bright in our memory for a long time," adding that if it were to happen again, "we will be much more prepared as a company to handle it."
They did, and it was.
Written by Ted Reed in Charlotte, N.C.
To contact this writer, click here.