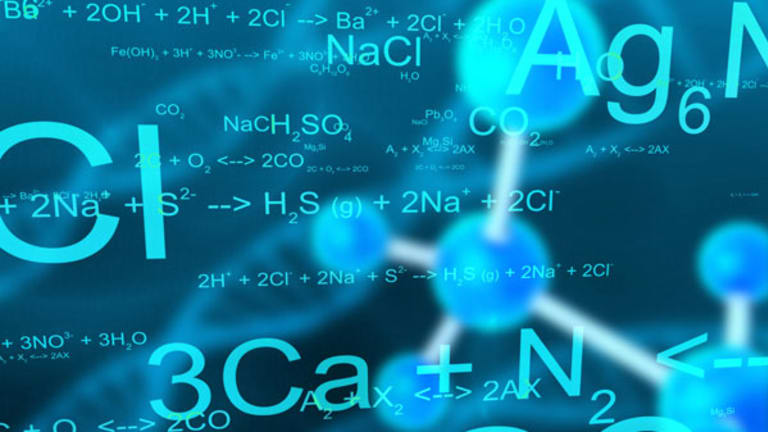 Cancer Stocks Focus of ASCO Abstract Release
Ariad Pharmaceutical, Incyte and Exelixis are a few of the biotech companies with important cancer drug data released Wednesday ahead of the ASCO annual meeting.
BOSTON (
) --Investors got their first look at thousands of cancer drug research abstracts released Wednesday night by the American Society of Clinical Oncology (ASCO) in advance of its closely watched annual meeting.
Among the most significant cancer drug data unveiled for the first time Wednesday night came from phase III studies conducted by
Incyte
(INCY)
and
Ariad Pharmaceuticals
(ARIA)
. New disclosures of clinical data were also available from
Exelixis
(EXEL)
,
Onyx Pharmaceuticals
(ONXX)
,
AstraZeneca
(AZN)
,
Celgene
(CELG)
and
Nektar Therapeutics
(NKTR)
.
The ASCO annual meeting runs June 3-7 and brings together cancer drug researchers from all over the world to discuss and present new clinical data aimed at treating -- and maybe one day curing -- cancer. Wednesday's release of research abstracts -- short, preliminary summaries of efficacy and safety data from cancer drug clinical trials -- serves as a warm-up for the big event next month.
The ASCO abstract release is also a closely watched event for Wall Street because the revelation of new cancer drug data often has a significant effect on biotech and drug stocks. Many so-called "ASCO stocks" -- particularly biotech stocks with small market caps -- have already started to move higher weeks before the ASCO confab even gets started.
While ASCO whet investors' appetite for cancer drug data Wednesday, the medical society did reserve some of the most impactful research for a more high-profile release at the meeting itself. This includes overall survival data from two separate phase III studies of skin cancer drugs from
Bristol-Myers Squibb
(BMY)
and
Roche
that will be presented at the meeting's plenary session.
Pfizer
(PFE)
will also present for the first time results from a phase III study of a new kidney cancer drug at the ASCO meeting in June.
Some of the most highly anticipated clinical data at this year's ASCO conference comes from Incyte, which along with partner
Novartis
(NVS)
, is developing a drug known as ruxolitinib for the treatment of myelofibrosis, a cancer in which abnormal bone marrow stem cells produce scar tissue that replaces healthy marrow. Patients with myelofibrosis suffer from anemia and enlarged spleens.
Incyte previously announced positive results from a U.S. phase III study of ruxolitinib in myelofibrosis last December, but new data from the so-called COMFORT-I study were released for the first time in an ASCO abstract.
Treatment with ruxolitinib reduced the risk of death by 33% compared to a placebo, although this survival benefit -- a secondary endpoint of the study -- was only a trend and did not reach statistical significance.
New safety data include a 34% rate of thrombocytopenia (abnormally low platelet counts) reported by ruxolitinib patients compared to a 9% rate for placebo patients. The discontinuation rate due to thrombocytopenia was 0.6% for ruxolitinib compared to 0.7% for placebo patients.
Incyte and Novartis previously disclosed the primary endpoint of the COMFORT-1 study: Treatment with 24 weeks of ruxolitinib significantly reduced the spleen size of 42% of myelofibrosis patients compared to 0.7% of patients treated with a placebo.
Results from a second, positive phase III study of ruxolitinib in myelofibrosis dubbed COMFORT-II and conducted in Europe will be presented at the ASCO meeting next month. Data from this study remain embargoed and were not released Wednesday. Incyte and Novartis have stated their intention to seek regulatory approval of ruxolitinib later this quarter.
New details also emerged Wednesday from a phase III study of Ariad Pharmaceuticals' sarcoma drug ridaforolimus. While a survival analysis of the study is still ongoing, patients treated with ridaforolimus have to date reported a median overall survival of 88 weeks compared to a median overall survival of 79 weeks for placebo-treated patients. The 8% relative reduction in the risk of death favoring ridaforolimus is not yet statistically significant.
Ariad and its partner
Merck
(MRK)
previously announced meeting the study's primary endpoint -- a statistically significant, 28% reduction in the risk of tumor progression that favored ridaforolimus over placebo. Ariad and Merck will be seeking approval for ridaforolimus later this year.
Exelixis's cancer drug cabozantinib will be the subject of three closely watched oral data presentations at this year's ASCO meeting, although the research abstracts released Wednesday yield little new disclosures about the drug's efficacy and safety. Still, cabozantinib is one of the more exciting drugs at this year's conference, prompting ASCO officials to highlight the drug during a preview press conference on Wednesday afternoon.
Cabozantinib is garnering a lot of attention because of previously released data from a mid-stage study demonstrating the drug's ability to both shrink and stabilize tumors but also fully or partly eliminate cancer that had spread to bone in patients with prostate, breast and skin cancer. Cabozantinib has also shown activity against ovarian cancer.
Cancer that metastasizes, or spreads, to bones is a serious complication leading to fractures, increased pain and eventual death. While many cancer drugs can shrink or eliminate tumors in soft tissue, few if any have demonstrated an ability to clear up bone metastases.
Of 65 prostate cancer patients evaluated with bone scans, 56 patients, or 86%, had partial or full resolution of bone lesions. Tumors shrank significantly in 5% of patients, while 71% of patients overall exhibited tumor shrinkage or tumor stabilization.
At the ASCO meeting, researchers will update these cabozantinib data with additional prostate cancer patients and longer follow up, including data aimed at measuring whether the drug can delay the re-growth of tumors and possibly prolong survival. Other researchers will present new data on cabozantinib's activity in heavily pre-treated ovarian cancer.
Additional new data disclosed Wednesday in the ASCO research abstracts include:
An oral cancer drug from AstraZeneca delayed the time of tumor growth in women with relapsed ovarian cancer, according to results from a randomized phase II study.Women with ovarian cancer responding to initial treatment with chemotherapy were then randomized to receive further maintenance treatment with AstraZeneca's olaparib or a placebo. Tumor re-growth was delayed by 8.4 months in the women treated with olaparib compared to 4.8 months for women given a placebo.
Celgene's lung cancer drug Abraxane produced higher rates of tumor shrinkage and less side effects compared to the chemotherapy drug paclitaxel regardless of where lung cancer patients were enrolled, according to a geographical subset analysis of a phase III study. Abraxane's overall response rate was 33% compared to 25% for paclitaxel -- a statistically significant benefit that was maintained when patients responses were analyzed by countries of origin -- Russia/Ukraine, Asia/Pacific and North American/Australia. Despite the improved response rate, Abraxane did not prolong the time before tumors started growing again compared to paclitaxel. A survival analysis from the study will be presented at the ASCO meeting. Celgene will seek FDA approval later this year to expand Abraxane's label to include treatment for lung cancer. The drug is already approved to treat breast cancer.
Nektar Therapeutics' cancer drug NKTR-102 shrank tumors in 21% of women with advanced ovarian cancer that was no longer responsive to other chemotherapies including doxorubicin, according to a sub-set analysis of a previously presented phase II study. Treatment with NKTR-102 delayed tumor progression in these patients by 5.5 months and median overall survival was 14 months. Nektar is developing NKTR-102 in ovarian and breast cancer and is expected to outline details of phase III studies at ASCO.
Onyx Pharmaceuticals: Treatment with Nexavar plus chemotherapy delayed tumor progression by 3.4 months in women with advanced breast cancer who were previously treated with Roche's Avastin. By comparison, similar breast cancer patients treated with a placebo and chemotherapy reported a delay in tumor progression of 2.7 months. Survival analysis from this phase II study is ongoing. Nexavar is approved for kidney and liver cancer and Onyx is pursuing studies of the drug in breast cancer.
--Written by Adam Feuerstein in Boston.
>To contact the writer of this article, click here:
Adam Feuerstein
.
>To follow the writer on Twitter, go to
http://twitter.com/adamfeuerstein
.
>To submit a news tip, send an email to:
.
Adam Feuerstein writes regularly for TheStreet. In keeping with company editorial policy, he doesn't own or short individual stocks, although he owns stock in TheStreet. He also doesn't invest in hedge funds or other private investment partnerships. Feuerstein appreciates your feedback;
to send him an email.