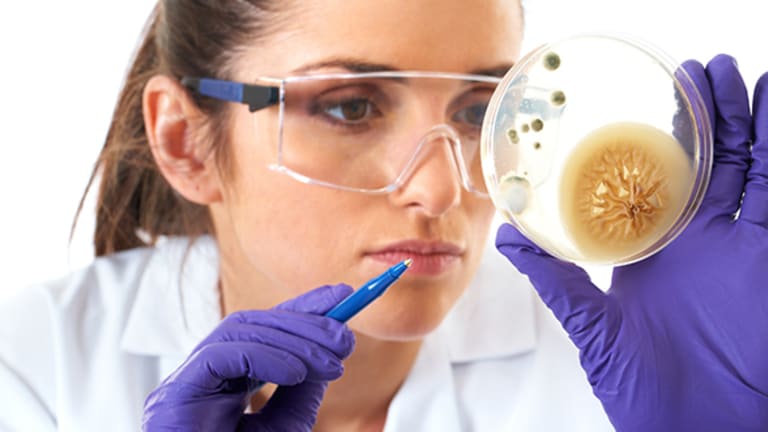 Cancer Moonshot Should Benefit Pharma Companies, Investors
Merck, Roche and AstraZeneca are among the Big Pharma firms that could boost revenues through the development of cancer therapies.
In January, during his final State of the Union address, President Barack Obama announced a new initiative -- the Cancer Moonshot -- to address the health crisis caused by this dreaded disease.
According to the National Cancer Institute, nearly 40% of all men and women in the U.S. will be diagnosed with some form of cancer at some point during their lifetime. And as of 2013, more than 14 million people were estimated to be living with the disease in this country alone. What's more, the World Health Organization forecasts a 70% increase of cancer cases over the next two decades.
The Moonshot initiative aims to double-down on the research and development of drugs, making more therapies available to more patients. The initiative also aims to improve early detection and prevention. It has also been embraced by Democratic presidential candidate Hillary Clinton, among others. 
Companies that are developing cancer will be in line to benefit as will investors. Among the winners have been or are likely to be the following:
Bristol-Myers Squibb has produced and marketed a number of cancer therapies. To be sure, the company's immunotherapy drug Opdivo failed in a clinical trial of patients with untreated lung cancer. In just a month, Bristol-Myers stock plunged from over $75 per share to around $56 per share. Still, it has the resources to play a big role in cancer research.
Merck is set to bring its own cancer treatment drug, Keytruda, to market before Opdivo becomes available. Merck's shares have already rocketed up by more than 11%. Once Keytruda becomes available, more increases are likely in store.
Roche Holding and AstraZeneca are among other Big Pharma firms developing cancer treatments.
For investors who are skittish about drug makers, biotech firm Pressure BioSciences'spressure cycling technology allows researchers to extract protein molecules from tissue, even tumors. Pressure BioSciences currently trades over the counter. However, it could become a takeover target as bigger biotech companies scramble to meet the goals of the Moonshot initiative.
Whether you want to cheer on the Moonshot initiative because, like many, your life and those of your loved ones has been touched by cancer, or if you just recognize a great opportunity to see continued gains from drug therapies and biotechnology, the companies on the front lines of cancer research have plenty of potential.
---
85% Accurate Trader gives his Personal Guarantee: "Give Me 9 Minutes a Week and I Guarantee You $67,548 a Year." What if I told you I know a way you can see a $67,548 per year - or more - in profitable trades just by following this simple step-by-step process? The trader who is sharing this secret has been right more than 8 out of 10 times, turning $5,000 into more than $5 million for himself. Click here to see how easy it is to follow his lead and collect thousands of dollars in "Free Money" every month.
This article is commentary by an independent contributor. At the time of publication, the author held no positions in the stocks mentioned.