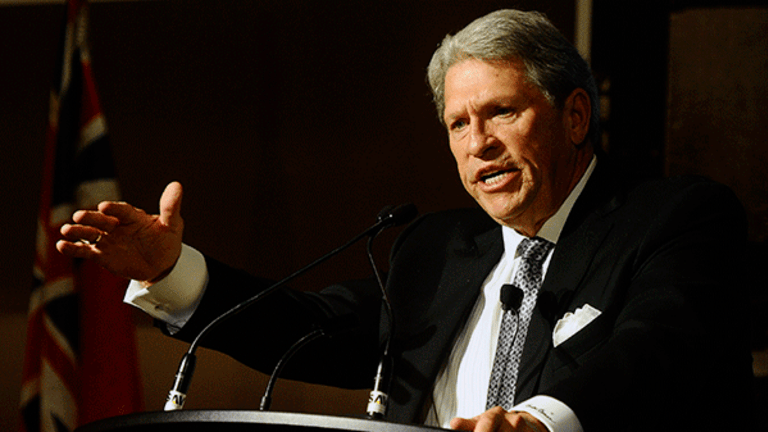 Publish date:
Here's the Railroad Legend That Hopes to Score Big Once Again, This Time With CSX
This guy has driven some impressive results.
This guy has driven some impressive results.
Hunter Harrison, the railroad maestro who orchestrated a remarkable turnaround at Canadian Pacific (CP) - Get Canadian Pacific Railway Limited Report , is preparing to try to do it all over again south of the border at CSX (CSX) - Get CSX Corporation Report . Though the risks are significant, so too is the potential upside.
Shares of CSX soared 18% at midday Thursday after Harrison's abrupt retirement from Canadian Pacific and subsequent disclosure that he was teaming with activist Paul Hilal's Mantle Ridge LP to launch a campaign against CSX.
The two previously worked together on Canadian Pacific, when Hilal, then part of Bill Ackman's Pershing Square Capital Management, recruited Harrison as CEO after Pershing won a proxy battle against the railroad. Harrison is expected to take a similar leadership role in CSX if the activist can gain a foothold.
Harrison won high praise for his work streamlining Canadian Pacific, with the railroad's Toronto-based shares up nearly 190% since he arrived in 2012. CSX shares have appreciated only half as much during that period, with the company in recent years mired in a commodity slump and depressed demand for coal.
CSX's Wednesday post-earnings conference call likely did little to quell concerns. The company said it's had success in renegotiating many of its large annual contracts, but was coy about whether the pricing increase would be enough to offset inflationary pressures.
And while management continues to target a sub-70% operating ratio, commentary on the call suggested that it might take a significant uptick in revenue to get there. Harrison's Canadian Pacific operating ratio, a measure of efficiency, dipped to 56.2% in the fourth quarter, down from 81.3% at year-end 2011 before he came on board.
While Harrison and Hilal still have work to do if they wish to enact change at CSX, their odds of victory seem high assuming they do launch a proxy campaign at the company. Cowen analyst Jason Seidl in a note said the executive's "reputation of being the most sought after manager in the North American railroad industry could make it very difficult for CSX to refute Harrison's desire to run its franchise."
Harrison as CEO of Canadian Pacific pledged to extract costs at CSX or its rival, Norfolk Southern (NSC) - Get Norfolk Southern Corporation Report while talking up potential mergers with those companies. The source familiar with the activist's thinking said operational improvements would be the initial focus of Mantle Ridge's campaign, and not M&A, with Harrison hopeful to get a chance to try his efficiency playbook at CSX.
There are some risks to CSX that could prevent this campaign from going as well for investors as Ackman's did at Canadian Pacific. Eastern-focused railroads including CSX tend to run at lower margins than their Canadian counterparts due to shorter stage lengths and more urban congestion. CSX also faces intense pricing pressure from rail and truck rivals.
A railroad source also expressed concerns that Harrison, now 72, might find it more difficult this time around to reform a dug-in culture.
"While Mr. Harrison's track record in the industry is exemplary, we would not yet draw the conclusion that CSX can get to a 65% or 60% operating ratio in the near-medium term," Morgan Stanley's Ravi Shanker said in a note Thursday.
Longer-term if Harrison is involved in operations at CSX the company would presumably be more open to future M&A overtures from Canadian Pacific or elsewhere. Harrison used his position at CP to both attempt deals and to lobby against a U.S. regulatory moratorium on consolidation, arguing that only through M&A can rail gridlock issues be solved and customer service be improved.
Even if two companies are willing to attempt a deal, it still seems a long shot that the Surface Transportation Board and major customers would be willing to sign off on a deal. But Hunter Harrison has proven himself to be a man capable of reshaping the industry. It seems likely that the exec will get one more chance to go working on the railroad.