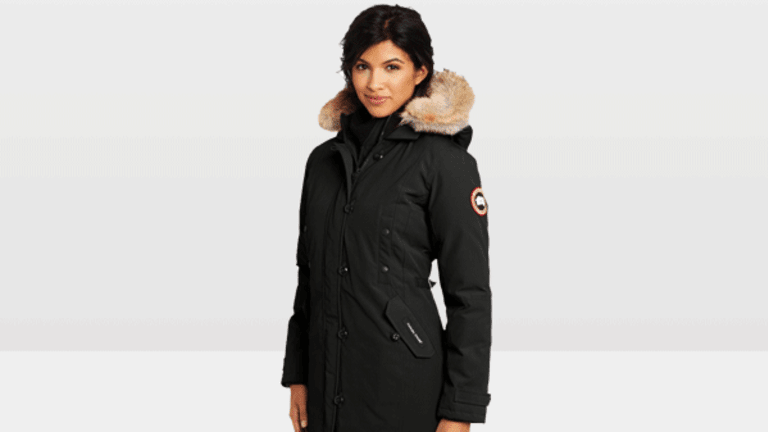 Canada Goose Hopes Investors Flock to IPO
The luxury parka maker, backed by Bain Capital, will list its shares in both New York and Toronto.
Luxury parka maker Canada Goose Holdings on Wednesday filed for a dual initial public offering in the U.S. and Canada, which would provide a partial exit for majority shareholder Bain Capital after a three-year hold.
Canada Goose said in its Form F-1 it intends to list on the New York Stock Exchange and Toronto Stock Exchange under the ticker symbol GOOS. The Toronto company did not disclose an intended offering price and listed a $100 million placeholder amount.
CIBC World Markets, Credit Suisse Securities, Goldman Sachs and RBC Capital are the lead underwriters for the offering.
Securities and Exchange Commission filings show Canada Goose first filed confidential IPO paperwork on Dec. 2.
According to the F-1, Canada Goose booked net income of C$45.07 million ($34.5 million) for the last nine months of 2016, up about 26% year over year, while revenue for the nine months ended Dec. 31 was C$352.68 million, up about 42% from the same period in 2015. Earnings before interest, taxes, depreciation and amortization during the same period rose 37% to C$75.58 million.
As of Dec. 31, Canada Goose had total liabilities of C$373.96 million, with C$30.18 million in cash on hand and shareholders' equity of C$68.1 million.
The company said it would use the IPO proceeds to repay debt and for working capital and general corporate purposes.
From 2014 to 2016, the company achieved a worldwide compound annual growth rate of 38.3%, driven by a 75.5% compound annual growth in the U.S., 41.6% internationally and 14.6% in Canada.
Brand awareness in the U.S. was 16% as of August, compared with 76% in Canada, Canada Goose said, citing an internal consumer survey. The bulk of the American growth is in the Northeast, including a New York retail store that opened in November.
"We believe there is a large white-space opportunity in other regions such as the Mid-Atlantic, Midwest and Pacific Northwest," the prospectus said.
To that end, Canada Goose, which was founded to supply parkas for workers in the Arctic, also plans to increase its offerings in spring and fall outerwear and adjacent categories, which could include "knitwear, fleece, footwear, travel gear and bedding." Sales of fall and spring collections increased 60% from 2015 to 2016, the company said.
Canada Goose's wholesale channel accounted for 88.6% of its revenue in fiscal 2016, while direct-to-consumer sales accounted for the remaining 11.4%. Last fall, Canada Goose opened its first two retail stores, in Toronto and Manhattan's Soho neighborhood, and said it plans "to open a limited number of additional retail stores in other major metropolitan centres as well as premium outdoor destinations."
Canada Goose also touted its marketing efforts to transform the brand from its Arctic origins into an urban mainstay. The company sponsors the Sundance Film Festival and Toronto International Film Festival, for example, and its "Goose People" brand ambassadors range from tennis player Milos Raonic to environmentalist Geoff Green.
Bain acquired a 70% stake in Canada Goose on Dec. 9, 2013. Bain still will control the company after the offering, although its exact stake and how many shares it plans to sell have not been disclosed. Bain managing directors Ryan Cotton and Joshua Bekenstein sit on Canada Goose's board of directors.
DTR LLC, an entity controlled by CEO Dani Reiss, also will hold a significant stake following the IPO. Reiss' grandfather, Sam Tick, founded Canada Goose as Metro Sportswear Ltd. in 1957, and Reiss owns the remaining 30% stake in the company.
The offering follows the September IPO on the Toronto Stock Exchange of Canadian women's fashion retailer Aritzia, the largest Canadian offering in some time. Aritzia is backed by Berkshire Partners. Another luxury down jacket maker, Moncler, was taken public by Carlyle Group (CG) - Get Carlyle Group L.P. Report in 2013 in Milan.
Canada Goose's prospectus also arrives less than a week after Jill Intermediate, a TowerBrook Capital Partners-backed clothing retailer better known as J.Jill, filed for an IPO.