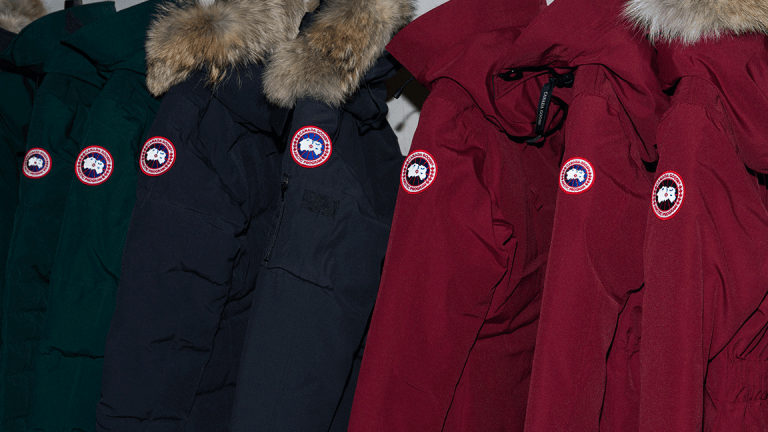 Canada Goose CEO: The Whole Year Has Been Exhilarating
From a surging stock price after a hot IPO and a push into new product lines, Canada Goose has had a year to remember. TheStreet talks with Canada Goose CEO Dani Reiss about the year ahead.
It has been a scorching hot year for one super premium cold weather apparel brand. 
Since a successful debut on the New York Stock Exchange in early March, shares of Canada Goose (GOOS) have skyrocketed more than 80% to $33.00. Investors have found multiple reasons to scoop up shares of the 60-year old apparel brand known for its $1,000 fur lined parkas. The most obvious is that Canada Goose is delivering right out of the gate, unlike another 2017 IPO in Snap Inc. (SNAP) .
For the quarter ended Sept. 30, sales and adjusted operating profits surged 34.7% and 37.3%, respectively. The company also significantly hiked its full year outlook. Sales and profits are seen rising 25% and 35%, respectively, in the fiscal year. Canada Goose was previously looking for growth of mid-teens and 20%, respectively. 
Secondarily, Canada Goose has proven it's ready to tap into its brand's potential by opening flagship retail stores in top markets globally and a pushing into knitwear.
"The whole year has been an exhilarating year, it has been a fun ride," Canada Goose CEO Dani Reiss, 43, told TheStreet in an interview. Reiss is the grandson of Sam Tick, who founded Canada Goose in 1957. In 2001, Reiss took over the CEO reigns and hasn't looked back. He still owns a 24% stake in Canada Goose.
TheStreet talked with Reiss about life after a hot IPO and the outlook for the year ahead. What follows is a condensed and edited version of the conversation.
TheStreet: Not every IPO this year has been as successful as Canada Goose's this year. Has that success changed the company at all?
Reiss: The whole year has been an exhilarating year, it has been a fun ride. Our company has evolved so much over a long period of time. I have been CEO for the last 20 years and the growth has just been explosive. My job changes all the time. I see that continuing into the future. 
TheStreet: How have you evolved as a CEO of a now public company?
Reiss: First, I think it's an issue of continual evolution. As we have grown, obviously I have needed to surround myself with great people to do the things I used to do. Specifically to the IPO, I have had to spend more time talking to analysts and investors. Honestly, I have learned a lot from both parties. I love talking to investors as they are the ones who believe in us and the opportunities that we think lay ahead. 
TheStreet: What do your investors want to see from Canada Goose over the next five years? Canada Goose is known for discipline in how it grows, which sometimes could be at odds with what Wall Street wants.
Reiss: We find that our most invested investors are very aligned with our long-term approach to growth. We have always made decisions for the long-term in this company -- we are an iconic, enduring brand and plan to continue with those things. We have encouraged everyone before, and after, going public to operate this company the same way we always did, which is making decisions for our future best interests.
TheStreet: What's the secret to keeping your brand as cool as it has been perceived the last few years?
Reiss: We are a product first company. We aren't a flash in the pan brand. We have been around for 60-years. As long as we continue to focus on product leadership and making the best products of their kind, then we will continue to be relevant with consumers. We have many loyal consumers who like our new products. We launched knitwear this fall, which was our first non-outerwear category. It has been successful, and I have been very encouraged by the response by our customers and wholesale partners. 
That's a great example of how we plan to thoughtfully expand our product line over time. We aren't going to jump into every new category overnight. We will be responsible with it. 
TheStreet: What's on tap product wise for 2018? Boots perhaps?
Reiss: There are certainly a lot of categories that Canada Goose can play in. Hiking boots and footwear would be a great product for us to get into. We have no immediate plans to get into footwear, but I know because of the way we have developed product over time that when we do get into footwear it will be awesome. New product categories are just one way to grow our business.
Another is geographic expansion into markets where we aren't fully penetrated, which is most markets. Europe has a lot more potential. We would love to have more product in Europe than we have currently. Of course there is China. That's a market we are actively working on our strategy.
TheStreet: What's your sense of department stores right now given ongoing traffic challenges?
Reiss: We have fantastic relationships with our department store partners. We choose partners that are like-minded and work hand in hand with them on building brand awareness. Because we are a global brand and have demand coming from around the world, we find that we are an asset to our partners and help drive traffic.
TheStreet: Why are you opening up retail stores with retail more broadly being challenged?
Reiss: We opened five new stores this year, including flagship stores in London and Chicago. We have been really happy with how these stores are performing. I am also really proud to be opening stores in an environment where so many people are closing stores, and finding success in doing so. It's important we open stores in a measured way and open stores that have long-term value. 
Our focus is on opening 15-20 stores by 2020 and we feel that's the right number for us. 
TheStreet: H&M just reported a terrible quarter. But you are doing well, as is Coach (COH) as it focuses on improved product quality. You think people have had enough of fast-fashion and want higher quality goods again?
Reiss: When you look at a Canada Goose we are a performance luxury brand and our products are priced accordingly. Our jackets come with a lifetime warranty and last for many years. I think people view our products as an investment. I think that functionality is very important. I also think that authenticity is important. We have been around for 60-years and have a great heritage of craftsmanship. I think people today want real things, they can recognize the difference between just stuff and something that has a real reputation to back them up. 
When it comes to our product category, reputation is everything and something you build over time.
TheStreet: Can you imagine a day when Canada Goose is not publicly traded? Would it be hard to sell considering your family founded the company?
Reiss: I am really proud of our accomplishments this year. We went public on two stock exchanges, it was a huge milestone for us and a validation of our place in the brand landscape. At the moment, I am very focused on leading this company in the way it currently is. My intentions are to do this for many years to come. I love this company, I have been doing this for 20 years now. I certainly see myself doing this for many, many more years to come. 
Check out TheStreet's Other Influencer Interviews