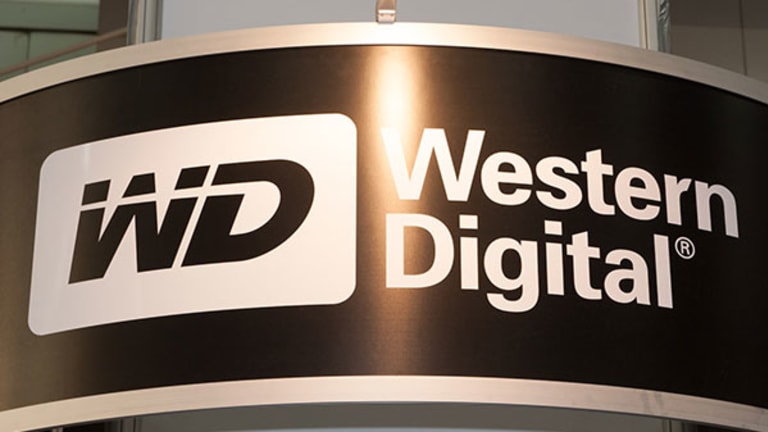 Can Western Digital Post More Gains After 50% Jump?
Shares of Western Digital bottomed out in mid-May and are now up over 50%. Is the bounce over or can this stock go higher?
Shares of Western Digital (WDC)   bottomed out in mid-May and are now up over 50%. Investors in the hard drive sector believe the worst is over for the industry. Bulls think the supply and demand situation is in balance and the PC business has bottomed out.
Just last week Intel (INTC) raised third-quarter sales guidance by 5%, or $700 million. The company cited inventory replenishment and better demand for PCs. While the PC business will still record down quarters, the declines keep getting smaller and smaller.
For example, in the third quarter of 2014, worldwide PC unit sales were flat. But by the first quarter of 2016, unit shipments were down 12%. The first quarter was the bottom in the PC business, and it has started digging itself out of a very deep hole. In the second quarter of 2016, worldwide PC units were still down, but they were down just 2%. Getting to flat will be seen as a major accomplishment.
Two weeks ago, Western Digital said it was seeing better demand and an improvement in pricing. Cloud providers and data centers are purchasing higher margin drives, like the 8 terabyte and 10 TB drives, instead of the 4 TB and 6 TB ones. At the Citi Technology Conference, management updated guidance. The company raised non-GAAP gross margin estimates from 32% to 33% and raised non-GAAP earnings estimates from a range of 85 cents to 90 cents to a range of $1.00 to 1.05.
Western Digital promised more updates on the merger with SanDisk (SNDK) at its December analyst meeting. It also promised to update investors on the progress of its 3-D NAND/BiCS3 storage technology.
In partnership with Toshiba (TOSBF) , Western Digital has developed a 3-D NAND 64-layer semiconductor that can store 256 gigabytes. The chips will be available in a range of capacities up to half a terabyte on a single chip. It expects volume shipments in the fourth quarter or early 2017. The NAND partnership came courtesy of the SanDisk acquisition.
Samsung (SSNLF) , which has developed its own NAND chips, already sells a solid-state ultra fast 15 TB drive for $9,600, but that drive uses 48-layer technology. Data centers that do online transaction processing will be itching to get their hands on these babies.
Western Digital anticipates saving $500 million annually within 18 months and as much as $1.1 billion by calendar 2020 with the SanDisk acquisition. The company anticipates a reduction of $450 million in operating expenses by the end of calendar 2017 through the Hitachi Global Storage Technology merger. The Hitachi deal should also reduce cost of goods sold by another $350 million by the end of 2017.
With two promising acquisitions and some high-margin 3-D NAND storage technology, I think Western Digital stock can go higher.
Typically, the hard drive companies report messy quarters because they have so many moving parts that someone is disappointed by something. The companies publish dozens of metrics. Some investors follow number of units sold, some follow pricing per terabyte, others follow gross margins.
Western Digital is in a difficult place right now. Flash storage margins have peaked, hard drive units for the PC market might be growing again, the company's 64- layer 3-D NAND technology hasn't started selling yet and debt is sky-high.
Analyst numbers might be too high, but I think the company can mange through this transition.
First-quarter earnings are due in October, but I don't expect much color on the future of the business. I think management will save that for the December analyst meeting. Investor sentiment turned bullish in mid-May. The analyst meeting could be the catalyst the stock needs to keep it moving higher.
This article is commentary by an independent contributor. At the time of publication, the author held no positions in the stocks mentioned.