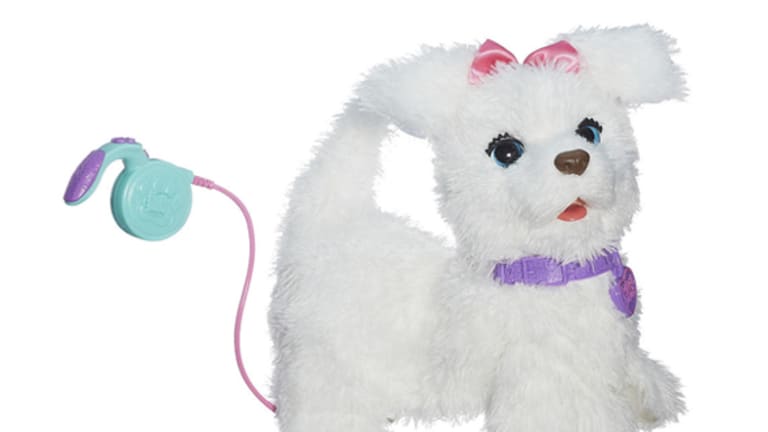 Can We Get One? Cuddly Play Pets Are the Most Popular Holiday Toys
Toy experts have identified play pets as the leading holiday toys of 2014.
NEW YORK (TheStreet) -- A sweet, wriggly puppy is on many children's wish lists, but parents who aren't ready to make the leap just yet are looking to pet-like toys as the next best thing. They are affordable and guaranteed to keep the sofa scratch free.
Experts at Toys "R" Us have identified play pets as the leading holiday toys of 2014. "Pet Shop" boutiques have been set up in front of Toys "R" Us stores nationwide, making it easier for gift-givers and last-minute shoppers to find lifelike pups, fluttering butterflies or chirping birds.
"Overall, the pet trend this year has been especially popular," says Toys "R" Us spokesperson Bjorn Trowery. "Children love the ability to care and nurture a pet as their own, and parents love the lack of cleanup."
According to Amazon's (AMZN) - Get Amazon.com, Inc. Report Eva Lorenz, category leader for toys and games, the online store has seen a triple-digit increase in year-to-date sales of FurReal Friends products. These are the life-like pets that many parents consider as perfect starting points for their kids who will eventually be having real pets.
"A four-year-old may someday be allowed to own a real dog, but for now, something like the FurReal Friends Go Go My Walkin' Pup is a good training toy," says Jim Silver, CEO of TTPM, a consumer review site for toys.
Pet-like toys have been around for years -- from Pet Rocks in the '70s to Pound Puppies in the '80s to virtual pets like Tamagotchi in the '90s. The Pound Puppies from Funrise are making a comeback this year, competing against Hasbro's (HAS) - Get Hasbro, Inc. (HAS) Report FurReal Friends and Moose Toys' Little Live Pets.
"Pretend pets will always have a market because in the eyes of parents, they can be considered perfect pets," says toy historian Todd Coopee. "They provide some of the entertainment value of real animals without the commitment of needing to be fed, walked or groomed."
Some toymakers have been able to offer kids the best of both worlds -- the appeal of a stuffed animal coupled with a real pet. This year, Telebrands introduced the Teddy Tank, a furry friend and fish tank rolled into one.
Click through to see this year's top holiday toys for pet-loving kids.
FurReal Friends Get Up and Go Go My Walkin' Pup
(Hasbro. Ages 4 years and up. Approximate retail price: $59.99)
Get Up and Go Go My Walkin' Pup brings lifelike puppy play to children. She sits and speaks on command, and even reacts when other FurReal Friends pets are near, such as the Pom Pom, My Baby Panda pet (sold separately).
Kids can also download the free FurReal Friends app to virtually care for their pet and meet other virtual FurReal Friends pets.
Zoomer Dino
(Spin Master. Ages 5 years and up. Approximate retail price: $79.99)
The Zoomer Dino follows in the footsteps of the first Zoomer dog, which first came to market in 2013. This new animatronic toy features a special onyx finish and comes with a tin collector case.
Children will have a blast as they teach this prehistoric pal different tricks and watch him follow voice-activated commands. The Zoomer Dino will become agitated when his tail is pulled, so kids should look out for his roars and chomps.
Little Live Pets Bird Cage Love Birds
(Moose Toys. Ages 5 years and up. Approximate retail price: $34.99)
This bird cage gives two tweeting pets their own portable home.
The interactive love birds respond to noise and touch by chirping away. Kids can press the button on the birds' chests to record up to 10 seconds of sound that the birds will repeat back in a sing-song fashion.
Also popular are the Little Live Pets electronic butterflies, featuring life-like antennae and a realistic wing-flapping pattern.
Teddy Tank
(Telebrands. Ages 6 years and up. Approximate retail price: $19.99)
The Teddy Tank doubles as a furry friend and a fish tank. It features a tank in the belly that can hold real fish. Kids can feed their furry friend and their pet fish at the same time, as food that goes into Teddy Tank's mouth drops down into its fish tank belly.
There are twelve different characters to choose from, including Cute Doggie, Charming Penguin, Playful Monkey and Magical Unicorn.
Pound Puppies
(Funrise. Ages 3 years and up. Approximate retail price: $5.99 - $19.99)
The Pound Puppies are back.
Each puppy comes with its own breed-specific fun fact card and heart-shaped dog tag. Kids can write their puppy's name on the tag and register the puppy online to get a printable adoption certificate. The toys are available in three sizes and four varieties: Beagle, Labrador, Bulldog and Poodle.
-- Written by Marilen Cawad in New York
>Contact by Email.
Disclosure: TheStreet's editorial policy prohibits staff editors and reporters from holding positions in any individual stocks.