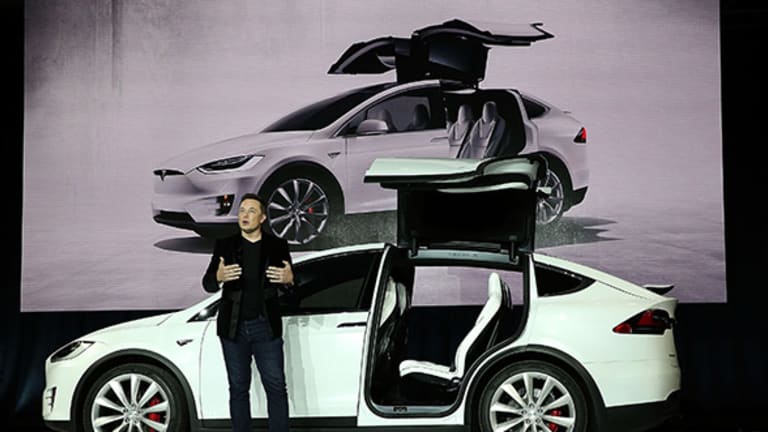 This Is Why Tesla, BMW and Others Could Fail Miserably With Wild Sales Predictions for Electric Cars
Some of these forecasts are pretty lofty.
Forecasting sales is a bit like a New Year's resolution. When you commit to it, you really mean it, and put the elements in place to make it happen. 
But then things happen, and it, the resolution, or the forecast, turns out to be something of a pipe dream. Better luck next year, as the saying goes.
Such could be the case of BMW AG and Tesla (TSLA) - Get Tesla Inc Report  , which are both projecting vigorous sales this year of their electric vehicles. BMW's CEO Harald Krueger said the company aims to sell 100,000 of its i3 electric vehicles worldwide this year, besting its 2016 number by 38,000 cars. 
"We feel that currently BMW will sell around 80,000 units globally, including plug-ins and battery electrics," Kevin Riddell of LMC Automotive Limited told TheStreet by email. "But if BMW wants to make sure they hit that target, they can take steps to do so."
Meanwhile, Tesla is fresh off a year in which it fell short of its sales goals. The company sold a total of 76,230 cars and sport-utility vehicles last year, short of its forecast of 80,000. Tesla originally targeted sales of 80,000 to 90,000 vehicles, but ran into complications around the new Model X SUV.
Tesla expects to deliver 47,000 to 50,000 Model S and Model X vehicles combined in the first half of 2017, representing growth of 61 to 71 percent. By 2018, Tesla has said it plans to build 500,000 cars a year and by 2020, 1 million. 
But, Goldman Sachs thinks Tesla could fall short on its delivery goals for the first quarter.
"The issue with Tesla is [that] producing a car is a lot harder than they thought. That has been a challenge for them historically," said senior analyst Jessica Caldwell of Edmunds, who follows the auto industry. "They are seen more as a tech company than an automaker."
Caldwell says that Tesla now has some 300,000 orders for the Model 3, a lower-priced electric car that goes for $35,000. "It's kind of their first world production test."
Wild sales goals are nothing new to the electric car space.
"When the Chevy Volt began sales, General Motors (GM) - Get General Motors Company Report said they would sell 10,000 in the first model year in the U.S," Riddell said. "They sold under 8,000 from December 2010 through December 2011. They wanted to sell 45,000 per year starting in 2012. In 2012, they only built 30,741, which is the most built in a year so far."
Nissan had very ambitious goals for battery electric cars (BEVs) many years ago. Carlos Ghosn [departing CEO] had said the Renault-Nissan Alliance would sell 1.5 million battery electric cars (cumulatively) by the end of 2016. In September, 2016, Nissan released that the alliance sold 350,000 BEVs worldwide.
"Tesla does set very high goals. While they have not met many of them in the time they anticipated," added Riddell. "They are still a rare success story in the market."
Caldwell said the other issue with so-called green cars, which include all-electrics, hybrid plug-ins and traditional hybrids, is that they aren't selling as well as expected here in the United States. The total sales for 2016 for all three types were down to 478,971 from 484,464 the year before, according to Caldwell. Electric vehicle sales alone were also slightly down last year versus the number for 2015: 67,188 versus 67,654.
Meanwhile, she said, sales for trucks are rising.
That leads to another erroneous forecast, from President Barack Obama in 2011. He predicted that there would be 1 million electric vehicles in the U.S. by 2015, which was boosted by the Energy Improvement and Extension Act of 2008. Under it, car buyers get a $7,500 tax credit for each electric vehicle sold, capping off at 200,000 units. Caldwell points out, "Tesla has sold under 100,000; Nissan's Leaf, over 100,000; and the Chevy Volt and Bolt [made by General Motors], will hit a combined 200,000 in 2018."
When those quotas are filled, Caldwell said, sales of those vehicles will likely drop.
But back to Obama's prediction, we are now at under 300,000 and counting, nowhere near 1 million.
Better luck next year.
Updated from March 24 with new details.