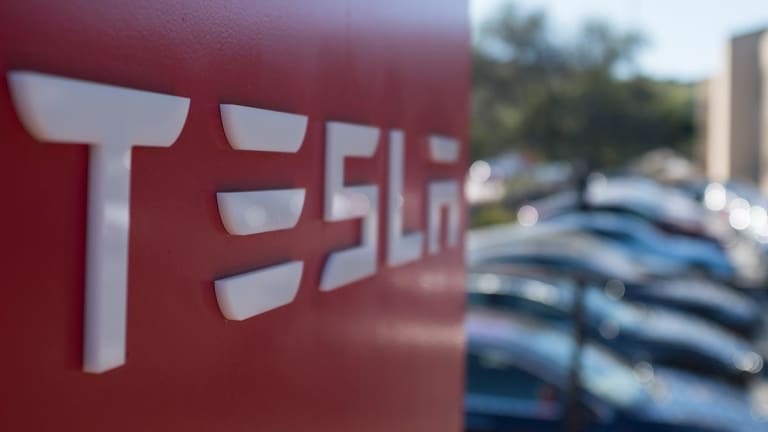 Can Tesla Even Afford to Produce 500,000 Cars a Year in China?
Tesla plans to open a new plant in Shanghai. What does that mean for the company's bottom line?
That didn't take too long.
After Tesla Inc.  (TSLA)  passed along a price hike for its Model S and Model X vehicles in China thanks to the ongoing trade war between the U.S. and China, the automaker is now planning to produce its vehicles in the country.
While CEO Elon Musk appeared to be in Asia for the cave-rescuing story in Thailand, we now see that the multitasking chief executive was in Shanghai a day later as Tesla preps to build a Gigafactory in China.  
The Chinese factory will reportedly be capable of pushing out 500,000 vehicles per year. That's roughly on par with what company officials say the Fremont plant can produce per year i the U.S. A company spokesperson has said it will take roughly two years of construction before the plant will be capable of producing vehicles and will take another two to three years after that for Tesla to ramp up to that kind of production. So by Tesla's estimates, it will be roughly four to five years before the company can produce half a million cars annually. 
Tesla has not provided much information about when it will begin construction or how much it will cost. As Musk made clear on the company's most recent quarterly conference call, future factories will now include both battery production and auto assembly. That's a distinct difference from its current setup in the U.S., where its auto assembly plant is located in Fremont, CA. and its battery-producing Gigafactory is located in Nevada, about 20 minutes east of Reno.
Tesla's move into China shouldn't be a big surprise, though. First, consider that 17% of Tesla's 2017 revenue came from China, the world's largest auto market. Second, demand for electric vehicles in the country continues to skyrocket. On these merits alone, it makes sense for Tesla to set up shop in the country.
Throw in the fact that import costs and tariffs have a negative effect on demand and Tesla's reasoning to migrate to China makes even more sense. However, the country's decision on joint venture partnerships is what really shifted the landscape for the automaker.
Previously, any foreign automaker needed to team up with a joint venture partner in the country. Essentially, a Chinese manufacture partnering that required at least a 50% split in the joint entity. This was the only way companies like General Motors Co.  (GM) and Ford Motor Co.  (F)  could make headway into China.
In April, though, China scrapped the requirement and while GM and Ford appear content to keep their current arrangement, it allows Tesla a unique opportunity to outright own 100% of its Chinese operation.
Tesla in China
On the surface, it seems as if
this is a gold mine for Tesla. With quadruple the U.S. population, a ballooning middle class and a government pushing for a greener ecosystem, what more could you want? 
But then reality hits. First, Tesla has had a ton of trouble just getting to the point it's at right now in the U.S. Second, it's incredibly expensive to open a new factory. In 2014, Tesla raised $1.4 billion in bonds for a Gigafactory that was set to cost upwards of $5 billion. It's possible Tesla has learned from its past mistakes and it's also possible that it can build Giga 3 for less money than the original Gigafactory.
Even if Tesla is incredibly efficient on both issues, though, investors can expect the new arrangement to cost a hefty sum. With almost $11 billion in debt and a worrying bond price situation, how much more can Tesla push the envelope on its financial position?
Because Tesla is a cult stock, it can likely push it a lot, making debates on its stock even more heated. Last quarter, cash fell from $3.36 billion to $2.66 billion quarter-over-quarter, while debt rose from $10.31 billion to $10.76 billion. This quarter was surely another cash burner, as Tesla significantly ramped up production of the Model 3. 
It's also why Musk is aiming for GAAP profitability and positive cash flow in the second half of 2018. In fact, we've been pretty consistent in saying that Tesla needs to shore up its financial position in order to raise the capital it needs.
Even though Musk has made it clear he doesn't want to raise capital in 2018, 2019 is surely in the cards. Essentially, the company is trying to fund its current projects with its operations until it needs the big bucks that Wall Street can bring to the table.
The plan? 
Show it can make a profit with the high-margin Model 3 in the back half of 2018, then come to Wall Street as it starts producing the base Model 3 in early 2019, dumping significant capital expenditures into the Model Y and building the Chinese Gigafactory. 
This article is commentary by an independent contributor. At the time of publication, the author had no positions in the stocks mentioned.