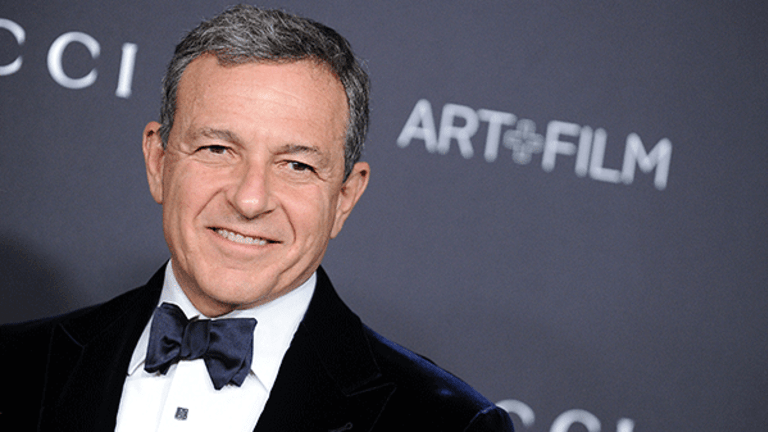 Publish date:
This Is How Long Disney's Stock Will Do Nothing
A positive development in an otherwise gloomy quarter.
A positive development in an otherwise gloomy quarter.
Tuesday night Disney (DIS) - Get Report  reported disappointing June-quarter results, but investors were encouraged by the company's aggressive move into digital streaming. The company has also decided to pull its content from Netflix (NFLX) - Get Report .
The company posted fiscal third-quarter earnings of $1.58 per share on revenue of $14.24 billion. While revenue was slightly less than expected, Disney announced it had agreed to acquire a majority stake in BAMTech and will launch its ESPN streaming service early next year using BAMTech's technology. The company also plans to offer a Disney streaming service in 2019.
Separately, Disney said it would end its film distribution agreement with Netflix, exercising its option to move its content off the Netflix platform. Movies to be removed include Marvel content as well as Disney and Pixar titles. Disney plans to drop Netflix at the beginning of 2019.
Management is making a major move into the streaming space by announcing it has agreed to pay $1.58 billion to acquire an additional 42% ownership stake in BAMTech, a leader in direct-to-consumer streaming and technology, which is the interactive division of MLBAM, the interactive media company created by Major League Baseball (MLB).
Previously, Disney bought a 33% stake in BamTech with the option to acquire an additional interest over the next several years. MLB and the National Hockey League (NHL), which is a minority owner, will keep the remaining 25%. Disney will create a separate board of directors to manage the division.
Disney said the ESPN-branded multi-sport service will offer sports programming featuring approximately 10,000 live regional, national and international events and games, including MLB, NHL, Major League Soccer, Grand Slam Tennis and college sports. The company plans to offer individual sports packages for purchase, including MLB.TV, NHL.TV and MLS live. All the content will be streamed through the ESPN app. The multi-sport app will also feature news, highlights and scores. Pay TV subscribers will be able to use the app on an authenticated basis.
Disney hasn't announced pricing for the service or even a specific business plan for the ESPN app, but management was confident that it could offer its content in a wide variety of ways since the BAMTech technology platform is so versatile.
Watch More with TheStreet:
Besides the ESPN streaming service, the company also plans to offer a Disney streaming offering in 2019, which would include content from the Disney Channel, Disney and Pixar studios as well as content made specifically for the streaming service. The company will ramp up production of new shows and films later this year to prepare for the launch.
While the news of the streaming service was exciting, investors were more focused on the company's financial results.
Revenue of $14.24 billion was down 0.3% year to year. Media revenue declined 1% with operating income sliding 22% to $1.8 billion.
Cable Network revenue decreased 3%, but the bottom really fell out of operating income. Cable operating income -- which is mostly ESPN -- fell 23% to $1.5 billion. The division really took a beating with higher programming costs mostly due to a step up in the NBA broadcast contract and lower advertising revenue.
Despite a strong ad market, television revenue was down due to weak ratings at ABC.
On the bright side, Parks & Resorts revenue rose 12% to $4.9 billion and segment operating income was up 18% to $1.16 billion. The Shanghai theme park is proving to be very popular and surpassed 13 million visitors.
Disney Wants to Control Own Destiny
Faced with tough comparisons with last year, Studio Entertainment revenue dropped 16% to $2.4 billion and operating income fell 17% to $639 million. Last year the company released Captain America 2, The Jungle Book and Finding Dory.
Disney bought back 4% of its shares, or about $2.4 billion worth of stock, to support its earnings.
The streaming news was seen as a positive development in an otherwise gloomy quarter.
Looking forward, analysts forecast total fiscal 2017 (ending September) revenues of $56.37 billion, up just 1.3% over the previous year, while EPS is expected to rise about 3% to $5.90.
Disney has two problems: slow top-line growth and declining operating income in its Media Networks segment. High-cost sports contracts at ESPN and lousy ratings at ABC are really hurting Disney. Media Networks accounts for about 48% of Disney's operating income and 42% of revenue.
Until Disney can fix those businesses, I think the stock will tread water for the next year.
Don't miss these top stories on TheStreet:
Sell Disney. Sell Netflix. Sell It All!
Priceline Shares Being Pummeled -- Here's What We Know
Disney Goes to War With Netflix, Apple to $1 Trillion Are the Hot Tickers: DIS, NFLX, GOOGL, AAPL
Tesla Headlines This Lineup of 12 Amazing New Cars for 2018
This article is commentary by an independent contributor. At the time of publication, the author held no positions in the stocks mentioned.