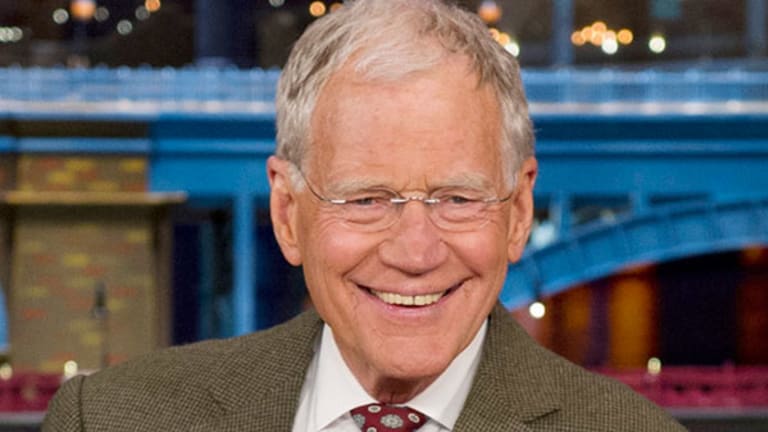 NEW YORK (TheStreet) -- David Letterman's Late Show has been a dependable source of income for CBS (CBS) - Get CBS Corporation Class B Report, but it's also been losing viewers.
As Letterman prepares for his final show on Wednesday after 22 years of CBS, and 33 years in total, the network is pitching advertisers on the notion that his replacement, Stephen Colbert, can win over millennials. Though Letterman has been being showered with praise over the past month, young people have been mostly flocked to his late-night rivals Jimmy Fallon on Comcast's (CMCSA) - Get Comcast Corporation Class A ReportNBC and Jimmy Kimmel at Disney's (DIS) - Get Walt Disney Company ReportABC.
To appease advertisers, Colbert will need to demonstrate that he can entertain young people without making politics the center of his conversation as he did for the Colbert Report on Viacom's (VIAB) - Get Viacom Inc. Class B ReportComedy Central.
"Stephen Colbert is going to have to prove himself as a fun-to-be-with mensch," said CEO Dick Wechsler of direct marketing agency Lockard & Wechsler Direct.
Colbert has to do more than just retain Letterman's audience, he needs to grow it when he starts a new version of Late Show in September. Right now, Late Show is getting a bump in viewers from people tuning in just to watch Letterman's final episodes. For the week of April 27, the show had a weekly average of some 3.25 million viewers over the age of 2, among live and same-day DVR watchers, according to Nielsen Media Research. That was up from a weekly average of 2.8 million viewers one year prior.
Even with that boost of viewers, Fallon's Tonight Show remains in the lead among late night talk shows, with a weekly average 3.36 million viewers for the last week of April of this year.
Reaching the audience is getting tougher for broadcasters, thanks to viewers looking to nonlinear television and other entertainment sources. That has advertisers and marketers concerned. "We all want reach; we're dying for it," said Wechsler.
So this changing of the guard for Late Show poses an opportunity for CBS, but one with risk, his departure leaves the network facing off with competition he helped inspire.
"We have to acknowledge what an enormous force David Letterman was in late night comedy," said Rob Thompson, director of the Bleier Center for Television & Popular Culture at Syracuse University.
Letterman's hosting style was a parody of the old school, late night shows that had been done through the Johnny Carson-era, Thompson said. After a while, though, Letterman became the mold that a newer generation of hosts started to emulate, including Conan O'Brien, Jimmy Kimmel, Craig Kilborn and even in some respects Jon Stewart. "All those people owed an enormous debt to David Letterman," Thompson said.
Jay Leno, Letterman's old rival, stuck with a Carson-like show.
It still comes down to a street fight for numbers to make advertisers happy. Fallon's show appeals to a broad range of demographics, with a weekly average of 1.27 million viewers in the 18-49 segment and nearly 1.6 million viewers in the 25-54 crowd for last week of April, according to Nielsen. Late Show's weekly average was 696,000 viewers in the 18-49 segment, and 905,000 viewers in the 25-54 bracket for that same week.
For its part, The Colbert Report at Viacom's Comedy Central grabbed a piece of late night action, particularly with the coveted 18-49 audience. But the show still had a smaller overall viewership than what Letterman brought to CBS. Pulling off a mainstream comedy show will be new territory for Stephen Colbert and his fans. "By the first three months we'll see if this going to work," Thompson said.
This article is commentary by an independent contributor. At the time of publication, the author held no positions in the stocks mentioned.