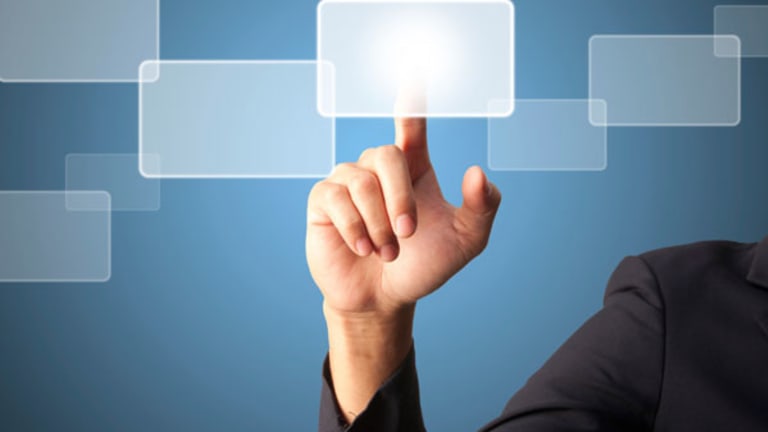 Can Oatmeal Revive Starbucks?
<I>Barron's</I> thinks so, but Starbucks' original expansion into food had lackluster results.
Perhaps it will be the world's first oatmeal-based comeback.
While criticizing others for not "even nibbling on the story,"
Barron's
played it up big in a feature this weekend:
Starbucks
(SBUX) - Get Free Report
is coming back. In these troubled times, troubled Starbucks is the place to park your money. And oatmeal is going to drive the profits.
Here is the headline and subheadline: "
: Starbucks aims to get its buzz back -- and its stock up -- with new products and promotions that distinguish it from the crowd. The oatmeal offensive."
Perhaps the company, which stumbled in part because food offerings slowed down service in its stores while also eliminating that signature waft coffee you got when you even opened the door, will be saved by the most-boring food of them all. The Business Press Maven is a lot of things, but I'm not a master arbiter of oatmeal's ability to save billion dollar enterprises, so I'll leave that judgment to those wiser and richer in fiber.
They Just Don't Get Starbucks!
var config = new Array(); config<BRACKET>"videoId"</BRACKET> = 1815780101; config<BRACKET>"playerTag"</BRACKET> = "TSCM Embedded Video Player"; config<BRACKET>"autoStart"</BRACKET> = false; config<BRACKET>"preloadBackColor"</BRACKET> = "#FFFFFF"; config<BRACKET>"useOverlayMenu"</BRACKET> = "false"; config<BRACKET>"width"</BRACKET> = 265; config<BRACKET>"height"</BRACKET> = 255; config<BRACKET>"playerId"</BRACKET> = 1243645856; createExperience(config, 8);
The main issue is this that, in making such a big call,
Barron's
made a few basic mistakes that you, the savvy investor, should be aware of. The most glaring was that Starbucks will benefit overall by a decline in the price of leases because of the miserable nature of the economy.
Look at this line: "The cost of leasing real estate also should fall, as more empty storefronts appear."
But net-net, this would have no impact on Starbucks. That's because falling lease rates due to every third store getting boarded up do imply a weak consumer economy. And any costs saved from the shuttering of neighborhood stores and declining demand for real estate space will certainly come attached to a listless consumer, especially one of expensive but in the end unneeded or replaceable daily luxuries. Unless, of course, oatmeal saves the day.
Barron's
also traffics in the Starbucks party line that competition from
McDonald's
(MCD) - Get Free Report
only creates new potential customers: "Schultz believes the next wave of Starbucks customers will be folks trading up from McDonald's and other chains who want a little ambience with their brew."
This does not make sense to me, but to each his own, I suppose. The problem is that elsewhere in the article,
Barron's
is equally dismissive of the potential of McDonald's to have an impact on Starbucks -- "Yes, McDonald's charges only $1.19, but many coffee aficionados say the 55% price differential is worth it." -- without ever mentioning that the major harm done by McDonald's is not necessarily poaching customers but putting something of a ceiling on retail coffee pricing when, until recently, Starbucks has had such limitless flexibility that jokes about buying Frappuccinos on layaway are a late night staple.
Getting back to the oatmeal issue for a moment,
Barron's
declares that "Food sales represent a huge opportunity for Starbucks, which still gets 75% of its revenue from beverages," without addressing why and how the company that stumbled so badly last time it expanded into food can so easily benefit by doing it a second time.
In terms of marketing,
Barron's
puts great hope in the social action component of Starbucks' approach. The second paragraph showcases how CEO Howard Schultz has already made progress by "promoting the company's social-action endeavors at home and abroad."
Later, we get unconfirmed though excited speculation that Starbucks' new customer cards might (be still my beating heart) also work toward the greater good:
"At a more traditional company that might mean cash back with purchases, but Starbucks customers seem to appreciate other things, like the company's commitment to sourcing coffee beans from growers who practice sustainable farming. The new program might well have a charitable angle, though Schultz won't comment."
The Business Press Maven has few problems with the greater good. And Starbucks was truly an innovator in marketing its charitable endeavors, in linking good works and making a buck. But to truly put confidence in a marketing plan, you have to know what the plan is.
By now, everyone has imitated Starbucks in regards to its charitable endeavors -- to a much larger extent, even, than those who have imitated its coffee offerings. With seemingly every company right, down to gun and ammunition makers, having gone green or worker-friendly or friendly to green workers, it takes a lot to stand out.
Vague confidence that a company can get its marketing groove back this way is misguided. Unless, of course, oatmeal comes in to save the day.
At the time of publication, Fuchs had no positions in any of the stocks mentioned in this column.
Marek Fuchs was a stockbroker for Shearson Lehman Brothers and a money manager before becoming a journalist who wrote The New York Times' "County Lines" column for six years. He also did back-up beat coverage of The New York Knicks for the paper's Sports section for two seasons and covered other professional and collegiate sports. He has contributed frequently to many of the Times' other sections, including National, Metro, Escapes, Style, Real Estate, Arts & Leisure, Travel, Money & Business, Circuits and the Op-Ed Page. For his "Business Press Maven? column on how business and finance are covered by the media, Fuchs was named best business journalist critic in the nation by the Talking Biz website at The University of North Carolina School of Journalism and Mass Communication. Fuchs is a frequent speaker on the business media, in venues ranging from National Public Radio to the annual conference of the Society of American Business Editors and Writers. Fuchs appreciates your feedback;
to send him an email.