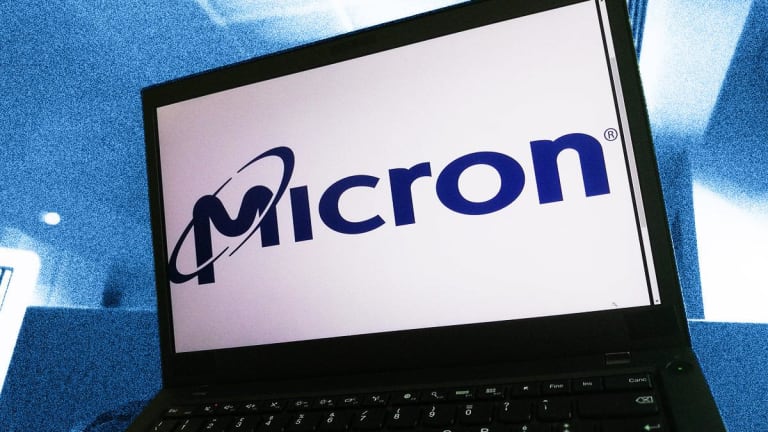 Can Micron Stock Rally More Than 50% to $50?
BMO analysts are looking for Micron stock to rally more than 50% to $50 per share. But can it?
BMO analysts are looking for Micron stock to rally more than 50% to $50 per share. But can it?
To say it's been a rough ride for Micron (MU) - Get Report investors would be an understatement. While shares are down 2.5% to $33 on Tuesday, that decline pales in comparison to the stock's fall since May.
While the fourth quarter was a tough run for virtually every stock in the market -- excluding a few names like Tesla (TSLA) - Get Report and Starbucks (SBUX) - Get Report -- the pain has been ongoing for multiple quarters in Micron stock.
Shares briefly eclipsed $64 per share near the end of May. The stock is now down almost 50% from those levels and at its lows in December, Micron was under $28.50, down almost 56% from those highs. But investors have been screaming one thing the whole way down: Valuation, valuation, valuation!
Micron stock trades at about 4 times this year's earnings expectations. However, those expectations continue to be cut by analysts, who now expect earnings to decline 33% this year (fiscal 2019) from 2018's results. Further forecasts call for an additional 11% decline in fiscal 2020.
The preliminary guidance update from Apple (AAPL) - Get Report didn't help matters last week and the recent quarterly results from Samsung (SSNLF) (both a user and producer of memory products just like Micron) isn't helping either. That's likely the cause behind Tuesday's decline.
However, BMO analysts feel that the decline may be enough to warrant a long position. They upgraded the stock to outperform from market perform and raised their price target from $32 to $50, representing 51.5% upside from current levels. Analysts acknowledge that the situation can worsen before it improves, but Micron management has taken steps to structure itself as a more profitable company. Even under more dire circumstances, it should still generate free-cash flow.
But the question still remains: Can it get to $50?
Trading Micron Stock
Micron stock is stuck in a nasty downtrend, as evidenced by the blue lines on the chart above. After bouncing back from its lows near $28.50, MU has quickly found itself back near $34, a level that is proving to be resistance after previously serving as support in October and November.
When the company reported earnings on Dec. 18, this level gave way as support. If Micron stock can hold up over $32 it will be an encouraging sign for the bulls that perhaps the bottom is in for the stock, even if it has a few more tough quarters ahead. It's a good sign to see Micron stock currently above the 21-day moving average, although I wouldn't count on it as a tough layer of support at this point.
Should Micron push higher this week and get above $35, look to see how it does with the 50-day moving average. This mark has held MU in check for months now, acting as resistance since August.
On a pullback, look to see if $31 to $32 holds up as support. If not, the lows are back on the table. For bulls to get truly excited, they need to see MU break out of this tough downtrend.
This article is commentary by an independent contributor. At the time of publication, the author had no positions in the stocks mentioned.