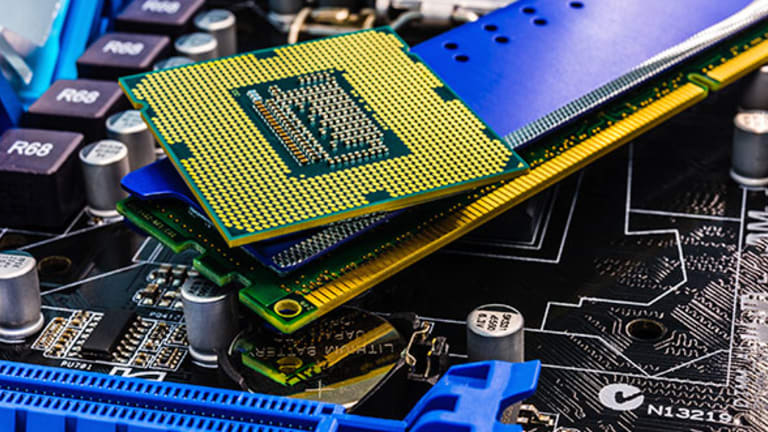 Can Kulicke & Soffa 'KLIC' With Investors?
Shares have run into congestion
Is it time to bond with KLIC?
Thursday night, after the market close, wire bonder maker Kulicke & Soffa Industries, Inc. (KLIC) - Get Kulicke and Soffa Industries Inc. Report raised its outlook for its fiscal third quarter and full year.
The Singapore-based company now expects revenue for the June quarter to come in at the high end of the previously provided revenue guidance between $235 million and $245 million. In addition, management said it is looking for full-year (fiscal years end September) revenue to be $790 million, plus or minus $25 million, representing approximately 26% year-over-year growth.
If you recall, back in February, the company blew out the first quarter by $0.10 and raised second-quarter guidance. In early May, K&S did it again. The company beat the second quarter by $0.06 and increased third-quarter guidance. And now management has raised third-quarter and fourth-quarter guidance.
Higher levels of semiconductor unit growth are driving the strength in the business.
Kulicke & Soffa operates in the less glamorous backwoods of the semiconductor equipment industry. The company is known for manufacturing wire-bonding machines that are used to connect the semiconductor die to the outside world. A typical 300mm wafer holds approximately 148 20mm x 20mm dies. Each die needs to be carefully removed from the underlying substrate, glued into a package and wired to the outside world using microscopic gold or copper filament.
As die size has shrunk, K&S has had to invent new ways to connect these tiny chips to the outside world. Over the last few years, the company has introduced several new advanced packaging techniques. While a small part of revenue right now, those techniques are poised to be a larger part of the company's total revenue.
As the sheer number of semiconductors grows, the amount of packaging needed for those chips keeps growing. As die get impossibly small, the equipment industry needs increasingly complex methods to connect those chips to the outside world.
According to VLSI Research and Gartner, there were 3.0 trillion semiconductors manufactured in 1995. That number reached 14 trillion in 2014 and is expected to grow to 23 trillion by 2020. Overall, semiconductor units are expected to increase 9% through 2020. All those chips need some kind of package and K&S is there to help.
According to company estimates, there are 145,000 wire-bonding machines in the field. Approximately 80% of all semiconductors are still wire bonded. K&S estimates it has 60% of the wire-bonding market with an installed base of over 90,000 machines.
As tech companies cram more chips into increasingly sophisticated devices, semiconductor dies need to shrink. The market for advanced packaging is expected to grow from $450 million in 2016 to $900 million by 2020.
The core back-end assembly business, such as wire and wedge bonders, is expected to increase from $780 million to $850 million and electronic assembly to $700 million from $300 million.
The company believes its served available market will grow from $1.53 billion in 2016 to $2.45 billion by 2020.
KLIC stock has had a tremendous run. In the latest 52-week period, the shares are up 70%. But the shares have run into congestion and formed a double top at $23.
According to stock market technicians, a double top could lead to a dramatic reversal in the share price. If the technicians are right, the stock could slide down to $16 -- or about 20% from current levels.
Tech investors often use Kulicke & Soffa as a leading indicator of semiconductor demand. When chip demand falls, K&S is often the first to feel the effects as fewer wafers are processed through its machines. Orders for consumables like die saws and wire begin to fall and, finally, equipment orders are cancelled.
It's easier to cancel equipment orders from K&S than it is from say Applied Materials, Inc. AMAT since Kulicke's machines are a lot easier to manufacture and have much shorter lead times to delivery.
I think the double top in the stock indicates tech investors believe semiconductor sales are slowing. Historically, KLIC has been a very difficult stock to trade. Right now, I would stay on the sidelines.
This article is commentary by an independent contributor. At the time of publication, the author held no positions in the stocks mentioned.