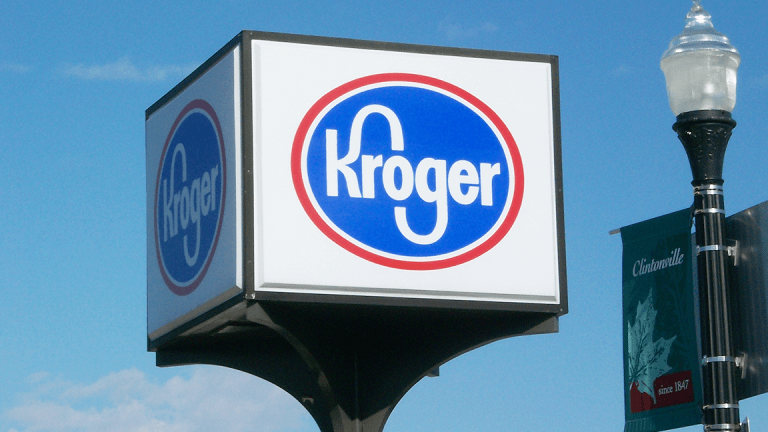 Why Kroger's Stock Has Surprised Everyone Over the Last 6 Months
Analysts are cautiously optimistic ahead of its fourth-quarter earnings release Thursday.
The page is about to turn for Kroger Co. (KR) - Get Free Report .
Since plunging to a three-year low in September, the supermarket's stock has rallied nearly 35%. Ahead of its fourth-quarter earnings on Thursday, March 8, Wall Street is cautiously optimistic about the company's prospects and will be paying extra attention to its margin growth and potential tax savings.
"Kroger is one of the few operators that are taking market share," Pivotal Research Group analyst Ajay Jain told TheStreet.
"The overall environment is competitive," he noted. "Their expectations are flat or slightly positive for the fourth quarter, which is consistent with what we expect." Kroger's earnings will most likely be diluted by the sale of its convenience store business, the EG Group in the U.K., for $2.15 billion last month.
Jain has a target price of $32 for the Cincinnati-based chain, higher than the analyst average of $29, according to Factset. Wall Street projects that it will post earnings of 63 cents per share in the fourth quarter and $2.04 for the full fiscal year.
In the third quarter, Kroger reported an impressive gross margin growth — 30 basis points — thanks to its tight inventory management and strict vendor relations.
Gross margin has been an important upside, according to Jain, as "they've taken a tough approach toward suppliers, inventory and delivery standards." The question now is whether Kroger can sustain this expansion.
"Can the surprisingly strong gross margin expansion from Q3 continue?" asked Loop Capital Markets analyst Andrew Wolf in a Wednesday note. "It is reasonable to assume that category management and mix should continue to contribute" to margin rates? he added.
Analysts are also pointing to prospective tax savings and whether Kroger will use the extra cash to invest in its operations.
"Given what appears to be a significant re-investment by industry market share leader [Walmart Inc. (WMT) - Get Free Report ] into wages, price and e-commerce," wrote BMO analyst Kelly Bania, "we assume KR may need to make incremental wage investments."
In addition to Walmart, Target Corp. (TGT) - Get Free Report , CVS Health Corp. (CVS) - Get Free Report and Starbucks Corporation (SBUX) - Get Free Report all announced this year hourly wage increases for their employees.
Jeffries' Christopher Mandeville also anticipates wage increases for Kroger workers, but added that Kroger will likely accelerate its Restock initiative — a four-pillared plan it announced in October to ramp up its digital platforms, invest in retail technology like self-checkout, make better hires for leadership positions and meet sustainability goals.
Kroger shares were down 6% Wednesday afternoon, trading at $26.30. 
Speaking of Supermarkets...
TheStreet's Executive Editor Brian Sozzi talked with Tyson Foods (TSN) - Get Free Report CEO Tom Hayes about a range of issues recently, including his appetite to do deals. Watch below.