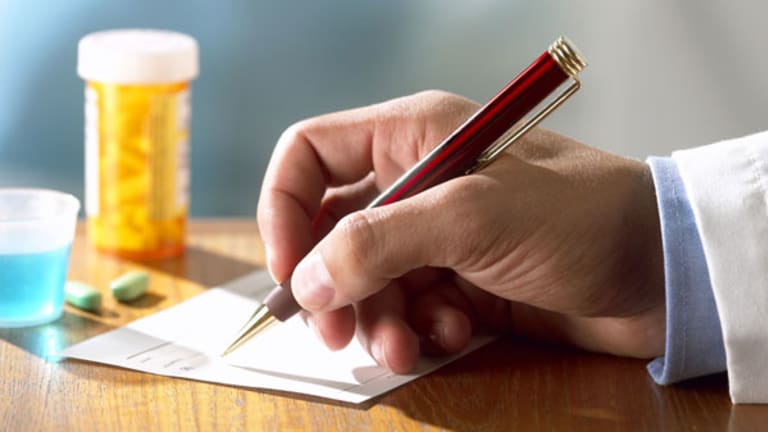 Can Johnson & Johnson Heal Itself?
When consumer and health care behemoth Johnson & Johnson releases fourth-quarter earnings Tuesday, investors will be looking to see how J&J is coping with an FDA setback, drug recalls and a looming legal battle.
NEW YORK (
) -- When consumer and health care behemoth
Johnson & Johnson
(JNJ) - Get Johnson & Johnson (JNJ) Report
releases its fourth quarter earnings next Tuesday, investors will be hungry to find out how the company is coping with an FDA setback, drug recalls and a looming legal battle.
There will not be a lack of information to process -- or pressures on Johnson & Johnson's top-line potentisal
Analysts polled by Thomson Reuters are expecting earnings of 97 cents a share on revenue of $15.7 billion, compared to diluted net earnings per share of 97 cents on revenue of $15.2 billion in the same quarter last year.
One key driver for Johnson & Johnson is the traction it has gained on acquisitions. On January 20, Ethicon, a Johnson & Johnson surgical care company announced that it had completed the acquisition of Acclarent, a privately-held medical technology device maker.
Shortly before that, the Advanced Sterilization Products division of Ethicon, a developer of instrument sterilization and cleaning technologies, on Nov. 23 announced the acquisition by its French affiliate, Apsis S.A.S., of Gloster Europe. Gloster Europe designs and markets decontamination technology that provides disinfection of patient environments such as hospital and operating rooms.
And then there are the J&J cost-savings.
Jan Wald, an analyst at Noble Financial Group, notes that the company announced in November that it would slash layers of management, accounting for 6% to 7% of its global workforce. The company said the restructuring could lead to pre-tax cost savings of $800 to $900 million in 2010 and $1.4 to $1.7 billion when fully implemented in 2011.
All of which points in the right direction. Indeed, as the global economic outlook improves, Johnson & Johnson's consumer division is "a cash machine that should do better with any kind of economic uplift," Wald said, also noting the company's healthy pipeline in its Vision Care segment.
Other recent highlights for Johnson & Johnson include FDA approval for a number of products. On November 25, the FDA granted traditional approval for Intelence for use in treatment-experienced adults who are experiencing virologic failure with HIV-1 strains resistant to an NNRTI and other antiretroviral agents. Also on Oct. 15, Biosense Webster, a Johnson & Johnson company that provides tools for diagnosing and treating arrhythmias, announced that the FDA cleared for marketing the CARTO(R) 3 System, a three-dimensional imaging technology for use by electrophysiologists in treating cardiac arrhythmias.
Still, Johnson & Johnson still
, and
, which could hinder the company's near-term growth.
For example, Johnson & Johnson has faced a significant setback in bringing the antiobiotic drug ceftobiprole to the market. Ceftobiprole was expected to be a major cash cow for the company.
On Dec. 30, the company said in a statement that the FDA has requested additional information, and recommended that additional clinical studies be conducted, in order to consider future approval of ceftobiprole. The New Drug Application (NDA) was originally submitted to the FDA in May 2007 for the treatment of complicated skin and skin structure infections (cSSSI), including diabetic foot infections.
Furthermore, the company recently had to recall certain over-the-counter products in the Americas, United Arab Emirates and Fiji after J&J's McNeil Consumer Healthcare division received consumer complaints about moldy, musty or mildew-like odor coming from the products. How this will affect sales in the current quarter remains to be seen.
Also, in what could potentially turn into a costly legal battle for the company, Johnson & Johnson and two of its subsidiaries are facing allegations by the Justice Department of paying millions of dollars in kickbacks to the U.S.'s largest nursing home pharmacy,
Omnicare
(OCR)
.
In the company's third-quarter earnings release, Johnson & Johnson sounded optimistic notes, despite the impact of patent expirations and the ongoing economic challenges. "We completed multiple acquisitions and strategic collaborations and received several new product approvals in the quarter that will benefit patients worldwide and drive future growth," William Weldon, Johnson & Johnson's CEO said.
In pre-market trading Monday, Johnson & Johnson stock has edged higher to $63.50, up 0.5%.
The company is slated to report fourth-quarter earnings Tuesday, Jan. 26, before the market's open.
-- Reported by Andrea Tse in New York
RELATED STORIES:
>>U.S. Accuses J&J of Paying Kickbacks
>>J&J Recalls Stinky Products; Stock Slips
>>Has Johnson & Johnson's Reputation Been Damaged?
>>See our new stock quote page.
Follow TheStreet.com on
and become a fan on
Copyright 2009 TheStreet.com Inc. All rights reserved. This material may not be published, broadcast, rewritten, or redistributed.