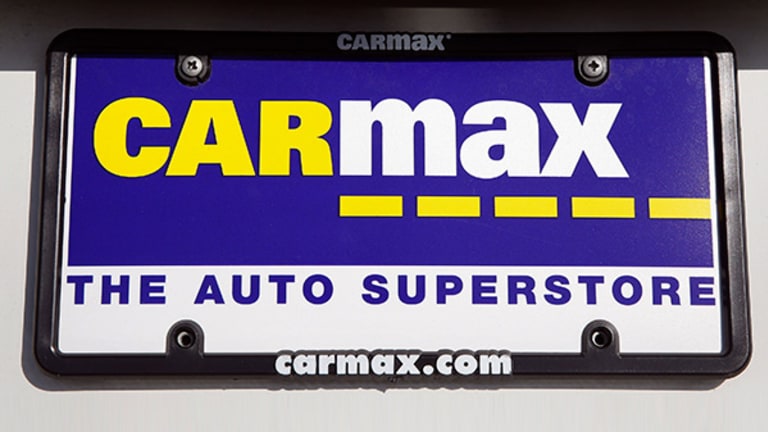 Can CarMax Rise Above an Earnings Miss?
CarMax reported disappointing earnings, and investors are wondering if there is upside to this stock.
CarMax reported disappointing earnings, and investors are wondering if there is upside to this stock.
CarMax (KMX) - Get Report reported disappointing second-quarter fiscal 2017 results on Wednesday. Was this quarter a fender-bender or is the company in need of major repairs?
Adjusted earnings per share of 88 cents were in line with consensus estimates. Revenue rose 2.9% to $4 billion, vs. the $4.11 billion analysts were expecting. Total used vehicle unit sales grew 7% to 167,412 cars. The company unloaded 105,108 wholesale vehicles. Average selling price of used vehicles was down 2.3% to $19,530.
Wholesale vehicle sales declined 1.3%, mostly because there was one less Monday auction on the calendar.
Total gross profit increased 4.6% to $545.5 million. Used car gross profit rose 6.7%. Gross profit per used car was stable at $2,160. Wholesale gross profit per vehicle was $870 from $951 last year.
During the quarter, the company opened three new stores, including two in new markets (El Paso, Texas, and Bristol, Tenn.). The other store was opened in the Boston area.
Same-store sales rose 3.1%. Selling, general and administrative expenses as a percentage of gross profit came in at 65.1%, which was a little less than expected.
CarMax Auto Financing earned $96 million. The spread on the money CarMax loans to its customers tightened from 6.2% to 5.9%. (CarMax borrows and relends to its customers.)
Management said it is continuing to test the prospect of originating subprime loans in-house instead of using third-party subprime lenders. If CarMax made subprime loans, it could lower the fees it pays to outside vendors, but possibly expose its self to increased risk.
CarMax bought back 2.4 million shares of common stock for $125.8 million. As of Aug. 31, CarMax had $1.89 billion remaining on its share repurchase program.
Revenue is expected to rise 6.7% in fiscal 2017 to $16.1 billion. While some investors are concerned the auto market may have peaked, revenue should keep growing simply because the company continues to add new stores. CarMax ended 2016 with 158 stores and is expected to finish 2017 with 173. It plans to  add an additional 13 to 16 new stores in 2018.
Historically, CarMax trades between 17 and 19 times forward estimates. Given investor concern over the auto market and runaway subprime lending in the used car market, it may be difficult for CarMax to achieve a multiple much beyond the midpoint of the range.
So at 18 times earnings of 2017 estimates of $3.33 per share and estimates of $3.65 per share for 2018, the stock is probably worth somewhere in the $60 to $65 range. At Friday's open, shares were trading at $54.20.
Looking for another name in the car-retailer space? My colleague Bret Jensen writes today on Real Money Pro (TheStreet's subscription-only site for investment professionals) that Sonic Automotive (SAH) - Get Report looks promising to him. Check out Bret's column here(Real Money Pro non-subscribers can sign up for a free 14-day trial).
This article is commentary by an independent contributor. At the time of publication, the author held no positions in the stocks mentioned.