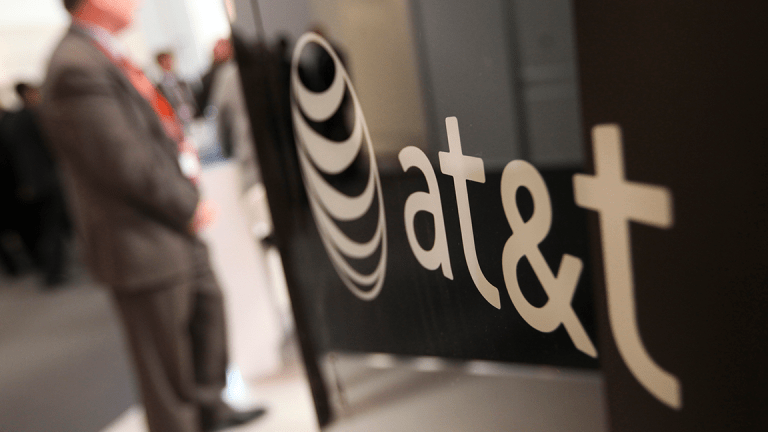 Can AT&T Stock Really Rally 60% to $60?
AT&T stock is jumping after Elliott Management took an activist position in it, calling for $60 per share by the end of 2021. Can T stock get there?
Shares of AT&T (T) - Get Report  were in the spotlight Monday, but did not close with the fireworks bulls were hoping for. 
The stock was originally up about 6% in pre-market trading, but closed higher by just 1.5% at $36.79. 
For a telecom stock like AT&T, the initial rally was significant -- and no, it wasn't moving on the company's quarterly results. Instead, shares are up as a notable activist investor has started making some noise in the stock.
Elliott Management has taken a $3.2 billion stake in AT&T and sent a letter to management outlining steps on how to get the stock up to $60+ by the end of 2021.
If Elliott is right, that represents more than 65% upside from Friday's close and 60% upside from Monday morning's trading price. Is it realistic?
Anytime someone calls for that much upside, it's a bold call. But AT&T has robust free cash flow following its acquisition of Time Warner and even after its big rally over the past few months, the dividend still yields more than 5.5%.
Trading AT&T Stock
In January, I outlined the trade in AT&T stock, saying shares needed to hold up above the $28.50 to $29 area. The post-earnings move was volatile, as was the following move in April.
In short, it hasn't been an easy or comfortable ride for bulls over the past 12 months, but it's been a profitable one. Are there more profits left, though?
AT&T stock is up 15% in the past three months and more than 30% so far on the year. It will be difficult to replicate similar gains over the next three and nine months, respectively. But if T stock can stick to the current trend, higher prices over the long-term are certainly possible.
It's been a long time since AT&T stock has been overbought on a technical basis. On the daily chart above and the weekly chart below, that's the case on both timeframes. In both scenarios, we can also see that AT&T stock has broken out of its upward channel.
From here, I'd love to see AT&T stock hold up over $37. On the first daily chart, prior channel resistance comes into play near this area and it would be constructive to see it turn into support. On the weekly chart, it's not difficult to see the significance of $37, which acted as stiff resistance in 2016 and 2017.
The bottom line: Below $36.50 to $37 and AT&T will need more time to consolidate. Above $37 puts $40+ in play.
This article is commentary by an independent contributor. At the time of publication, the author had no positions in the stocks mentioned.