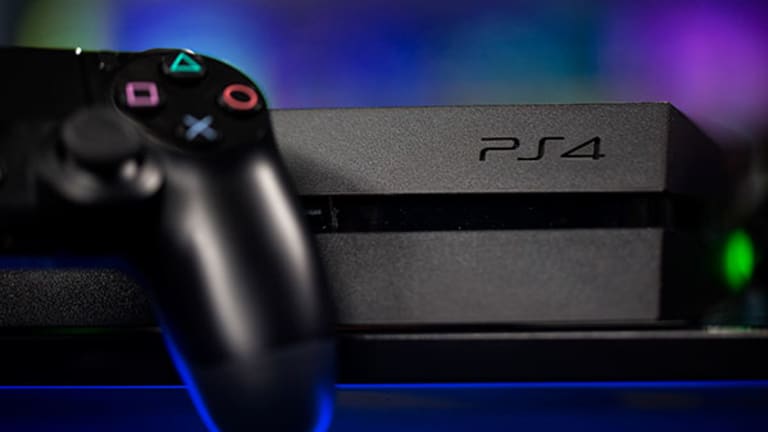 Microsoft Must Do This If It Wants to Stop Sony's Playstation Juggernaut
At E3, Microsoft and Nintendo are desperately trying to challenge the PlayStation 4.
After stumbling with the PlayStation 3, Sony (SNE) - Get SONY GROUP CORPORATION SPONSORED ADR Report is firmly in charge of this generation of video game consoles.
Since its November 2013 launch, the PlayStation 4 has sold 60 million units worldwide and Sony says it is outselling Microsoft's (MSFT) - Get Microsoft Corporation (MSFT) Report Xbox One by a 3:1 margin in non-U.S. markets. The race is closer in North America, but exactly how close is unclear, as Microsoft hasn't given a sales update on its console since October 2015.
But as E3, the video game industry's annual trade show, gets underway, Microsoft and Nintendo are both looking to unseat Sony -- and they're bringing new hardware to do so. 
Microsoft announced on Sunday that it will launch its Xbox One X on Nov. 7 for $499. That's a high price (twice as much as the standard Xbox One), but the system is jam packed with high-end tech components, including 12 GB of RAM and bleeding edge CPU and graphics chips. And it will let Xbox display games in 4K ultra-high resolution (and will let owners watch UHD Blu-ray discs as well).
Nintendo, of course, has the Switch, its new hybrid portable/living room console, which sold 2.74 million units in its first month of release in March. It's still a hard item to find in stores. And, assuming the company has adequate supply during the holiday sales period, it will likely post very strong numbers. (Nintendo says it expects to sell another 10 million units over the next year.)
Microsoft's Xbox One X will compete directly against the PlayStation 4 Pro, an upscale model that focuses squarely on 4K and high dynamic range (HDR) video, but that doesn't support UHD Blu-ray playback. Sony won't give hard sales numbers for that console, but Andrew House, global chief executive of Sony Interactive Entertainment, the company's video game division, says roughly one of every five PS4s sold since the Pro's launch have been the high-end model.
"That does not reflect true demand, in my view," House said. "We've been in short supply. ... That 19% [figure] was ahead of the expectations of my sales force, but below my expectation of what the penetration could be. But, if it makes up any significant portion of sales, whether that's a slow burn or not, it validates the strategy of launching the platform in the first place." 
Maybe so, but despite its lead, the PS4 still lags far behind the PS2, Sony's best-selling console. Between 2000 and 2012, the PS2 sold over 150 million units. That's a big gap.
"It's all about hardware sales for them, because they need to drive the installed base for the future of the company," says P.J. McNealy of Digital World Research. "This is mission critical for the company. If you've set the goal to top the PlayStation 2 and you're only at 60 million, your foot is on the pedal and the pedal is pinned to the floor." 
Sony's developer-friendly practices have won it some degree of publisher loyalty. Activision Blizzard Inc. (ATVI) - Get Activision Blizzard, Inc. Report , for instance, shifted timed-exclusive DLC (add-ons for games) for its Call of Duty franchise from the Xbox to the PlayStation two years ago.
So how does the competition unseat Sony?
To really get back in the fight, Microsoft needs to find a way to woo back developers and offer exclusives of its own. Adding some pep to its own internally developed games wouldn't hurt, either (2015's Halo 5: Guardians received a good, but not overwhelming, composite score of 84 on Metacritic, as did last year's Gears of War 4.) 
Microsoft showcased 42 titles at its press conference at E3 Sunday, including 22 exclusives -- but few of those exclusives were AAA system sellers.
"Microsoft needs to give families and casual gamers a reason to buy an Xbox this holiday," says Ben Schachter of Macquarie Securities.
As for Nintendo, analysts say it has to find a way to not only recreate the lightning in a bottle that it had with the Wii, but it has to offer games for both the mainstream audience and the core gamer.
"They have to get the message out that this is not just a Nintendo fanboy console; it's a great console for everyone," says Schachter.
Visit here for the latest business headlines.