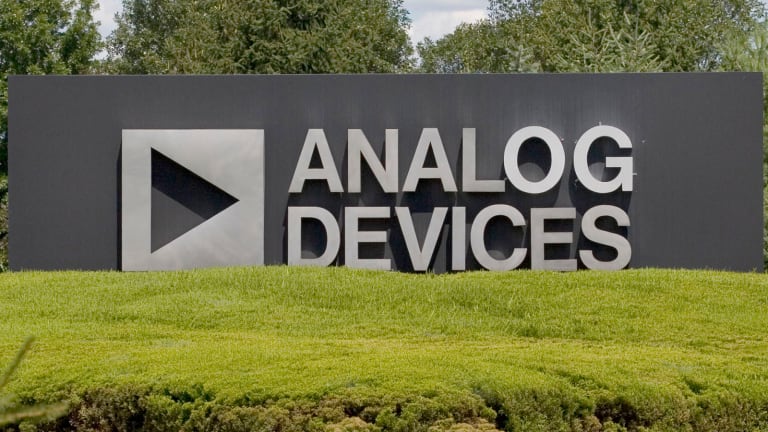 Publish date:
Can Analog Devices Boost Its Stock?
Over the last year, shares of Analog Devices have lagged the S&P 500. But a merger could change that.
Over the last year, shares of Analog Devices have lagged the S&P 500. But a merger could change that.
Over the last 12 months, shares of Analog Devices (ADI) - Get Report have lagged the S&P 500. Still, year to date, Analog Devices is up 10%. Can the company connect with investors?
The company's agreement to merge withLinear Technology (LLTC) , announced July 26, could help things.
The merger will create an analog powerhouse and expand the company's total addressable market from $8 billion to $14 billion. The merged company will dominate the data converter and RF/microwave space. In power management, amplifiers, and interface semiconductors, Analog Devices will be the second-largest provider in the world.
While analysts always get excited about digital semiconductors, like the kind developed by Intel (INTC) - Get Report , Analog/Linear will dominate the less-sexy world of analog semiconductors.
There would be no mobile communications without analog semiconductors.
Unlike digital chips, analog parts are exceedingly difficult to design and manufacture. For many of the parts, there is little or no competition. Usually analog semis have long useful lives and are designed into every electronic device imaginable. The parts are found throughout the industrial, automotive, and consumer segments, as well as computing, mobile telephony and network communications. That provides analog makers with a lot of financial stability. For example, analog companies are not held hostage to the PC upgrade cycle, as Intel is.
And the best parts: Analog/Linear will have a gross margin of 69% and a 38% operating margin vs. 62% and 23% for Intel, respectively. The combined company will have free cash flow of $1.7 billion and a free cash flow margin of 31%. Management projects a free cash flow margin of 34% over 12 months, which means Analog/Linear would surpass at least 8 other semiconductor makers. The gigantic cash flow would allow the company to rapidly tackle the $9 billion of debt on the balance sheet it took on to do the deal.
On Aug. 17, Analog Devices reported third-quarter fiscal 2016 results. Revenue was $870 million, up 1% year over year, but up 12% sequentially. The company had a non-GAAP gross margin of 66% and an operating margin of 34.1%. Free cash flow margin rose 600 basis points compared to the year earlier. Earnings were 74 cents per share.
The merged company should grow 7.2% in fiscal 2017 and is expected to earn about $3.29 per share. Historically, high-quality analog semis trade at a premium to the semiconductor group or between 20 and 22 times forward estimates. At the current price, there is probably upside to the low $70s. No communication break down here.
This article is commentary by an independent contributor. At the time of publication, the author held no positions in the stocks mentioned.