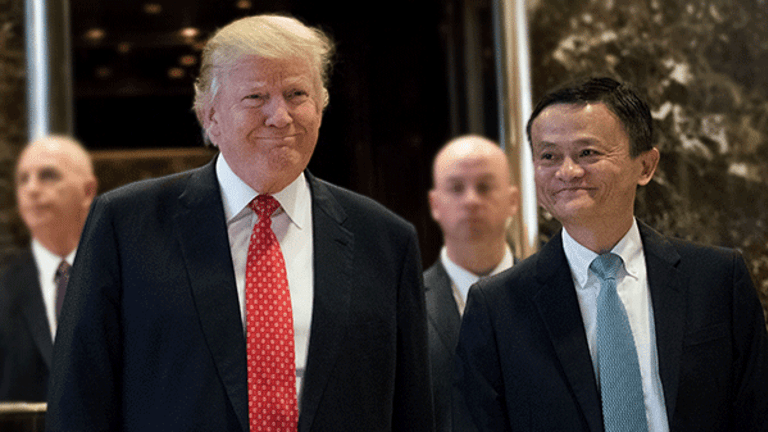 This Is Why Alibaba Is About to Take Over Downtown Detroit
Alibaba looks to expand by aiding small businesses.
Alibaba looks to expand by aiding small businesses.
Amazon.com Inc. (AMZN) - Get Report is sure to be watching Alibaba Group Holding Ltd. (BABA) - Get Report closely on June 20 and June 21 as the Chinese e-commerce giant holds a conference for 3,000 entrepreneurs in Detroit to explain how easy it is to start selling goods on its platform. 
The small-business leaders gathering from 48 states this week are sure to be paying close attention too, considering China surpassed the U.S. in the past year to become the largest retail market in the world. The Chinese retail market is a $4.89 trillion opportunity, versus the U.S.'s $4.82 trillion, according to eMarketer. 
Alibaba cofounder and vice chairman Joe Tsai said the conference is an important step for the company.
"This is very meaningful for us because it really goes to how we all started," he said. "We have a mission to make it easy to do business anywhere, and embedded in that mission is for us to help small businesses." 
The conference begins Tuesday with talk show host Charlie Rose interviewing Alibaba cofounder and executive chairman Jack Ma. On Wednesday, Ma will give a more formal keyote address to attendees. Both events can be viewed live on the Facebook page for Alizila, Alibaba's news site.
Ma has a special interest in signing up U.S. sellers because he made a promise in January to create 1 million jobs in the U.S. If sellers start doing business in China, they will naturally need to hire additional help.
"The Chinese market presents tremendous opportunities for U.S. small businesses and farmers to grow their businesses and, in turn, create more U.S. jobs," Ma wrote in a blog post about the event. 
The two-day conference will include opening remarks from Detroit mayor Mike Duggan and Michigan Lt. Gov. Brian Calley. Attendees will learn about "Exporting the Martha Stewart Lifestyle" with Stewart herself, as well as about "Growing Global" with United Parcel Service Inc. (UPS) - Get Report CEO and chairman David Abney and "How to Turn Your Business Into a Thriving Enterprise" with Marcus Lemonis, star of CNBC's "The Profit" reality TV show, which gives struggling small businesses a face lift. 
Alibaba's target audience falls into three main groups: small businesses, entrepreneurs and farmers. Tsai said he wants all three groups to know how big the opportunity is in China and how easy it is to start selling in the country. This is important considering China is often considered a difficult market to break into due to strict regulations that have forced Netflix Inc. (NFLX) - Get Report to license its content to Alibaba, Tencent Holdings Ltd. (TCEHY) and Baidu Inc. (BIDU) - Get Report rather than enter the market alone. 
What's in it for U.S. sellers? In addition to the golden platform in the world's largest retail market, Alibaba already serves 500 million consumers in China and has valuable data about these buyers.
"We get a lot of information about them, which informs us about what's really in high demand in terms of consumer products," Tsai explained. Attendees will get insights about Chinese consumers and which industries are hot in China right now. They will also learn how to find a reliable, quality supplier, he said. 
A big opportunity for U.S. merchants in China is the growing demand for higher-quality consumption, particularly with cosmetics, baby products and food, Tsai said.
"Spending is more discretionary and the focus is on quality, and that's where American businesses have an opportunity to step in and really play a role here," he said. 
While Alibaba has not laid out plans for establishing a U.S.-based e-commerce operation that would compete directly with Amazon, the Detroit event could be a prelude to a future entry into the U.S., Tigress Financial Partners LLC chief investment officer Ivan Feinseth said. He predicted it could happen within the next one to five years.
"They haven't said much on it because you don't want to give away your battle plan, but the bottom line is that you have to go where the customers are," he explained.
While Tsai would not comment on where Alibaba is looking to expand next, he has noted in the past that the company is hunting for growing markets that boast large populations with high mobile phone usage. These are all characteristics of places it's already ventured into, such as India, Indonesia and Thailand.
Tsai also noted that the next most natural step for Alibaba in its expansion plan is what it's doing with Gateway '17: helping businesses sell their products to its large base of customers in China.
"In terms of global expansion, we have to think about how we can leverage the advantages of being in China," Tsai said.
Earlier in June, Alibaba held a two-day investor event and excited investors and analysts with its forecast for up to 49% revenue growth in the next year. The company also reiterated its goal to hit a whopping $1 trillion in gross merchandise value by 2020.
Shares of Alibaba fell 0.8% to $138.32 by Tuesday's close.
Visit here for the latest business headlines.
Read More Trending Articles:
Intel Just Got Smoked By AMD In the Race to Unleash a Super Chip