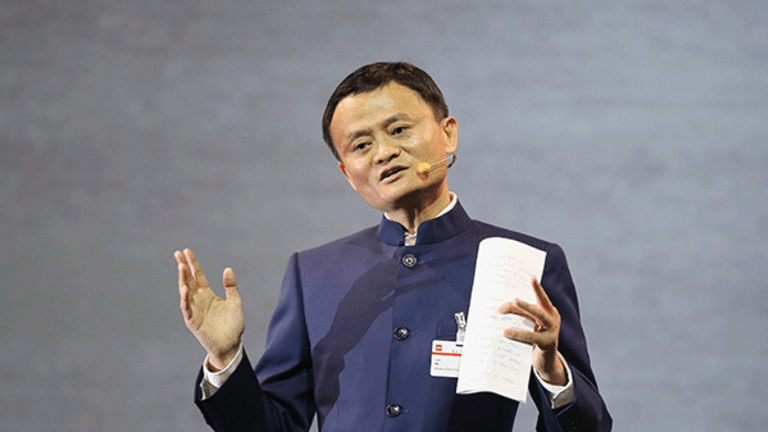 Can Alibaba Live Up to the Hype Behind Its 2018 Q1 Results?
Alibaba's stock is up an amazing 75% year-to-date and investors are taking notice.
With Alibaba (BABA) - Get Free Report  shares up more than 81% year-to-date, analysts are expecting big things from the Chinese e-commerce giant's 2018 first quarter results on Thursday morning. 
Analysts are expecting Alibaba to report earnings of 93 cents per share on revenue of $7.1 billion. This would represent 31.9% year-over-year growth in earnings and 54.6% year-over-year growth in revenue. For the same quarter last year, Alibaba reported earnings of 71 cents per share on revenue of $4.6 billion. 
The stock is trading up an incredible 81% year-to-date on Wednesday morning to $159.97, including about a 40% rise since the company reported its last quarterly results in mid-May. The 43 analysts surveyed by FactSet have a total of 40 "buy" ratings and three "hold" ratings on Alibaba.
MKM Partners analyst Rob Sanderson thinks the retail giant will handily top estimates on the top and bottom line, he wrote in a recent note to investors. Alibaba is one of the firm's top picks for mega-cap internet stocks, he said. "We think that whether results are 'good enough' against high expectations is only a short-term question," he wrote. "We believe the fundamental story is very strong and that many investors are hoping for an opportunity to buy the stock on any pullback."
Expectations are especially high for Alibaba going into this week's earnings because of industry data about Chinese retail. The pace of Chinese online retail sales growth accelerated to 41% year-over-year from 30% year-over-year in May, according to the National Bureau of Statistics. However, earlier this week, China's second largest e-commerce company, JD.com (JD) - Get Free Report , reported a wider net loss than expected due to marketing spending. Other China retail rival Tencent (TCEHY) is also set to report earnings on Thursday.
Alibaba has also raised expectations with its own commentary. The company told investors during the last earnings call that it predicts up to 49% revenue growth over the next year and $1 trillion in gross merchandise value for 2020. But during the last earnings call, Alibaba noted that it expected tougher comps in the second half of 2017 as it ups spending. The company is investing more in diversifying its business and building out its cloud and media and entertainment businesses. The company is still relying on its core e-commerce businesses for about 70% of its annual revenue. 
Alibaba has more than 500 million users across its TaoBao, Alipay and Cainiao divisions.
The company's media and entertainment division includes Youku Tudou and Alibaba Picture Group. The group represents 10% of the company's total revenue and reported a 234% year-over-year increase in revenue to $571 million last quarter. The company said it sees "tremendous opportunities" to link its e-commerce platform to this newer business, using its large e-commerce user base to drive subscriber growth for Youku Tudou's premium online video content. In December, Alibaba said it planned to spend $7.2 billion on its media and entertainment business over the next three years.
While revenue growth has been strong in both its cloud and media and entertainment arms, both still have yet to make money for Alibaba as the company continues to invest heavily in their growth. 
Alibaba's gross merchandise value (GMV) is expected to come in at $153.3 billion. For the same period last year, GMV came in at $126 billion. In June, Alibaba CEO Daniel Zhang reiterated Alibaba's $1 trillion GMV target for 2020. This past year, GMV came in at $547 billion, up 18% from the year prior when it came in at $463 billion. To reach $1 trillion in the next three years, GMV will need to increase 82.8% from this year's figure.
Analysts will also be interested in any updates to its international expansion plan. The company is starting its expansion efforts in Southeast Asia through its acquisition of Lazada Group SA, which it purchased for $1 billion in April 2016, because of the large population and because Chinese products are popular in that market. However, it's also using a brand called AliExpress to expand in Brazil, Russia, and Eastern Europe so far. The goal is to start selling local Chinese brands across the world and those brands are "eager" to make it happen, Alibaba CEO Daniel Zhang said in the last call. 
Alibaba has also been working on luring American small businesses to sell goods on its platforms. The company hosted a conference in Detroit in June for small business owners, farmers and entrepreneurs to teach them about the opportunity in China and how easy it is to start selling in the country that boasts the world's largest population. This is part of Alibaba's promise to create at least one million jobs in the U.S. as the added sales from China force small businesses to hire more employees. 
More of What's Trending on TheStreet:
Utilities Are Embarrassing Tech This Month, One Pic Shows