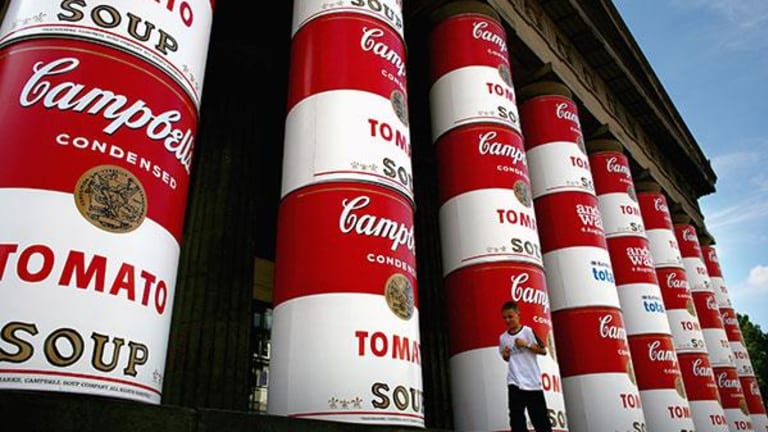 Campbell Soup May Struggle to Meet Expectations
Campbell Soup reports earnings on Thursday, and management plans to update guidance for next year. But Campbell's outlook is cloudy.
Year to date, shares of Campbell Soup (CPB) - Get Campbell Soup Company Report are up 17%. The company reports fourth quarter fiscal 2016 on Thursday, and management plans to update guidance for next year.
Campbell Soup has been struggling as Americans change their eating habits. People are eating more fresh and organic foods, while a whole bunch of start-ups disrupt the competitive landscape with new, healthier products. Pre-packaged foods with long lists of ingredients are not selling very well, and Campbell is determined to change.
At the July analyst meeting, management described the challenges the company is facing and outlined the company's battle plan. First, Campbell's has been on an acquisition spree, gobbling up brands that sell healthier foods. Campbell acquired Bolthouse Farms and Plum Organics in 2011 and 2012. Most recently, the company chowed down on Garden Fresh Gourmet. This year, Campbell expanded its "fresh through innovation" platform by adding protein juices, salsa and hummus. Next year, the company plans to add fresh soups, "alt" milk products and fancy smoothies.
Surprisingly, Campbell's is entering the venture capital field to get a foothold in the innovative food companies of tomorrow. Nearly 400 start-ups received $8 billion in venture funding since 2010 in the food arena. Ordering services, precision farming, farm-to-consumer, natural foods, online grocery, recipes and meal delivery are just some of the marketplaces in which Campbell is placing bets. The company launched a $125 million venture fund and has already committed $25 million of it by the third quarter.
While investors will look to the fourth quarter and toward the year ahead, Campbell Soup is expected to report revenue of $1.7 billion and earnings of 50 cents per share. Sales are anticipated to have fallen between 2% and 1%. For the fiscal 2016 year, the company is expected to earn $2.95 per share on revenue of $7.9 billion.
I think fiscal 2017 will be a year filled with investment and restructuring. Management said it would provide 2017 guidance on the fourth-quarter call, but from comments at the analyst meeting, it was clear that 2017 would not be much of a growth year.
That said, the consensus is anticipating 1.1% revenue growth to $8.05 billion. Analysts think the company will earn $3.09, up 4%. Even thought the increase is tiny, those numbers seem high to me.
First, I think Campbell will get serious about closing down product lines that are poorly positioned, which could hurt top-line growth. Second, the company is planning on taking any savings it can find and putting it toward launching new products.
At $60, Campbell Soup is trading at 19 times fiscal 2017 estimates, which seems pretty rich for a company with virtually no top-line growth and only single-digit earnings growth. But even that growth is suspect. Last quarter, 6 cents of earnings was from one-time items, like a lower tax rate.
Until management lays out a plan to grow revenue, I think Campbell Soup will be stuck in a trading range.  I would avoid the stock until the outlook improves.
This article is commentary by an independent contributor. At the time of publication, the author held no positions in the stocks mentioned.